Pickathon Showed Why It's the Best Indie Festival in the Country
They Hate Change photo By Nehemiah Sliwoski
Music
Features
Pickathon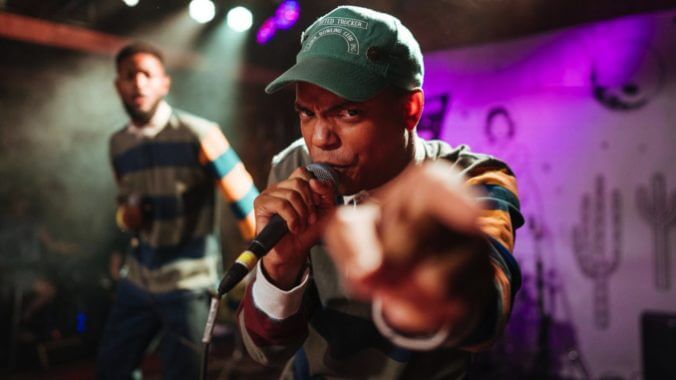 That's a lofty headline, I know. But there was so much about this past weekend's Pickathon Festival in Oregon (Aug 3 – 6) that looked like what I want to see in the world. You know, that collective "power of music festivals" that people talk about when trying to sell you on the experience? It was all totally there at Pickathon. An intentional festival community, yet one without the hokey-ness common at transformational fests in the Burning Man ilk. Yes, a lot of it was about the music (don't let the name fool you, the lineup was incredibly eclectic), but most of it was about everything surrounding it, setting the standard towards sustainability and a certain group of people that helped make it all possible. In a decade of covering festivals, Pickathon was a cut above. Let me explain.
A 25-ish minute drive from Downtown Portland, Pendarvis Farm has been hosting Pickathon since 2006 (the fest began in 1999.). It's an 80-acre property that climbs up into hills filled with meadows, forests and two enchanting barns that pack a punch when they're humming. I arrived on Thursday afternoon, reeling from two days of eating and drinking through Portland's endless sea of bars, restaurants and food cart pods. Driving through the growing suburb of Happy Valley to the farm, tract houses and paved complexes were still glistening. "Every time I come here it looks different," my driver remarked. I'd come to understand what this meant later on, but I was struck by how close Pickathon was to the nearby PDX metropolis.
And while you could conceivably arrive every day and retreat back home late in the evening before doing it again for four days, camping is free with a weekend pass and the camps are masterfully woven into the venue's footprint. I had a five-minute walk from my campsite into the heart of the fest, or an even shorter stroll the opposite direction to the mystical Woods Stage, a place where I'd encounter some of the most joyful moments of the weekend.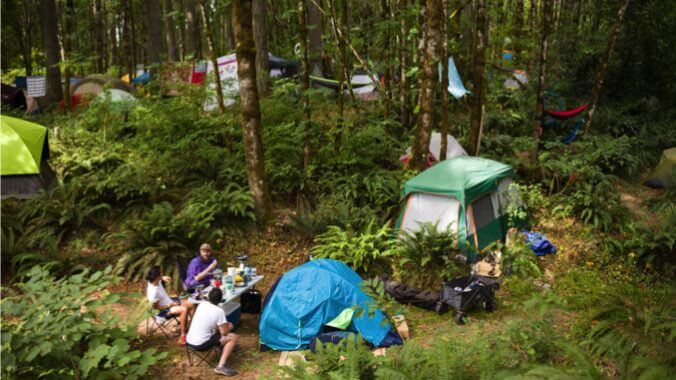 Campsite photo by Rob Kerr
You get handed a stainless steel Pickathon cup with your wristband upon arrival and it becomes your most essential festival tool throughout the weekend. I clipped mine to the side of my shoulder-slung fanny pack and filled it all weekend with free water (yes please!) and craft beer from PNW fave breweries like Fort George, Fracture, pFriem, Migration and others. Each bar has a different beer lineup (plus cider and batched cocktails) so you learn to spot your faves and make pit-stops if you're strolling past.
The stainless steel cups are part of a greater effort from Pickathon, which became the first festival to eliminate plastic tableware over a decade ago. If you've seen the heinous sea of plastic cups on the ground at the end of other fests, this should melt your inner environmentalist heart. There's also a plate exchange system when you buy food, where you turn in a token for a plate of Portland-curated offerings like Verde Cocina's breakfast burritos, Obon Shokudo's plant-based Japanese fare, Kachka's Russian dumplings and giant tots (!!!) from Bend's TOTS! then clean it off, hand it in and get your token back. What a fucking concept. The simple exchange of tokens and plates created a collective effort concept that trickles down, not to mention reducing the weekend's overall waste by 30%.
This year, Pickathon took their efforts from zero waste goals, to working towards zero emissions. A hydrogen fuel cell generator powered some of the many stages and was on full display as it was operating (an obligatory Simpsons reference is in order here.)
So you get it by now, this is a pretty chill place to spend a weekend that cares about its impact on the Earth. But what about the tunes? For a first timer like me, everyone was giving me a spiel about how "Pickathon is all about discovery!" reeling off names of artists they'd seen on the farm in the past before they were large like Sturgill Simpson (2011), Leon Bridges (2016), Big Thief (2017), Black Pumas (2018) and even Wet Leg last year. But I remained a skeptic. For someone who digs through the troves of as many new releases as humanly possible and spends more evenings than they care to admit at local venues as a profession, I wasn't prepared to be knocked sideways by the absurd energy of Tampa's They Hate Change, a hip-hop duo currently signed to Jagjaguwar Records. They produce their own beats that dip into drum-and-bass realms I'd only heard explored before by acts like Ratking and Zion-I. In the tightly packed, sweaty energy of the Galaxy Barn on Friday night, they rapped like their lives depended on it and clearly wanted the stage.
I also wasn't ready to have my world rocked this hard by Wednesday. The Asheville, N.C., band fronted by Karly Hartzman's latest album, Rat Saw God, hit me too harshly at home, but when I saw them live on the expansive, mountainous horizon-backed Paddock Stage, I nearly fell out of my shoes in maybe the best rock 'n' roll performance I'd seen this year. These kids wanted to thrash, Hartzman is a dynamite songwriter and I could feel every single emotion in her vocal outpourings that ranged from Southern country to screamo. She's a revelation and the band is pure fire.
Wednesday's guitarist, MJ Lenderman, played a set of his own music on the Woods stage that I enjoyed swinging from a hammock at 3pm, doing my damndest to erase a combination of a hangover and the getting-used-to period of that first night of sleep in a tent for the weekend. On set closer, "Tastes Just Like It Costs," I felt the ghost of Jason Molina coursing through the gentle breeze of the trees. This totally ruled.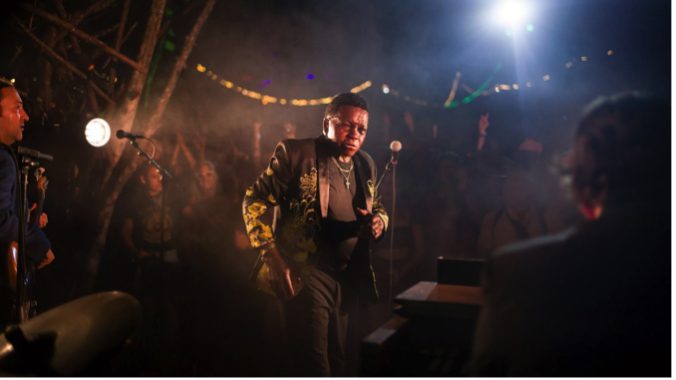 Lee Fields photo by Rob Kerr
And I finally witnessed the greatness of Lee Fields up close, a soul-and-blues man of the highest order. His Friday night set on the Woods Stage was a glorious revue that I never wanted to end. The experience felt so unique to me at that moment and it was a feeling I'd channel again and again throughout the weekend. Looking around, it was starting to feel like everyone had the ability to create these experiences that felt unique to them. It hit me like a wave again when I saw Lee Fields stepping off the larger Cherry Hill Stage on Saturday night after another rousing set like a triumphant raging bull as he was being showered with screams of pure elation from the crowd. Because you see, every artist plays twice at the four-day Pickathon. It's a sweet way to catch everyone, while also re-experiencing a set that really connected with you the first time.
There're seemingly infinite vantage points at Pickathon. Even walking in between stages, dozens of local DJ's play strictly vinyl sets in other smaller stage-like environments, so the music is always your guide.
And the performances across the seven primary stages throughout the day are scheduled like a sundial, so you never have to be baking in the hot sun while trying to groove along these marvelously designed stage environments.
Hearing roars of approval at every stage, I was among people who genuinely loved music: People who were equally floored by Larry & Joe's incredible story of how an asylum seeking traditional Venezuelan musician came to be paired with a Grammy-nominated bluegrass savant at their string-a-palooza Q&A+performance at Lucky Barn. People who were smitten by W.I.T.C.H.'s life-affirming Zamrock, Orchestra Gold's Mali-meets-Oakland sound and the Meridian Brothers' sometimes delightfully weird and sometimes unapologetically traditional cumbia. People who were wowed by Say She She's Franco-pop, Dehd's post-punk, Tobi's one-man fire on the mic and Madison McFerrin's 1am sultry and charismatic vocal sermon.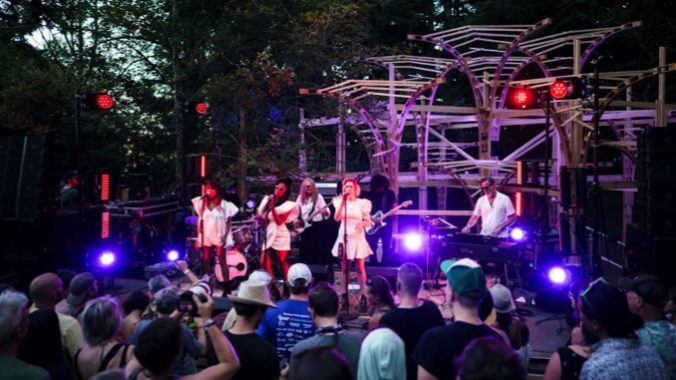 Say She She photo by Nehemiah Sliwoski
There were legit music lovers all over the place, and everywhere I went I kept bumping into people who were volunteering for the festival. That's because of the 7,500 overall attendees, roughly 2,500 of them are volunteers and staff who are the engine that drive the festival. "Pickathon wouldn't exist without a legion of volunteers," founder Zale Schoenborn remarked.
They were indeed everywhere. People I shared a campsite with helped set up the parking lots. I met someone working the merch booth, a medic, someone who was managing the massage stations at the centering zone that also hosted daily yoga, meditation and aromatherapy workshops near my campground known as the Refuge. Hundreds of volunteers are also part of Pickathon's video production staff, who capture intimate performances from the fest's artists at secret stages throughout the venue. And I loved that it wasn't just white males working on these audio and visual crews that help create Pickathon's incredible library of video content archives.
"This festival does so much for me that I just want to give back anyway I can," one volunteer told me. Anyone working at the festival gets a backstage pass, which is like the VIP experience of it all—a scene within a scene. It keeps building a sense of ownership within the community, like the festival belongs to everyone, no matter how long you've been coming here. I was welcomed with open arms as soon as I arrived, with everyone wanting to quickly help me get up to speed on life at Pickathon. By the time my friends joined me over the weekend, I wanted to pay it forward and share with them the things I had discovered the night before; the portals to their own unique journeys and the people I had met. And this is what healthy festivals and festival communities should be about.
Too often these days, music festivals feel too transactional. Our corporate promoter overlords throw as much money as possible at getting lineups of Spotify-friendly pop artists and wait to make it all back at their hatchery of cash registers. "Just imagine if we shifted those billions and billions of dollars to taking care of human beings," W.I.T.C.H.'s always poetic frontman Jagari said. "It'd be a beautiful world to live in."
At Pickathon, we were getting a window into one of these beautiful worlds. And younger generations were a part of it all as well. The festival is incredibly family-friendly, and it stretched far beyond just the kid-focused programming area. On the walkway from Woods Stage, past my campsite and towards the festival's central heartbeat, kids set up a tiny shakedown street of sorts where they were selling bandanas, homemade crafts, carabiners and more. Others busked, playing tunes on guitar or trumpet. I gave a kid a buck who had been working on a rendition of "She Don't Use Jelly" by The Flaming Lips on his guitar all morning and then had totally nailed it by the afternoon. I bought a rainbow, tie-dyed bandana that I wore all weekend from another, took some jewelry home to my other half and cracked jokes with other kids whenever I walked by. The youngest kids picked blackberries throughout the farm with their parents. It was really cool to see the future generation of festival-goers immersed in this positive environment, then later on at the foot of stages for a number of acts.
By Saturday night, I really felt like myself here. It's been a difficult year for me personally, with death following me everywhere. And when I needed that sense of community the most, I got it at Pickathon. I've been to festivals before where the sense of community was strong, but my connection to it wasn't this intense. We were all like townspeople, living on this farm for four days and I felt really great surrounded by people who were working towards a common experience. This is nothing short of a model for the concept of sustainable communities: Get people invested in the greater goal and watch what happens. But it could be ending soon…
Pickathon's ten-year conditional use permit on the Pendarvis Farm is expiring this year, and the festival will have to re-apply and negotiate with Happy Valley as the city's developments continue to grow closer towards the Farm. "It's a fragile thing," Schoenborn said. "We want it to happen, but it's a political process that we can't control in many ways. But I'm hopeful."
On my final afternoon, I lumbered down to the Galaxy Barn with my friends to check out Mexican psych punk duo Sgt. Papers. I saw a kid get a proper crowd surf during the set and it was a thing of beauty. Hands outstretched into the air, propping up this youngster who swayed unpredictably-yet-safely, wearing the thrill of it all on his face while the band hammered away. On our slow walk back to the Woods stage on the other side of the festival, I saw the same kid running past us. Just stoked as all hell heading to god knows where else. And we were doing the same, just at a much different pace.
We settled in near the front to see They Hate Change again, the final set of the weekend we caught before taking off. In between songs, it was almost as if one of the duo's MCs, Vonne Parks, had seen that same display of carefree youthful glee that I saw on the walk over.
"Big shout out to all the parents out there of all the children," he said. "This is beautiful."
I could tell that whatever the proverbial "it" is in this magical festival playground, both he as an artist and me as an attendee saw it for what it was. The force was palpable and the moment was powerful. But there was no time to waste, as he and bandmate Dre Gainey jumped into the next song. Sweaty, energized, full of life; we all were. And I missed it so much the minute I left.