Everyone's Family at Pickathon
The annual Portland festival delivers on music, moments and even manners
Photos by Heather Binns & Rob Kerr
Music
Features
Pickathon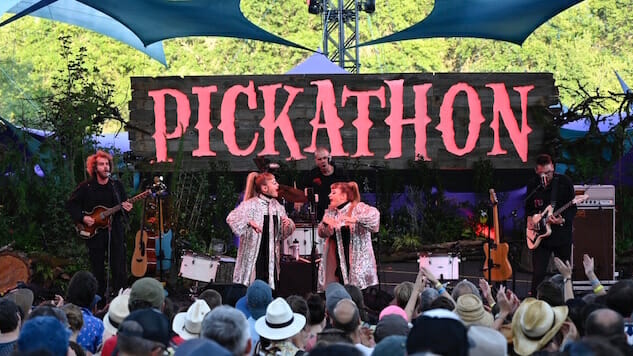 A few songs into her set last weekend on Pickathon's funky Treeline Stage, Aussie singer/songwriter Julia Jacklin confessed, "I've been feeling a bit homesick."
That's to be expected. Touring artists (especially those, like Jacklin, who travel internationally) leave their homes and families for months and months or more, so it's only natural to feel a little blue when you're weeks into a lengthy U.S. tour, fresh off the bus or van and prepared to hop right back on in 12 hours or less, gazing out into a crowd of happy families, couples and—in this case—kids.
But Pickathon won't stand for an artist's unhappiness. Jacklin went on to say how thankful she was for the Portland festival's kindness and hospitality, that she felt a little less homesick on the Pendarvis Family Farm in Happy Valley, Ore., 17 miles outside the big city. A few songs later, an exhausted Jacklin forgot the words to her track "Don't Let The Kids Win," at which time a few fans happily supplied the missing verses, and the set resumed. Country/folk singer and fellow Pickathon player Courtney Marie Andrews later joined in for a tune, which resulted in a kind of fortified Aussie-rock-meets-Arizona-Americana throwdown. And a few folks to my left, Portland singer/songwriter Haley Heynderickx was discreetly bobbing along as Jacklin powered through the most emotional cuts from her latest album Crushing, like "Body" and "Don't Know How to Keep Loving You."
"It's a sad one," she joked of the popular breakup ballad, "So hold onto your loved ones."
Cue the hugs. But don't go thinking that harmony was exclusive to Jacklin's first set of the weekend: Pickathon is drenched in goodwill. Everyone, from the security guards to the vendors to the DJs who spin vinyl between sets, is kind. The stereotypical shadiness you might associate with big summer festivals—unwelcome attention from sleazy dudes, drunk college kids, overpriced food and drink—is nonexistent. The local beers are reasonably priced at $6, and I didn't see a single soul exit on a stretcher. An event that originated as a family-and-friends gathering before evolving to a bluegrass/roots hoedown to the boutique cross-genre, cross-generational festival it is today, Pickathon prides itself on its warm environment. And Jacklin wasn't the only the artist to pick up on the special mood this year, its 21st.
"It's an unusual level of friendliness," said Nap Eyes frontman Nigel Chapman during the Nova Scotia band's Sunday afternoon set, before adding, "Transcendence is all around us."
Maybe that second remark sounds peculiar, but it couldn't have been more fitting. With the beautiful Oregon mountains as a backdrop, and whimsical stages that look like they were plucked straight from a fairytale in the foreground, and smiling music fans of all ages surrounding you, a single set can feel entirely otherworldly. The aforementioned Andrews summed it up like this:
"I'm pretty sure there are some wizards who live in the forest."
The woods harbored nothing of the supernatural, at least not to my knowledge, but Pickathon is definitely magical. On Saturday, folk-pop duo Lucius gave an acoustic set for the ages on the Woods Stage, a rustic structure made entirely of timber, nestled deep in a forest of towering, skinny trees (and facing another forest of general admission hammocks, which are populated with kids and teenagers all day long, whether the music is playing or not). I stayed near this canopied wonderland whenever possible, be it for Miya Folick's transcendent pop set or Fruit Bats' down-home jam session.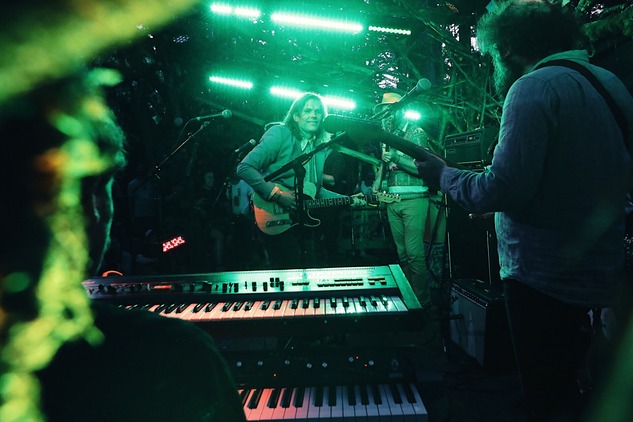 Fruit Bats by Todd Cooper
There in that forest, in that bark-bound stage that resembles a life-size fairy house, Lucius made an unforgettable moment. A local string quartet provided accompaniment as Jess Wolfe, Holly Laessig and their fabulous band played stripped-down versions of songs from their albums Good Grief and Wildewoman (plus a lovely cover of Gerry Rafferty's "Right Down the Line," and an a cappella rendition of the Disney classic "A Dream Is A Wish Your Heart Makes"). Between the traditional set and that Cinderella moment, Wolfe gave a heartfelt monologue about paying attention to the world around us and loving your neighbor. With the news of last week's twin mass shootings in El Paso, Texas and Dayton, Ohio still fresh in our minds, her words were comforting. Wolfe asked us to look a stranger in the eye and say "Hello," at which point a woman—One of Andrews' wizards, perhaps?—grabbed her young son with one hand and me with the other and brought us in for a squishy hug. By the end of the set, I saw several people crying, including one of the violinists up on stage.
On Thursday night, before the bulk of attendees arrived, founding Grateful Dead bassist Phil Lesh put on a real family affair on the main Mt. Hood stage. Lesh and the Terrapin Family Band, a strong lineup that includes his son and guitarist/vocalist Grahame Lesh, kicked off the weekend with a set of both Dead originals and fresh jams. Later that night, folk trio Mountain Man drew the crowd away from the big stage to the ad hoc Starlight Stage, a plot in the center of the main grounds that shares space with the soundbooth. It was another of those magical sets—the crowd was mostly seated and quiet, the air was a little chilly and Molly Sarle, Alexandra Sauser-Monnig and Amelia Meath traded harmonies for a perfect 60 minutes. Their set also included a cover of Fiona Apple's "Hot Knife," which prompted an audience member to gift the performers with an actual apple. Meath requested peanut butter, which was quickly supplied, before the set-turned-snacktime closed down.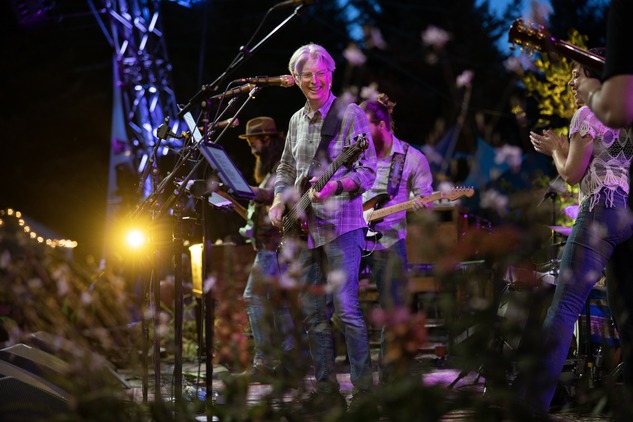 Phil Lesh by Rob Kerrr
I returned to the Starlight Stage for another memorable late night on Saturday. This time, it was married folk duo Mandolin Orange (Andrew Marlin and Emily Frantz), who hosted an all-out hootenanny that featured a bluegrass breakdown as well as softer songs from their new album Tides Of A Teardrop, which delves into the grief and recovery Marlin experienced when he lost his mother at 18. But just like the opening lines of "Golden Embers," their words of sadness and healing rang loud and true, "just like an old friend, kinder than expected."
Festival-goers were well-aware of the good-natured atmosphere, too.
"It's a really great vibe," said one of my fellow first-timers, Jenna Marnon, who won tickets on the local radio station. "You can leave things and nobody takes anything. Somebody had lost their phone this morning and he went to the lost-and-found, and his phone was there. It's a super great atmosphere. It's exposed us to some stuff we wouldn't have gone to see."
She's right. I never saw anyone snatch an abandoned reusable cup or dish, unless it was to return it to its owner, or one of the volunteer dish-washers. I saw a woman chase after a groundsman in a hard-hat with the bandana that slipped from his belt loop. I saw a little boy busking on the trail between the Treeline and Woods stages. I saw tons more children lining that same path, selling jams and postcards and friendship bracelets. I saw hip Gen-Xers in Built to Spill shirts escorting their even-hipper children sporting Mac DeMarco merch and Alvvays gear. I saw older Millennials toting babies as young as newborns wearing giant ear protectors to guard their tiny eardrums from the inevitable ringing that will arrive should they one day follow in their music-loving parents' footsteps. I saw teens stretched out on the main lawn reading dog-eared novels between sets, rather than zoned-out on their phones. Outside communication was an afterthought. Anyone who wasn't inside the twinkling forest was of no immediate concern.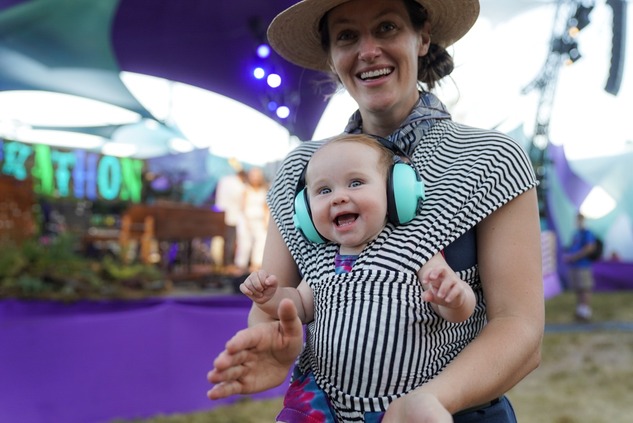 Photo by Bill Purcell
On Sunday night, despite having experienced a full weekend of music and fellowship, I was feeling a little homesick myself. I was nursing a cold and ready to trade the mossy campsite for my bed in Atlanta. I craved a Chick-fil-A sandwich and sweet tea. The weekend was winding down, and the South was calling my name.
But I still popped into the Galaxy Barn for one more set before splitting for the airport, and it's lucky I did. I'd heard about a singer/songwriter named Lauren Morrow throughout the weekend, but I had no idea who she was or what she sounded like. Before I knew what hit me she was cracking jokes about her mom and singing clever country songs about growing up in Alabama, rooting for the Braves and sporting a new haircut back home in Kennesaw, an Atlanta suburb. Something in the room relaxed, and the crowd swarmed towards Morrow's chipper glow like moths to a matchlight. Like Lauren, I was a world away from Georgia, but I felt right at home. That's the magic of Pickathon, where no one is an outsider.