10 Great Rock Songs With Better Verses Than Choruses
Photo by Andy DeLuca, John Williams/Getty, Matt Carr/Getty
Music
Lists
Rock Songs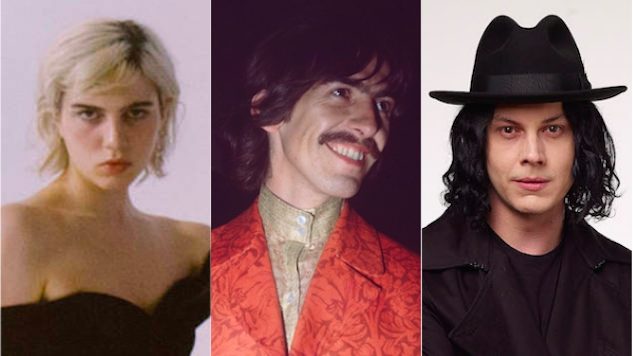 Choruses, by design, are usually intended to be the catchiest, most memorable part of a song. Conversely, verses often get a bad rap for being the song's biggest snooze fest in comparison to its chorus, bridge, solo or pre-chorus. However, verses, unintentionally or not, frequently end up outshining the song's chorus. We've compiled a list of 10 classic and modern rock songs where this supposed subversion of verses and choruses occurs. With choruses that range from mediocre to pretty damn good, check out these 10 tracks below with fantastic verses.
1. The Beatles – "While My Guitar Gently Weeps"
The Beatles are repeat offenders when it comes to verses and choruses elbowing for the spotlight. One of the iconic rock quartet's finest songs and possibly George Harrison's finest Beatle contribution was "While My Guitar Gently Weeps." Track seven of the band's 1968 self-titled double LP saw Harrison deliver beautiful vocals on both the verses and the chorus, but his breathtaking verses are easily one of the best moments of his musical career.
2. Smashing Pumpkins – "1979"
Smashing Pumpkins are one of America's most essential alt-rock bands and albums like 1993's Siamese Dream and 1995's Mellon Collie and the Infinite Sadness helped propel them from a cult band to mainstream rock stars. One of the band's biggest hits, "1979," perfectly represents their gripping rock melancholia as referenced in one of their album titles. While the song's chorus isn't so dissimilar from its verses, there's something especially magical about the verses, particularly the nostalgic opening one that will instantly win over any and all teenagers without fail ("Shakedown 1979/ Cool kids never have the time").
3. Oasis – "Acquiesce"
Britpop juggernauts Oasis were one of those bands chastised for their album tracklist choices due to the unbelievable strength of their B-sides. The band had so many B-sides that became fan favorites that they eventually compiled them for 1998's, The Masterplan. One of their most celebrated was "Acquiesce," which so openly demonstrates the musical dynamic between Liam and Noel Gallagher. As someone who always preferred Liam's vocals, his nasally verses with gritty charisma trump Noel's empowering, nice guy chorus—even though it's one hell of a refrain.
4. Courtney Barnett – "Elevator Operator"
Australian singer/songwriter Courtney Barnett's 2015 debut album Sometimes I Sit And Think, and Sometimes I Just Sit quickly caught fire internationally, making its way on to album-of-the-year lists and resulting in a Best New Artist nod at the Grammys. The album's lead track displays Barnett's knack for whip-smart, descriptive storytelling and while the song's catchy chorus is perfect for sing-alongs, the verses are where Barnett constructs a charming world of idiosyncratic characters.
5. Temples – "Shelter Song"
British psych-rockers Temples have entranced listeners with their '60s pop and classic psych on their two full-lengths. One of the songs that helped break this band was their single, "Shelter Song." Its chimey Beatle-esque guitar hook and muddied call-and-response vocals in the song's verses bewitches from the get-go while the song's gleaming pop chorus slightly pales in comparison.
6. Foo Fighters – "Everlong"
Foo Fighters have become American rock giants, selling millions of albums, winning Grammy Awards and dominating radio for years. I'm not a diehard fan, but because of relentless radio play, I could probably belt out the lyrics to at least a dozen of their songs on cue including "Everlong." The 1997 song's verses have such solid rock melodies and compelling dual guitars that even the anthemic chorus can't quite measure up.
7. Sunflower Bean – "I Was A Fool"
New York trio Sunflower Bean have impressed with their two studio albums including this year's Twentytwo in Blue—a classic pop/rock turn from their darker psych beginnings. On one of their latest singles, "I Was a Fool," both lead vocalist Julia Cumming and guitarist Nick Kivlen take the reins on chorus vocals, which are nicely executed, but both are outdone by Cumming's heavenly, luscious verses.
8. The Raconteurs – "Steady As She Goes"
Of all Jack White's many musical projects, The Raconteurs remain one of his strongest to date, releasing two albums in the '00s and spurring a hit single, "Steady As She Goes." The song's chorus has strong vocals and the song title is great, but I can't help but feel White's bluesy, rock-stomping verses are far superior.
9. T. Rex – "Get It On (Bang a Gong)"
Led by late guitarist and singer/songwriter Marc Bolan, glam rockers T. Rex became one of the most influential bands of the '70s with Bolan's often glittery, long-haired, feminine look, his lead guitar fire power and his sensual classic rock vocals. On the group's most famous track, "Get It On (Bang a Gong)," Bolan seductively serenades with attitude in the verses while the song's chorus features cringey disco-like backing vocals that ruin Bolan's whole cool rockstar vibe.
10. Buzzcocks – "Everybody's Happy Nowadays"
English punk rockers Buzzcocks had pure pop songcraft and speedy punk energy boiled down into a science that resulted in tons of great singles in the late '70s—all compiled on their essential singles compilation, Singles Going Steady. One of their best-known tracks, "Everybody's Happy Nowadays" is a perfect example of this. But while their frontman Pete Shelley delivers the song's verses with such a sassy, playful punk spirit, the song's chorus—as good as it is—feels a little too cute.