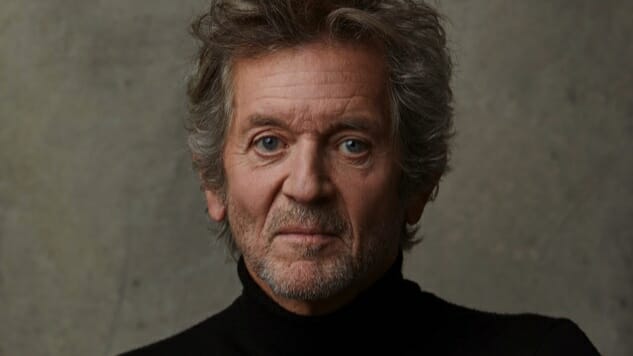 Elder statesmen of Americana Rodney Crowell will release his 19th solo album Acoustic Classics via his new imprint RC1 on Friday, July 13, and the award-winning troubadour has shared an advance stream of the extraordinary LP, available exclusively here at Paste.
Acoustic Classics finds Crowell revisiting a select few of his many contributions to the country music canon, handpicking a dozen of his most beloved songs. The album features tracks first made famous by Crowell's fellow roots music legends, including the likes of Waylon Jennings ("Ain't Living Long Like This"), The Oak Ridge Boys ("Leaving Louisiana In the Broad Daylight"), Bob Seger ("Shame on the Moon"), Keith Urban ("Making Memories of Us") and Tim McGraw ("Please Remember Me"), while others are Crowell favorites ("Earthbound," "Anything But Tame").
In reimagining these songs, Crowell aims to capture the original spirit of each composition, riding the lightning that's struck time and time again over the course of his decades-long career. And the storm continues, even now: Acoustic Classics also features a new, never-before-heard cut, the tender "Tennessee Wedding."
"I spent a couple of days in the studio in late spring of this year with some of my favorite musicians and a twelve-song set of acoustic recordings of some of my better known songs—and one that has never been heard in public—and it fell into place," Crowell tells Paste of the career-spanning Close Ties follow-up. "Who knew?"
Crowell will head to Carmel, Calif., to host his inaugural Adventures in Song songwriting camp on July 16-20, where he will share his considerable expertise alongside fellow balladeers Lisa Loeb, Joe Henry, Allen Shamblin, Brennen Leigh and Don Peake, with special guest appearances from Bernie Taupin and Benmont Tench.
Stream Crowell's Acoustic Classics and revisit his 2017 Paste Studio session below, and find his tour slate, which includes a headlining set alongside Emmylou Harris at the inaugural Troubeliever Festival in August, further down. You can preorder the album here.
Rodney Crowell Tour Dates:
July
14 – Vancouver, British Columbia @ Vancouver Folk Music Festival
16-20 – Carmel, Calif. @ Adventures in Songwriting Camp
26 – London, U.K. @ Nell's Jazz & Blues Club
27 – Perth, Scotland @ Southern Fried Festival
28 – Portaferry, Ireland @ Portico Arts Centre
29 – Nual, Ireland @ Seamus Ennis Arts Centre
August
04 – Huntsville, Utah @ TrouBeliever Fest
25 – Washington, D.C. @ Hamilton Live
26 – Richmond, Va. @ Tin Pan
September
01 – Copper Mountain, Colo. @ Copper Country Festival
20 – Concord, N.H. @ Capitol Center for the Arts
October
04 – Sutter Creek, Calif. @ Sutter Creek Theatre
07 – Nicasio, Calif. @ Nicasio Town Square
November
15 – Palm Desert, Calif. @ McCallum Theatre
18 – San Luis Obispo, Calif. @ The Fremont Theater