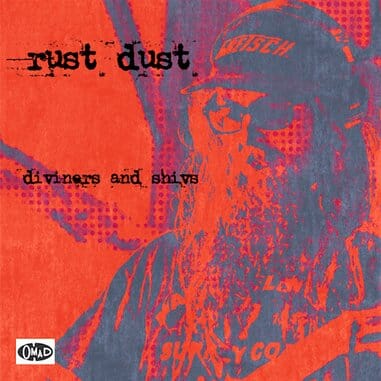 Jason Stutts, aka Rust Dust, just can't keep from crying.
"I wake up with the blues every day," he says, rather tiredly, on the loved-and-lost acoustic musing "Nothing Hurts Worse." Clearly, life's beatdown is weighing heavy on his mind.
On his new album, Diviners and Shivs, the South Carolina singer-songwriter struggles with pain, heartache, and redemption, spinning modern tales of the world heard through the historical filter of vintage Americana music. Through traditional gospel and folk covers and his original work, Rust Dust leads the listener through spirited stories of drugs, guns, loneliness and love.
According to an email, he used four circa-1930s acoustic and steel body guitars, what he calls a "cheap Kay banjo" and a 1960 Fender Vibrolux amp to pen a raw record thick with Southern blues, a DIY twang and a whole lot of soul.
In upstate New York at producer John DeNicola's "barn" studio, they set up mics at the hayloft and milk house; the corn silo was used for reverb, according to a press release. Ambient sounds like birds, the falling rain, or what seems like the creak of a cabin in the woods are often heard, enhancing the solitary feel.
Covers of traditional spirituals like "Wayfaring Stranger" and "Down in the Valley" are reworked here. His quiet, prayerful retelling of "Valley," with a striking a cappella section, is still closer to Doc Watson's brisk, celebratory "Valley To Pray," than it is to Arlo Guthrie's folk-rock hybrid.
More nods to the past exist. On a three-parter, Rust Dust first honors country-folk singer Townes Van Zandt with the soul-stirring, hardened "Lungs." Its bright beat and bitter, poetic lyrics are then stacked against the one-liner gloomy lament "Modern Times," and "Everything Got Softer," a gentle love ballad with vivid imagery and a bruising acoustic riff.
But one of the most impactful songs is "Heaven To Hell," a heartbreaking plea about guns and gun rights in America, built over intricate guitar picking. Graphic images emerge — seas of scarlet red and single bullets to the head: "blood in our schools and blood in our homes/ cause we just can't leave those guns alone."
Pain continues to dog Stutts into "Just Can't Keep From Crying," the more ruminative than rocking part of the record. His anger and frustration finally spills over on the title track. "I've bled a lot of blood but I still ain't dead," he declares through forceful strums on the guitar. It's one of the grittiest, roughest moments on Diviners and Shivs.
But he bookends the brief album with retellings of the well-worn, restorative hymn "Amazing Grace." The opener, "How Sweet the Sound," is a mournful, wandering instrumental version, with gently plucked notes that are given the freedom to rise and fall like measured breath. The closing song, on slide guitar, sees a spring in its step and renewed energy in Stutts' exposed voice. Personal redemption for a dented soul can sound so sweet.