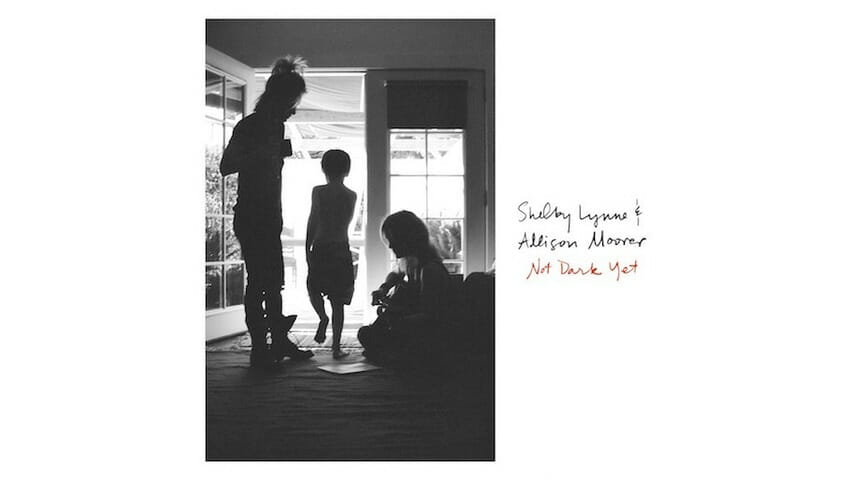 It's been a long time coming. Though Shelby Lynne and her younger sister, Allison Moorer, have released a slew of solo records between them since the late '80s, Not Dark Yet marks their first joint effort. In one sense, it's not surprising the siblings didn't collaborate sooner: DNA aside, they're not too similar. Boasting a resume that includes a duet with Tony Joe White and a set of Dusty Springfield covers, the more unconventional and eclectic Lynne takes a scruffier, funkier approach than her sister. At first listen, Moorer's country-pop blend seems less distinctive, but her best efforts pack a serious emotional punch, as shown by 2015's Down to Believing.
Regardless, Not Dark Yet works beautifully. Featuring nine covers and one devastating original, this lovely longplayer spotlights their tangy harmonies, with Lynne's saltier vocals and Moorer's sweeter singing intertwining gracefully, evoking ancient traditions of family music-making. Sympathetic producer Teddy Thompson crafts settings of understated elegance, incorporating a full band into the mix while generally emphasizing piano, often by Benmont Tench, suggesting their polished yet fervent duets would be equally effective in stripped-down versions. (Interesting demos may well await discovery.)
Some choices stick close to home. Gently desolate renditions of the Louvin Brothers' "Every Time You Leave" and Jessi Colter's "I'm Looking for Blue Eyes" tell familiar stories of longing and loss. Elsewhere, the sibs bend other kinds of material to their will, languidly offering affection on The Killers' "My List" and Nick Cave's "Into My Arms." A woozily psychedelic "Lithium" replicates the smoldering angst of Nirvana's track, underscoring the hillbilly wail implicit in Kurt Cobain's performance.
However, such diversions pale beside their stunning take on the Bob Dylan-penned title tune, a glum reflection on mortality that confesses, "Sometimes my burden is more than I can bear." Deep suffering also informs the hushed closing track, the stunning Lynne-Moorer composition "Is It Too Much," which eloquently comforts a troubled soul with understanding, saying, "No one else bears this heavy load/Bring it here to my side…Don't you know you ain't by yourself/I'm right here to help you lay it down."
"Is It Too Much" bears the effects of Lynne and Moorer's own family history. As teenagers, they saw their father kill their mother and then commit suicide, and here they reach out to others in pain; the album also provides information on contacting the National Coalition Against Domestic Violence. Not Dark Yet is too harrowing to pass for casual entertainment, and too good to ignore.