Slowdive Look to the Future But Don't Forget Their Past on everything is alive
The shoegaze pioneers find a new frontier on their fifth studio album
Music
Reviews
Slowdive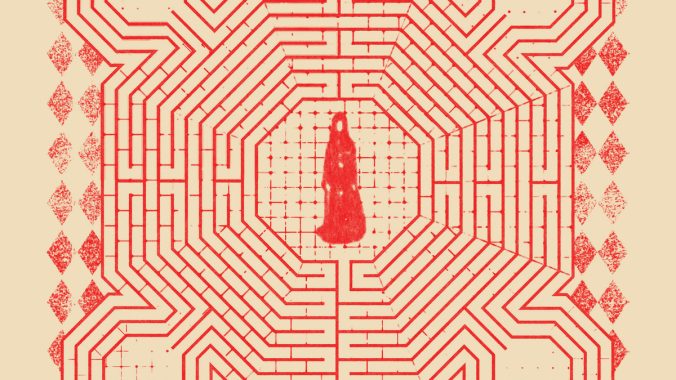 There are some bands that really shouldn't get back together. There's a reason that, a lot of times, it's better to just leave the past in the past, to go with grace instead of forcing fans to bear witness to an awkward downward spiral that could've been avoided. It's often a legendary act's Achilles heel, this idea that they have to go to bat once again, to play like they're still in their prime when the truth is they haven't been for a long time. Then there's Slowdive.
In 2017, the shoegaze pioneers proved to be a timeless talent with their triumphant, self-titled comeback almost 22 years after their initial split. This was no compilation of backlog bullshit, or a cheap attempt to be "relevant again." It was the real deal, a record made as a labor of love when the time was right, not rushed for commercial success or so they could play a few festivals and forget the rest. It was purposeful and poised, a serendipitous occurrence where fate once again had everything in its right place at the right time.
Their latest record, everything is alive, continues the trend, cementing their spot as OG's of the shoegaze genre as they scout out a new frontier. Complex and captivating, there are moments across the eight songs that sound like signature Slowdive—sporting overblown guitars and ethereal vocals—and others that, heard out of context, you wouldn't automatically ascribe to the band. This amalgamation of who they were and who they want to become is, in part, what makes them so fascinating.
There's this belief that, if it's not broken, you shouldn't try to fix it. Slowdive could've skated by on songs that sound like Souvlaki B-sides but, instead, they take deliberate steps forward. Of course, some aspects of the album feel familiar, like the phosphorescent synthesizers and syrupy sentimentalism of "andalucia plays," however, they make it clear that, over the years, they've grown not only as musicians but as people. Instead of trying to deny that change, they put it on full display, resulting in the lush electronic soundscapes on "alife" and the delicate elements that decorate "prayer remembered."
This precarious balance blossoms on "kisses," with Rachel Goswell and Neil Halstead's vocals melting together over a swirling bassline and steady percussion. The song itself is, in many ways, a microcosm of everything is alive—distilling the gentle experimentation that stays true to the promise that "everything starts anew." Still, the weight of experience isn't lost on the album—which was initially envisioned by Halstead to be a minimal electronic effort. Instead, it overflows with the glow of late spring, the joys and sorrow of life and the magic that is at the crux of Slowdive.
There are moments where the band strips it back, hence the spaciousness of "chained to a cloud" or the sketches of scenes some of their lyrics depict. They're still a band that specializes in shadow work, one that hands you a haze and doesn't feel the need to spell everything out. They're enchanting for the things they obscure. There's a dialogue between Slowdive and their fans—a whispered conversation that isn't so much about asking questions, but affirming that, underneath the layers of washed out guitars and veiled vocals, there is a unifying power that ties everyone and everything together.
It can be tempting to emphasize their underdog origins as four 20-somethings unknowingly charting the course for countless bands to come, but it's important to see everything is alive as its own body of work. It deserves to be admired independently of Slowdive's legacy, one that, through its meshing of styles, pushes the perimeters of shoegaze and the confines of the concept of genres in general. Some will insist that Slowdive is Slowdive and they can do no wrong, that it's senseless to be critical because we all know the story—we all know the band, we all know their talent. Still, everything is alive, prioritizes progression and refuses to stay stagnant. Sure, Slowdive glance back at their past every now and again, but it's clear that their focus is fully set on the future.
Read our recent cover story on Slowdive here.