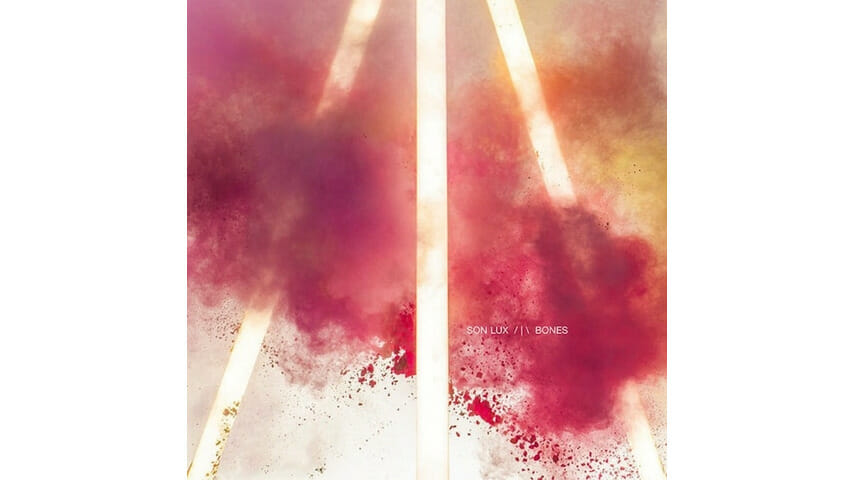 Few artists have breached genre and shifted shape as often as Son Lux's Ryan Lott. A classically trained musician, Lott's mercurial musical soundscapes have crossed paths with everyone from Arcade Fire's Richard Perry to Beyoncé producer Boots to Sufjan Stevens and rapper Serengeti (as one-third of the experimental trio Sisyphus)—just to name a few. But even with those vast and varied collaborations, Son Lux has remained largely a solo endeavor. Until now.
As Son Lux's fourth proper full-length, Bones finds Lott enlisting the help of guitarist Rafiq Bhatia and drummer Ian Chang, whose additions let Son Lux push boundaries even further, going beyond where it has gone before. Because of the expanse in personnel, Bones is able to deconstruct genres with ease and then fuse them back together in Frankenstein-esque brilliance. The result is an eclectic monster of an album that moves on its own, lurching forward with a new perspective, in exploration of new terrain.
But it's more than merely fusing genres—a tactic so common now in independent music that "indie" as genre hardly means anything anymore. What makes the album so captivating is its unpredictability. Sounds jump out at you like ghosts in a horror flick, jarring you from any comfort zone that the arrangements might've been easing you into. That might be because there are more cooks in the kitchen this time, or maybe Lott is still growing as a songwriter; whatever the reason, Bones keeps you guessing—in a good way.
Whether it's the beat-heavy industrial pop and swooning loops of "Change is Everything," or the club-ready synths and hushed vocal masterwork on "Flight," or the futuristic freak-out of "White Lies," Son Lux continually walks a tightrope between experimental digitized jazz pop and complex classical compositions (and a variety of other genres), striking a seemingly impossible balance that would fall flat on its face with anyone less adept. But Lott's dynamics don't allow that to happen. He's been fine-tuning a vision ever since 2008's At War with Walls & Mazes—and now he has help. It has put Son Lux on another entirely new wavelength.
At first, all that shape-shifting might make it difficult to grab hold of anything. But the hooks are there; you just have to dig for them. Like its predecessors, Bones dives deep into dark, harrowing waters. It pulls from an amalgamated gene pool of genre and influence until it becomes controlled chaos—something you can't quite wrap your head around, but something that gets stuck inside there anyway. Few bands are capable of what Son Lux has accomplished on Bones. By expanding its sound and not playing it safe, Son Lux has all but stepped into another dimension with this album.