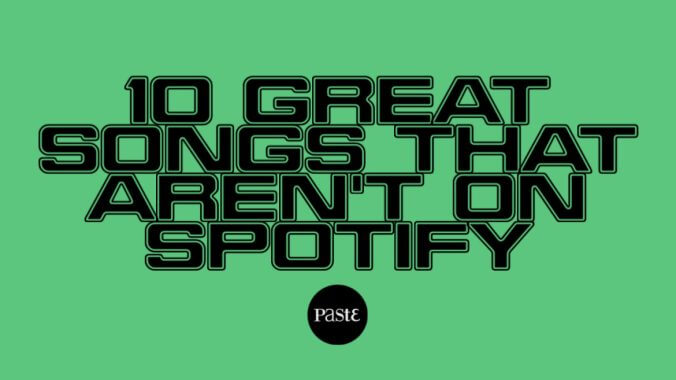 Acting as a haven for intimate, underground tracks to prosper and garner interest, SoundCloud and Bandcamp are integral to the internet's exposure to DIY music. I am consistently, passionately drawn towards these tracks that feel real and bursting with human life and personality inside of them. A song with secrecy and little acknowledgement allows me to connect much deeper with it than something that's mainstream and rewarded with immense acclaim. It feels much more like there's a real person behind it and not an algorithm, likely because it's someone much easier to relate to—as it's coming from just some guy with a demo who's posting without industry pressures to perfect his own work. It's extremely genuine and tangible.
Recently, I have revisited the unreleased music rabbit hole—feeling regressive yet crucial and necessary to do a deep dive every so often, recovering the songs that sit separate from my daily listens on Spotify. It's a completely different realm. My frequently listened to tracks on SoundCloud and Bandcamp are integral, nostalgic parts of my music brain, and I've grown up listening and exhausting these songs to their core, along with some newer additions too. I recently had the pleasure of speaking to a few of the minds behind the intimate art, to hear about the care they put into their online uploads. I almost want to curse these artists for not sharing their music more widely, but many of them simply do not have the resources to upload studio tracks to Spotify and make them more accessible. SoundCloud and Bandcamp are quick and feel like a safe space—and they're free.
Even when uploading music to Spotify, it's extremely difficult for small artists to generate revenue. Sometimes, it's much more worthwhile and intimate when not everyone knows that it's there. This secret pocket of the internet holds some of my favorite tracks of all time, and today I am excited to honor the underrated creatives by sharing them. Here are 10 of the best songs that aren't currently on Spotify.
Editor's Note: This article was published on September 5, 2023. Please note that any song featured here might be uploaded to Spotify at a later date.
Boy Crush w/ Starry Cat: "Candy"
This track is one of the older entries on this list, but some of you might know it well—as Starry Cat's (aka one of Sam Ray's side-projects that branch away from Teen Suicide) discography is quite limited, though containing a very sincere, dedicated following behind them. I personally only found it recently in a Bandcamp deep-dive, having been familiar with Starry Cat's only album for years and craving more. The track is a part of a collaborative, split EP by Sean Henry (who has his own solo music online everywhere, too) and Starry Cat. "Candy" is upbeat, playful and right to the point. Henry explains to me that the EP isn't available on Spotify because he truly believes that "it's a cursed EP."
The song and entire project were recorded in a family friend's haunted house on a flower farm, created on GarageBand and released by the now defunct label Birdtapes—who had released early recordings by Alex G, Evil Depressedly, Teen Suicide and various other lo-fi projects. Henry shares that "the whole project always felt haunted to me, and I preferred to keep it for myself and true heads. 'Candy' is one of those songs about escapism, and trying to relate to someone, but being incapable. I think it's a love song." The vocals on the track are whiny yet self-assured, and feels expressive of those inner desires that feel hard to say out loud. I love how honestly and confidently this track is able to just say what it means in an extremely confrontational way. Henry recently released a new single, after four years of silence, called "Everything Breathes," and it's available on all streaming platforms.
Cyberbully Mom Club: "How Do You Tell A Girl You Really Like Her Eyes"
"How Do You Tell A Girl You Really Like Her Eyes" is one of a few unreleased tracks by Shari Heck—the soft spoken, girlishly raw voice behind Cyberbully Mom Club. This one is my favorite of her tracks that aren't available for streaming, and it feels completely essential to her discography. It's an iconic one that any CBMC fan knows well, too. "How Do You Tell A Girl You Really Like Her Eyes" has CBMC's signature shy, irreverent quickness—and it has garnered an overwhelming internet following, with an influx of uploads of the song performed by fans on SoundCloud and Bandcamp to make up for its lacking presence on streaming services. The song is sullen and melts into your chest deeper each listen. It is extremely sad, but angsty. Heck sings, defeated, "How do you tell a girl you want to talk to her for hours? / Without sounding like the biggest, dumbest coward?"
It's a tune that looks inwards at the feeling of being stuck in an intention that can't be brought to fruition, maybe for no good reason other than fear. Heck verbalizes this idleness so convincingly and directly. She began uploading her songs to Tumblr around age 18-20, opening up about her life through these vulnerable tracks. At the time, she was living in her first off-campus apartment in Philadelphia where CBMC bursted into life. After releasing her last single "Learn" in 2018, the DIY artist ceased making music in her bedroom, and evaporated into thin air. Her old LPs are available on Spotify for streaming, but if I could tell Heck I really like her song, I'd maybe say: The internet misses you dearly and deeply—please come back.
Earthboy: "Bandaid"
I initially discovered Earthboy's music via Spotify, but it has since been removed. They are a Philadelphia band who can be found on SoundCloud and Bandcamp, consisting of Nat Hilton, Henry McDevitt, Lyle Seitz, Sofian Zapf and Tyler Delich. Their music is noisy and upbeat, styles found on "Bandaid"—which has a slight grooviness to it, groaning and taking time for itself in the chorus that slows before diving into a culmination of fun, garage-like noise. "Bandaid" shakes and rushes into itself, showcasing lyrics that are clear and visual: "Down the stairs is where I will meet you / Open doors, shaking hands is how I'll greet you. Got a cut on your hand is how I see you / How'd you get it what's the plan what do I feed you," Hilton talk-sings. The track has a clean narrative that arrives like a flowing stream of thought, gushing forward into a storm of words. It feels like a sonic rendition of getting to know someone and shaking their hand. Presumptuous and intentional, Earthboy is happily introducing themselves on "Bandaid" and hoping to get to know you through their direct and conversational tracks.
Jacob Debilio: "I Met A Bird In Anaheim"
Jacob Debilio's demo of "I Met A Bird In Anaheim" was released back in 2012 for streaming on Bandcamp and SoundCloud, casting a spell over those who were lucky enough to uncover it within the hidden internet trenches. I discovered the song four years ago via a YouTube video uploaded by Josh Ovalle—and I have been listening to it religiously ever since. It blends into nature, as if it were made of light, and I'm not the only one who has been enamored by its draw. Debilio's comment sections are flooded with listeners who found the track from Ovalle's video (or elsewhere), mourning its Spotify absence, incapable of completing playlists that absolutely require it. There are fan-made playlists everywhere dedicated just to the song, in an attempt to emulate its beauty—though, it is hard to replace. Simple chords are played over in a loop as the rest of the song lingers afterwards in twinkles and whispers, almost angelically so.
"I Met A Bird In Anaheim" continuously lures me back to my SoundCloud app, forcing me into a hole of unreleased music, like an open portal or blackhole in the middle of the universe. I put this song on as my best friend and I drove through the peaceful farmlands of Lancaster last week. Calming and wispy, it felt like being vulnerable without words. The lyrics are so simple yet full of warmth and charm: "I ask what kind of music do you like / I said I'll just listen to your voice tonight." Debilio shares with me about the story behind "I Met A Bird In Anaheim," explaining that he was playing Gatsby in a play during high school and wanted to write a song about endless love in the completely romanticized version that he experiences in the book. "It was something that, at that age, I could definitely identify with," he says. Debilio is a completely DIY artist based in Anaheim, California with a new album called Pot Boilers available for streaming on Spotify. He tells me that he doesn't know why he never put the song on Spotify, but likely will upload it in the future, especially being brought into awareness of how special of a place this song holds in the hearts of many. This is one of my all time favorite unreleased tracks and is extremely nostalgic. If I'm opening SoundCloud, I'm reaching for this track, which feels more like a psychic calling than a decision.
Lizdelise: "someone who looks a lot like you"
On a trip to New Hope, Pennsylvania to see a band called Hello Shark play a tranquil set at a tiny farm house in the middle of the suburbia, I stumbled upon opening act Lizdelise as they set up their mixture of electronic equipment and colored pedals. The ground was covered in jumbled wiring that singer Lizzy de Lise was, somehow, able to maintain and utilize to its fullest extent. I've seen a lot of bands play looper sets, but never one like this. De Lise was alone and center-stage at the front of the barn, pouring their heart into their track "someone who looks a lot like you" and pulling the audience into a collective, mesmerized trance that was difficult to break through.
A silence fell over us all so heavily as we watched Lizdelise build upon their manufactured instrumentation with a looper pedal, creating a background for three to five minutes—until they had created the perfect noise, getting to where they needed to go and beginning to sing along with their electric guitar. It was ethereal and psychedelic to witness De Lise build the sound from nothing at all and emulate the groundwork of three others at once—as the song is normally played in a full band instead of as a solo act. Lizdelise has other music available for streaming on Spotify, including a new LP I Swore I Heard You Laughing—which is set to drop via Sheer Luck Records on September 15th. Though this specific track is not yet released in a mastered, studio format, it will be released eventually. They wrote the song about self-loathing as a product of internalized wounds from the patriarchy. "I've been realizing I've been making excuses for why I'm stuck, blaming other people for being in my way, holding me back. But it's always been me, which also means that I have control to change it," de Lise explains.
lots of hands: "anonymous suicide boy"
A beautiful and mostly instrumental track by UK alternative band lots of hands, "anonymous suicide boy" is a nice, calm balance to the rest of this list. The song consists of lo-fi, hazy vocals that are difficult to decipher—but, importantly, because they don't need to be. "anonymous suicide boy" builds up with a culmination of slow-core riffs and striking twinkles of high notes, growing into hibernation by the end and resembling the band's normal rise-and-fall slacker-rock and ambient sounds. lots of hands consists of Billy Woodhouse and his friends, who began as a solo project and eventually culminated into a full orchestra during his time at Newcastle College. The band's other projects are available for streaming on Spotify, though a larger, extended discography is available via Bandcamp and SoundCloud—both sides helping the listener better understand where the band was born and what it continues to grow into. Woodhouse tells me that this track is "just about my mindset at the time and how I was feeling mentally. I didn't put it on Spotify because I feel like I've outgrown it and the feelings I had on that song." "anonymous suicide boy" is reminiscent of most prominent DIY tracks made five years ago—as it is vital to the growth of lo-fi indie everywhere. In many ways, it feels like the beginning.
No Demo: "Funeral"
This track by Philly DIY band No Demo has been stuck in my head since I heard the song live at Porchfest this past July. I've had an extremely hard time not humming the drearily catchy chorus around the house. No Demo is the solo project of Adrian Eschenwald, an outlet he has been utilizing since 2018. "Funeral," or any of his newer stuff, is not yet available for streaming on Spotify—but that's currently in the works and will later be released on Eschenwald's first studio album. It's heavy and melodic, written as a tribute to a childhood friend who died last fall. "We were close when we were young but I hadn't seen him in a long time, so in my mind he was still a kid. I wrote the lyrics about how things could have been different, and about being angry at the institutions that failed him, but from the perspective of this sort of resolute observer, who knows he was too good for this place anyways," Eschenwald tells me.
This song is another thing driving me towards constantly opening up my Soundcloud app, and I'm willing to bet that I'm responsible for all 51 plays on this one—though the song deserves much more love and recognition. It aches in my chest, as Eschenwald pays his respects through deeply personal lyrics. A light sense of desperation bleeds through its cozy veil: "He doesn't talk to God cause he hates him / I don't think that the kids need saving / they're never coming back, I don't blame them." It's a graceful, gut-wrenching tune carried through by strings and pretty guitar hums. No Demo plays a lot of house shows around Philadelphia and Lancaster, poking into the DIY scene with invasive melodies that will not leave your side once you've heard them once.
Pill Friends: "lying to you"
Another Philadelphia band, Pill Friends is adjacent to the sound of Teen Suicide and Modest Mouth—but still distinctive in its own variation of emo noise. The band was an essential part of the scene until member Ryan Wilson heartbreakingly passed away in 2017. There are countless comments on their social media pages, all of whom mourn the presence that the band once had within the scene—voicing its continuous impact on DIY lovers. A comment from fuckfacesean on Instagram reads: "Don't think you'll ever rlly understand but ur music made me the loser I am today." There are dozens more similar comments across other media accounts, including Instagram, Reddit and Bandcamp.
"lying to you" is an essential piece of Pill Friends' depressing discography—and it's heartbreakingly foreboding. Beginning with silence, laughter and a pretty howl, the song merges into a whisper of wind as whistling noises drift in and out of clarity. Eliciting an aura of a passing state, Wilson cries out, begging: "Can I lie next to you / when we're alone, buried alive." His voice cracks and falls apart towards the end of the song, where a buzzing plays out, taking control. It's remarkably sad, especially knowing the fate of Wilson after its release. His lyrical genius lives on through "lying to you," which endures as an integral part of humanity's gut-wrenching, indie-punk ecoystem. Pill Friends was gone from the scene far too soon.
Prim: "Pretty Baby"
"Pretty Baby" by Prim Pettine is an important and bittersweet gleam that will lullaby you to sleep. So far, they've only released very intense tracks that encapsulate a completely different side of their music via Spotify, so this song feels like a natural and necessary balance on the other side of their creative spectrum. A part of a folk EP called Big Hug, which they recorded on tape with Asa Smith, "Pretty Baby" pulls you into a warm embrace and sends you adrift into a big sea of raw emotion. Pettine shares that they wrote the track to "blow off steam." I first heard the song at an open mic along the Schuylkill River trail, acting as the perfect soundtrack to an explosive sunset that turns into a kind, complete darkness—where the only visible light was reflected off of the river itself. Pettine sang softly into nature, bending reality around the crowd of friends who had gathered to watch their performance. The song feels deeply connected to love and reminds me of arms holding you tightly—hence the title of the EP. Pettine shares that the track isn't on Spotify because they "wanted to release it somewhere as just a one-off thing, so releasing under the project 'Prim' on more major streaming services didn't make much sense—seeing as it wasn't at all cohesive with the louder style of music. I just wanted to record music with my friend and release it, and have that be the end of it."
tvbus: "Knock"
With an intense undertone of affliction and sentimentality, "Knock" is another SoundCloud track that consumes me completely within it. tvbuz is the passion project of Taylor Borthwick, a college student in Philadelphia who sings of youth's mundanities and the intensities of growing apart from a past love. She has a way of collecting her bittersweet feelings into intimate, diaristic arrangements—including "Knock," where Borthwick cries out towards a passing feeling of longing. She shares that her songwriting includes "grappling with confusing and conflicting thoughts, and that's what this song is to me. It came from a time when I felt very lost in my life. It's the feeling of being ready to move from the past but still finding it hard to let go."
"Knock" is a song that is aggressive in a very natural way, where it feels very much like Borthwick is simply putting it as it is—with an accompaniment of loud guitar strums and a melancholic chord progression. "Every time I race to a disappointment / I think you're gonna change, but it hits me just like the first time," she sings. It's a quick, moving river of frustration, codependency and constant longing for that one person to care for you. Borthwick shares this song, and many others, on her SoundCloud account—which serves as a vault for her emotional and creative expressions, and she likes that it allows her to make music without thinking too much about it. "It's a good platform for stuff like that, because people will comment on the songs, repost them, and send me messages and stuff, which is always super sweet. It makes it more personal, which is fitting for the music I post," she tells me. I first heard the track at an open mic in North Philadelphia, and I became engulfed by the heartfelt lyrics and pain that it carries with it almost immediately.
---
Brittany Deitch is a Philadelphia college graduate, house show enjoyer, and freelancer for Paste Magazine. Find her, and her other work, online via @brittanydeitch.