Listen to What Is Probably the Greatest Steely Dan Show Ever, in 1974
From the Vault: In honor of the great Walter Becker, let's go back to one of the final performances by the original Steely Dan lineup on May 20, 1974.
Music
Features
Steely Dan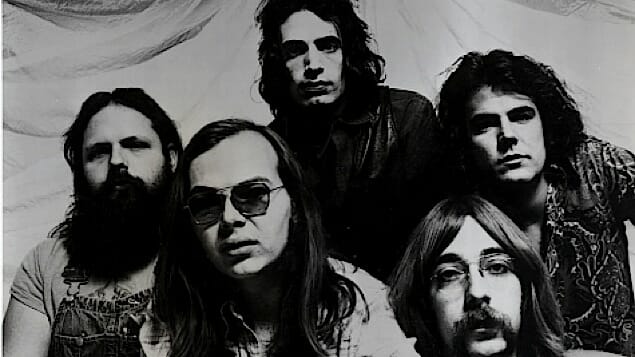 Walter Becker, who passed away Sunday at the age of 67, first crossed paths with Donald Fagen in 1967, when both were students at Bard College in upstate New York. Discovering they had common musical and literary interests, in addition to a shared dark sense of humor, they became fast friends. Forming a songwriting partnership, they would hone their craft over the next five years, first by landing a small publishing deal in New York, then by working as session and touring musicians with the pop group Jay And the Americans. By 1971, upon the recommendation of ABC/Dunhill producer Gary Katz, they had signed on as staff songwriters and relocated to Los Angeles. During these early years, Becker and Fagen had written a considerable amount of original material that nobody seemed too keen on recording, so they took the next logical step and formed a band to record it themselves.
Update: Read Donald Fagen's touching statement about Walter Becker's death here.
For the initial Steely Dan lineup, they recruited East Coast friends Denny Dias and Jeff Baxter on guitars, along with drummer Jim Hodder and lead singer David Palmer. Combining jazz, blues and R&B with the more commercial leanings of rock 'n' roll and Brill Building-era pop, Becker and Fagen sculpted their songs from a wide-ranging musical palette. Their ability to combine beautiful melodies with lyrics of an often sarcastic and cynical nature would prove a winning formula over the course of their first several albums. Immaculate musicianship and a relentless pursuit of perfectionism in the studio would result in one of the most enduring musical legacies of the 1970s.
Taking their name from the steam-powered dildo in William Burroughs's novel The Naked Lunch, Steely Dan set about recording their debut album, Can't Buy a Thrill, which would spawn two unlikely hits with "Do It Again" and "Reelin'' In the Years." Unlike most New Yorkers striving for success in Los Angeles, Becker and Fagen did not adapt or cater to the West Coast culture in their songs. Instead they conveyed an ambivalence or open contempt for the wealthy Southern California culture now surrounding them. Their talent for creating deft melodies and harmonies within jazz-influenced song structures, combined with the sharp sarcastic wit of their lyrics, would continue to fuel the next two albums Countdown to Ecstasy and Pretzel Logic. The latter album, which drew more fully on Becker and Fagen's love of jazz, would become their first Top 10 album.
Ranking Steely Dan's nine albums.
When Steely Dan first began touring in 1972 in support of Can't Buy a Thrill, it was as an opening act and they were often treated poorly. During a stint opening for The Kinks that year, the band first encountered Dinky Dawson, whose pioneering company provided sound reinforcement for the tour. Openly defying The Kinks policy of not allowing the opening act a soundcheck, Dawson went out of his way to help Steely Dan present themselves in the best possible manner. His conscientiousness was not forgotten. In 1974, when Dawson had just wrapped up a year of touring with Lou Reed and the Mahavishnu Orchestra, Steely Dan
brought him on board.
Dawson was unaware of it, but he was mixing what turned out to be the final tour legs by
the original Steely Dan, now expanded to an eight-piece. On board were a second keyboard player and singer, Michael McDonald, and a second drummer, Jeff Porcaro, in addition to the original musicians. Instrumentally, they were now capable of more complex arrangements, and the vocal harmonies significantly improved with McDonald's voice added to the mix. This was arguably the most compelling touring band Becker and Fagen ever assembled.
Other than some questionable experiences in the American South, they encountered highly receptive audiences everywhere they went. Attaining headliner status, they were presented with the opportunity of performing in England, where they would deliver what many consider to be the standout performances of the original band's career.
Presented here is Dawson's mixing desk recording of perhaps the single greatest performance ever by the original Steely Dan lineup, recorded on opening night of a two-night engagement at London's Rainbow Theater in Finsbury Park on the evening of May 20, 1974.
Unlike most New Yorkers striving for success in Los Angeles, Becker and Fagen did not adapt or cater to the West Coast culture in their songs. Instead they conveyed an ambivalence or open contempt for the wealthy Southern California.
This was indeed a triumphant night for the band, who were unsure of how they would be received by the London audience. Extra attention was given to the soundcheck. Fagen is uncharacteristically talkative, lending an intimacy to the performance, despite the large venue. Fagen and Jones trade off most of the lead vocal duties, but since such a large part of the band's arrangements require multiple voices, it is more often than not Fagen, Jones and McDonald singing together. The group's superb musicianship is evident throughout and material from their first three albums fuels the repertoire. A stereo recording with a well-balanced mix, this is indeed the crown jewel of all early Steely Dan recordings.
Following Steely Dan's introduction, the double drummers kick into the rip-roaring Countdown to Ecstasy track "Bodhisattva." Poking fun at the pretentiousness of wealthy Californians, this opener conveys just what a tight band this is, with the blazing guitar work of Denny Dias and Jeff Baxter sailing over a boiling groove.
From the same album, they follow with the melodious pop rocker "Boston Rag." Here and throughout this performance, Dawson takes full advantage of the stereo PA system, and with Diaz and Baxter often panned to opposite channels, this becomes a particularly exciting headphone listen.
Following these opening numbers, the London audience explodes with applause and Fagen lets them know that the band appreciates such a warm welcome. Following a humorous exchange with the audience, who are clamoring for more volume on the guitars, Fagen encourages Dawson to "Give it to 'em, Dinky," before they venture into an extended workout of their provocative first hit, "Do It Again." Revolving around an irresistible melody, dense rhythms and abstract lyrics that explore compulsive behavior and violence, "Do It Again" may be one of the most unusual songs ever to become a hit single. Clocking in at nearly nine minutes, with an exceptional stereo mix on the percussion instruments, this is one of the more expansive songs of their set and provides ample opportunity for both Fagen and Dias to take impressive solos.
Another first album number follows with the soulful paean to a prostitute, "Brooklyn (Owes the Charmer Under Me)." Written well before the band actually existed, this is a prime early example of Becker's and Fagen's fascination with upper-class decadence, a theme that would continue to fuel their writing and eventually come to reflect their own lives.
Returning to Countdown to Ecstasy material, the jungle rhythms of "King of the World" are up next, in a song that ambivalently explores the threat of nuclear annihilation. Introduced by Fagen as a "frightening little number," it contains the compelling chorus couplet, "No marigolds in the promised land, there's a hole in the ground where they used to grow," and "Any man left on the Rio Grande is the King of the World as far as I know." Steely Dan skillfully capture the mood of a society obliviously headed toward destruction.
At this point, the group tackle a pair of songs from the Pretzel Logic album, released in February of 1974. They begin with the single that would catapult them up the charts, "Rikki Don't Lose That Number," which had just been released in England three days prior. Containing an introductory riff appropriated from hard bop pianist Horace Silver's "Song to My Father" and a sumptuous groove, it's no wonder this would become a pop-radio staple, despite the fact that the subject matter is nearly impossible to discern. The same can be said for the title song, which follows.
Although Fagen has gone on record stating it is about time travel, the lyrics to "Pretzel Logic" (the song) also seem intentionally open to interpretation, which makes this modified blues all the more compelling. Both "Pretzel Logic" and "Rikki Don't Lose That Number" display the band in terrific form and are textbook examples of Becker's and Fagen's clever and increasingly cryptic songwriting. Following "Pretzel Logic," the London audience again erupts with applause and gives the band another standing ovation. Fagen even acknowledges what a strong performance just occurred, before taking the opportunity to introduce the individual members of the group.
Following the introductions there's some humorous stage banter, with Jeff Baxter dedicating the next number to his bandmates, before fronting the group on Becker's and Fagen's smirking tribute to their time together at Bard College, "My Old School." This contains the only flaw in the recording as several seconds are missing when the master cassette required flipping, which occurred shortly into this number.
The sparkling ballad "Dirty Work" turns up next, featuring a standout lead vocal from Jones and superb pedal steel embellishments from Baxter. A song about adultery, uniquely written from the perspective of the other man, Jones delivers Fagen's self-loathing lyric in a touching and mournful manner. What make both "My Old School" and "Dirty Work" so memorable, though, are the rousing harmonies on the choruses that simply compel listeners to sing along.
Serving as sort of a prelude to the set-closer, Steely Dan next serve up an instrumental portion of the salsa-flavored "Your Gold Teeth."
Unlike versions of "Reelin' In the Years" on the American tour that followed, which segued into a solo guitar interlude, here it is Fagen's synthesizer and piano work that lead up to the blazing opening riff. A hate song aimed at a self-professed genius, it features one of Fagen's most vengeful lyrics. Despite the subject matter, this too became a hit single. Baxter's volcanic lead guitar and another soaring chorus whip the London audience into hysterics, with another standing ovation as Steely Dan exit the Rainbow stage.
When they return for an encore, Steely Dan serve up one more from the second album, "Show-Biz Kids," with Michael McDonald taking over on lead vocals. With an irresistibly funky backbeat and Baxter's moaning pedal steel, this song again explores the decadence of Southern California's idle rich in a characteristically satirical manner. Not since Frank Zappa's early work with The Mothers of Invention had a band so blatantly mocked their own audience, but Steely Dan did it so brilliantly and the song is so irresistible, one can't help being swept up in the groove and hypnotic chant that serves as its chorus.
Another standing ovation compels the band to return for a second encore. In typically perverse style, Steely Dan close the show not with another of their most popular songs, but instead with a non-album rarity in the form of "This All Too Mobile Home." With a lyric that explores abandonment, loneliness, relentless travel and rip-offs, this song could easily sum up Becker's and Fagen's thoughts on the touring life. Following the initial verses, the song becomes an extended jam featuring impressive solos from Baxter, Fagen and eventually the two drummers. There's even a brief sequence showcasing Becker's nimble bass work. Baxter is responsible for one of the most delightful solos right off the bat, beginning his with a direct quote from the 1960s hit, "Theme From a Summer Place" (originally taken to the top of the charts by Percy Faith and his Orchestra). With the London audience going wild during the jam, each member exits the stage one by one until only Fagen and the drummers are left. Fagen's final words to the audience are "Sweet dreams, my brothers, goodnight!" leaving Hodder and Porcaro onstage to conclude the performance with a drum solo. With Dawson's phase shifter unit engaged like a jet flying overhead, the drummers get a lengthy last workout before bringing this outstanding performance to a close in a most unusual manner.
Following their triumphant visit to England, Steely Dan would embark on one last tour leg in The States. After the final night in Santa Monica on July 5, Becker and Fagen would opt out of touring altogether, preferring to focus all their energies on writing and studio recording. They would go on to create some of the most compelling music of the decade, and in terms of production, set the bar to which all others were measured. Despite monumental success and many lucrative offers, these 1974 tour dates would be the last time the original configuration of Steely Dan ever appeared on stage.