Stef Chura Debuts Music Video for New Song, "They'll Never"
Image via Saddle Creek
Music
News
Stef Chura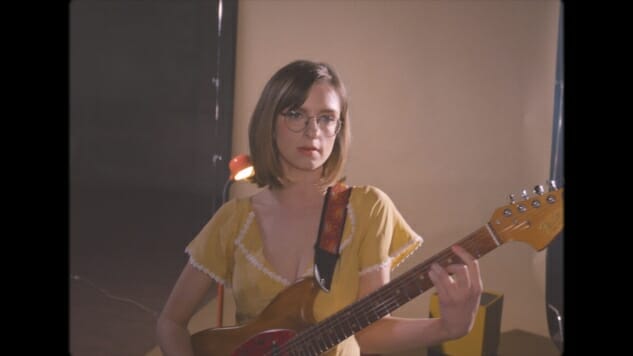 Indie rocker Stef Chura has released a new single ahead of her forthcoming album Midnight, out everywhere June 7 via Saddle Creek.
"They'll Never" picks up where its predecessor "Method" left off, combining grunge-y guitar with a surf rock sort of fervency. In this same manner, its visual counterpart (dir. Fidel Ruiz-Healy & Tyler Walker) follows suit, meshing the bright with the dirty, the colorful with the muted and dilapidated.
"I wrote this song while living in a building in Ypsilanti, Mich., that was not up to code. No one cared about it. The kitchen was moldy, the carpets were dirty and the house was generally unfinished. This place existed in an odd realm," Chura explains. "No one really cared for it, and yet people would go on living in it and subsequently it would be a home. No one cared enough to take care of it and no one cared enough to notice it and destroy it or hold the people who lived there accountable for keeping it up to code."
This ability to find a home in something crumbling extends past the literal sense.
"It's also about looking into the future, that when life hands you less and circumstances aren't what you thought they were," Chura adds. "And life goes on even if your house is moldy and you don't speak the same language as the drunk old man you live with who steals your potted plants and plants them in the yard for you."
Watch the music video for "They'll Never" and revisit Chura's 2017 Paste session below, and find her upcoming tour dates further down. You can preorder her new album here.
Stef Chura Tour Dates:
July
05 – Chicago, Ill. @ Empty Bottle
06 – Detroit, Mich. @ Deluxx Fluxx
07 – Toronto, Ont. @ The Drake
08 – Montreal, Que. @ Casa del Popolo
09 – Boston, Mass. @ Great Scott
12 – Brooklyn, N.Y. @ Rough Trade
13 – Philadelphia, Pa. @ PhilaMOCA
15 – Washington, D.C. @ Comet Ping Pong
16 – Durham, N.C. @ The Pinhook
17 – Atlanta, Ga. @ The Earl
19 – New Orleans, La. @ Gasa Gasa
20 – Houston, Texas @ The Satellite
21 – Austin, Texas @ The Mohawk
22 – Dallas, Texas @ Club Dada
25 – Phoenix, Ariz. @ Valley Bar
26 – San Diego, Calif. @ Sodabar
27 – Los Angeles, Calif. @ Bootleg Theatre
28 – San Francisco, Calif. @ Cafe du Nord
30 – Portland, Ore. @ Mississippi Studios
31 – Seattle, Wash. @ Barboza
August
01 – Vancouver, B.C. @ Biltmore Cabaret
02 – Spokane, Wash. @ Lucky You Lounge
03 – Boise, Idaho @ Neurolux
05 – Salt Lake City, Utah @ Kilby Court
06 – Denver, Colo. @ Larimer Lounge
07 – Omaha, Neb. @ Reverb
09 – Minneapolis, Minn. @ 7th Street Entry
10 – Milwaukee, Wis. @ Backroom at Colectivo