Sufjan Stevens Celebrates Pride Month with Two New Songs, "Love Yourself" and "With My Whole Heart"
Images via Asthmatic Kitty
Music
News
Sufjan Stevens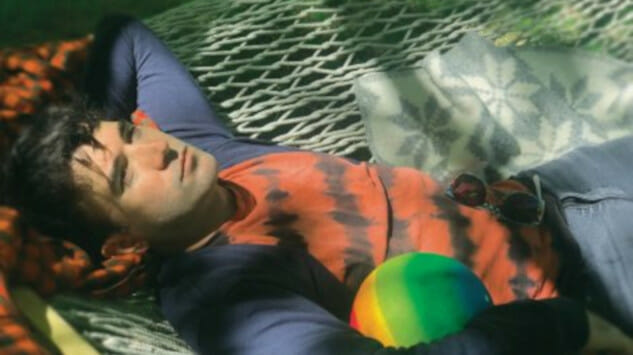 To ring in Pride Month 2019, Sufjan Stevens shared two new songs on Wednesday morning.
Both "Love Yourself" and "With My Whole Heart" follow in line with Stevens' other recent stand-alone singles, returning to the gonzo, pop-oriented production mentalities of albums like Illinois or Age of Adz, rather than the hauntingly spare Carrie & Lowell.
The songs are undeniably wholesome, using sugary production to promote themes of self-love and internal validation. In a press release, Stevens explains that he wrote "With My Whole Heart" as a challenge to "write an upbeat and sincere love song without conflict, anxiety or self-deprecation." He succeeded on that front, as he sweetly sings "I will confess, the world's a mess but I will always love you" over gossamer synth production. "Love Yourself" is equally low-key, using the type of subdued of anthemic chorus that has defined Stevens' music across his career.
Included, too, is "Love Yourself (Short Reprise)," a track using the original instrumental demo Stevens wrote for the song back in 1996, which is also shared.
"Love Yourself" and "With My Whole Heart" will be released as a limited-edition 7" on June 28, with a portion of the proceeds going to the Ali Forney Center in Harlem, N.Y., and the Ruth Ellis Center in Detroit, Mich. Both organizations offer support for LGBTQ+ and homeless youth in their respective communities. Stevens also designed a new Pride Month T-shirt, available to preorder here.
Listen to "Love Yourself," "Love Yourself (Short Reprise)," "Love Yourself (1996 Demo)" and "With My Whole Heart" below. You can preorder the 7" via Asthmatic Kitty here.