Taylor Swift's New Single Sounds Like Right Said Fred's "I'm Too Sexy"
Images via Kevork Djansezian/Getty, Big Machine Records
Music
News
Taylor Swift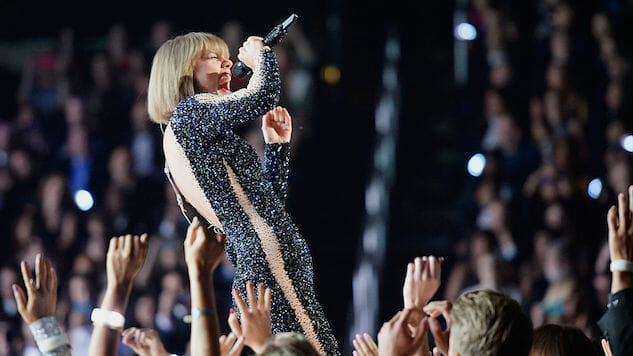 Taylor Swift has definitely taken the Internet by storm this week, and with the release of her new single, she's on the forefront of social media more than ever. She unveiled "Look What You Made Me Do" late last night, and fans couldn't help but notice the similarities between the chorus of single and Right Said Fred's '90s hit "I'm Too Sexy."
Before anyone slaps Swift with a copyright lawsuit, though, be aware that she actually gave the members of the band—Richard Fairbrass, Fred Fairbrass and Rob Manzoni—writing credit. In fact, they thanked her via Twitter for using their song as inspiration:
Thank you @taylorswift13 ?? what a marvellous reinvention! #imtoosexy#lookwhatyoumademedohttps://t.co/malXQ8uMQe

— Right Said Fred (@TheFreds) August 25, 2017
In the wake of the 2015 "Blurred Lines" lawsuit, in which Marvin Gaye's family was awarded $7.3 million from Robin Thicke and writers of the song after the court ruled that they ripped off Gaye's "Got to Give It Up," artists have been taking extra precautions to avoid the same consequence.
Richard Fairbrass told People that they were preemptively approached about using the song: "We had people on the phone from the U.S. just checking that we were okay for her to use it and that we were cool with it and weren't going to kick up a fuss," he said. "Fred and I have always been of the view that it's the song that is the most important thing and musicians should always stick together because if we start to get a bit angry with each other that's when it gets a bit depressing."
"Look What You Made Me Do" is the first single from Swift's forthcoming album Reputation. The song's official video will premiere at the 2017 MTV Video Movie Awards. Watch a teaser of it below.