Taylor Swift's Music Returns to Spotify, Coinciding With Katy Perry's New Album
Photos by Bryan Steffy/Getty, Jason Merritt/Getty
Music
News
Taylor Swift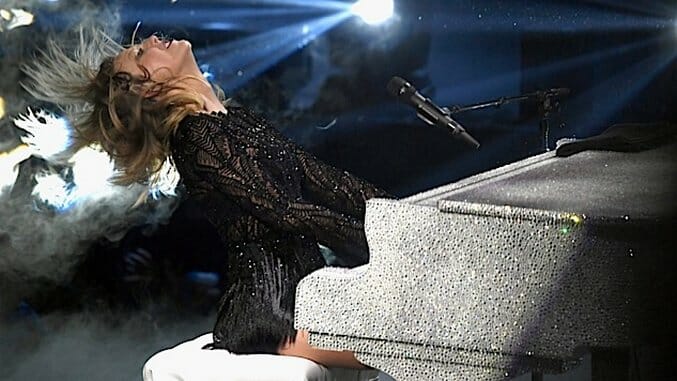 Taylor Swift garnered plenty of attention when she removed all of her music from streaming services, including Spotify, in 2014. She was discontented with the per-stream royalty that such services implemented. Last night, however, Swift's entire discography returned to streaming services—and not a moment too soon.
Coincidentally, Katy Perry's latest record, Witness, was released today, and some are speculating that Swift is trying to steal Perry's spotlight.
The two are not on great terms, going back at least as far as Swift's 2014 single "Bad Blood," which was apparently about Perry. Speaking with NME this week, Perry said of Swift, "No one has asked me about my side of the story, and there are three sides of every story: one, two and the truth…I mean, I'm not Buddha—things irritate me. I wish that I could turn the other cheek every single time, but I'm also not a pushover, you know? Especially when someone tries to assassinate my character with little girls. That's so messed up!"
Take a look at a few of the tweets regarding the subject below, and while we're on the subject, take a look at our list of Swift's 15 pettiest songs here.
I aspire to be as petty as taylor swift releasing her discography for streaming the weekend katy perry's album drops

— Dominic Riccitello (@DominicScott) June 9, 2017
katy perry: the countdown starts now make sure to stream my album on spotify toni…

taylor swift: pic.twitter.com/Y0LTw9CObH

— ninho (@tabembruno) June 9, 2017
Katy Perry drops a new album

Taylor Swift: pic.twitter.com/ps2T9Uf9bb

— Matthew A. Cherry (@MatthewACherry) June 9, 2017