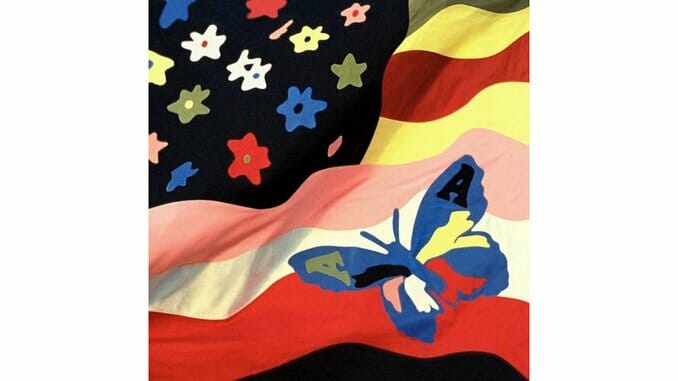 There won't be a 2016 album with a more exuberant opening than the Avalanches' Wildflower. On the opening cut, "Because I'm Me," a dusty recording of a child crooning for a lost love (borrowed from a 1959 recording of 11- and 12-year-old schoolchildren) blares out over a muffled horn fanfare. The orchestral theme fades in like a busted radio finding its dial, or like daylight breaking in through night. And it's been a long night: We've been waiting for this album for 16 goddamn years.
The Avalanches did it. They actually pulled it off: a kaleidoscopic sophomore effort that's worthy (though rarely a pale clone) of 2000's singular Since I Left You. Why now? The material's been in progress since at least 2005, when the group described it as "ambient world music," so why the decade-plus delay—and when exactly did Wildflower morph into the crate-diggers' equivalent of Chinese Democracy? But answers will come later. For now, bask in heady acid-pop concoctions like "The Wozard of Iz" and the honey-sweet "Sunshine."
Wildflower apes its patriotic cover from Sly and the Family Stone's There's a Riot Goin' On and takes title inspiration from the Beach Boys' SMiLE, but the toughest classic to live up is still Since I Left You. Spinning 3,500 largely obscure samples into one psychedelic stew, that record is such a remarkable achievement—and went unanswered for so long—that it still feels like some mass hallucination. Here, the Australian DJ wizards are wise not to imitate it too closely. Though it has that same dreamlike thrall—each track melting happily into the next—Wildflower stakes a more aggressive grounding in hip hop and contemporary pop. Tracks like "Live a Lifetime Love," "Because I'm Me," and the nutso "Frankie Sinatra" (which has Danny Brown and MF Doom trading verses over a madcap calypso groove) capture the stoned feel of laidback '90s rap.
Where Since I Left You turned lost AM radio hooks into sample manna, Wildflower nicks samples from groups like The Pharcyde and The Bar-Kays (by way of Will Smith's "Gettin' Jiggy Wit It"), elements fleetingly recognizable like snatches of last night's dream. The result is a more vocal-driven result. Collaborators stalk around the album's outer edges, some inspired (David Berman's surrealist ramble on "Saturday Night Inside Out"), others a stretch (Jonathan Donahue's too-saccharine vocals on "Colours"). At 21 tracks, the album's latter half just barely sags.
Wildflower opens with that 11-year-old's untrained yowl and mines similarly youthful voices on "The Noisy Eater," which repurposes a children's choir's rendition of The Beatles' "Come Together" into something weirdly gleeful. (Apparently the sample necessitated a "heartfelt" letter to Paul McCartney and Yoko Ono to get clearance.) It's an immediate gem—surely the funniest pop song about breakfast cereal since Gorillaz's "Superfast Jellyfish"—ornamented with munching sound effects and a cartoonish verse from Biz Markie. And the children's voices are a telling motif: The Avalanches approach sound with a childlike sense of wonder that's oblivious to genre constraints and, apparently, deadlines. It took a childhood-and-a-half to come to fruition, but Wildflower is another album that snatches elements from the past but sounds like the future.