Daytrotter Session - May 28, 2007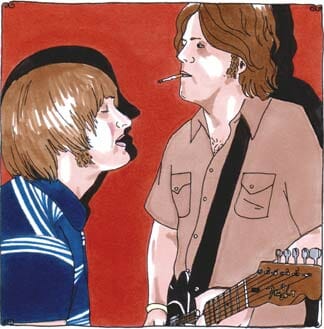 Welcome to Daytrotter
Down in the Valley
Shiftee
So It Goes
Hale Sunrise
When The Thrills decided that they wanted to move from Ireland to the United States to live and write an album five years ago, they moved to California and wrote a mess of songs that referenced everything mystical about Sir Arnold's state – the sand between your toes aloofness, the eternal sunshine of the various spotless minds and the drowsy, sunny landscape.
The tunes became So Much For The City and it was an engaging record that acted like a Viewmaster. A review for Spin magazine by the soon-to-be-fucking-legendary Chuck Klosterman, still comes to mind. He described the record in the basic way we all should experience music, as we do books, which are always touted as portals to a different place. Children are taught to believe that books and movies are the ultimate forms of escapism. They can take you thousands of miles from home without ever leaving your chair. Klosterman claimed that The Thrills took a listener to California, minus the airfare or gas money it would actually physically take to do so.
This was a California as imagined by a fivesome of blokes who'd believed in the sweet, multitudinous harmonies and majesties of The Beach Boys and Jan & Dean. They even cherry-picked a lot of best from The Eagles and The Bryds, glorifying the tastiness of the place and the beauty that had no end. This was an outsider's opinion of the California that they'd only cursorily gotten to know. The Broken West – and the life experience of lead singer Ross Flournoy – make as good of a spoiler not for how you're supposed to, but for how you're going to feel when you're within the borders of the most populous and wealthiest state in the country.
There are plenty of conceptions of how the other half lives way out west, in a land that made its greatest first claim during the Gold Rush of the late 1800s. Even today, with the dimensions of the world shrunken, thanks to the omnipotent ability of this here Internet, young children, if asked where they'd most likely want to live or go on a vacation, California is one of the THE places that always scores a booty of interest. So much folklore hangs on its name that makes everyone comment about it, unintelligibly saying, 'I don't know what it is, but I wants it.'
A place of forever sunshine is meant to be golden. It's this thought of goldenness – separate from the kind associated with tanning – that brings us completely to the band's debut full-length, I Can't Go On, I'll Go On. Without ever getting too specific or too literal, the album and the band speak to the praiseworthy aspects of a state and a city (Los Angeles) that are commonly stereotyped for their excessiveness and bloated superficiality. There's more to the state than the red carpets and ass-kissing and even without an intention of making a record that addresses any of those things (but tackles those pesky relationships), the location of affected the three-year-old group greatly and most of what they decided to write about comes out like a calm afternoon along the Pacific Ocean's shore, charming in its salty casualness and its ability to crash against you and push you back in points.
Flournoy has made, for all of us, a passport to the goodness that he's found not in the least in his adopted state, but in the very nature of things past. There's a bloodline that runs through discs like I Can't Go On, I'll Go On and those other passionate albums from bands that take matters into their own hands and give of themselves their essence. These are the very songs that Flournoy was destined to write and play since the day he was born. They are the result of man fulfilling himself and recording all of the tiny bubbles that encapsulate what's coursing through his hands and heart. The aches and the pains are there, right there in front of you, in neon lights, but they feel better as the lights on the day dim. That's where we are, even in the dim light. We know where that is.
The Daytrotter interview:
*Why don't you tell me about the days leading up to your visit with us? We gave you some sunlight, did we?*
Ross Flournoy: Well, we had just started what was, for all intents and purposes, our first "real" tour — it would end up being a seven and a half week trek across the country, and I think you guys caught us a week in. We were still struggling to get our sea legs and make sense of this new lifestyle. The first few shows of the tour were kind of rough. We weren't super tight musically yet and just not terribly confident. We started to turn a corner the night before in Iowa City, where we played what I feel like was the first really good show of the tour, with a great band called Death Ships. Then coming in to do the session with you guys was just this huge jolt of adrenaline and positive energy and all those good things. The studio in Rock Island is like this wondrous playground if you're a musician — all these incredible-sounding and unique guitars, keyboards, amplifiers, and toys. We were really able to slow down, play with all the neat toys, and just have fun playing music for a day instead of worrying about driving six hours and loading and unloading gear and whatnot. I feel like we were really able to have fun with and explore the songs we ended up recording for the session.
*What other than Sherman's march into Atlanta have you learned about on the Discovery Channel lately? Are you a history guy?*
RF: I wouldn't say I'm a huge history buff, though I suppose it's a discipline I always excelled in while in school, as opposed to math and science, both of which I was dreadful at. I am interested in the Civil War — such a unique conflict…I mean, if you really think about it, it's amazing that this country just split in two for five years or so. I actually don't purposefully watch the Discovery Channel or the History Channel that often. I just happened to be flipping through and the Sherman special was on, and it just completely sucked me in.
*How has living in California changed you? You stick up for the state don't you?*
RF: I think there are a handful of things I'm truly passionate about in life, and the state of California is most certainly one of them. So, yes, I defend the state — and Los Angeles, specifically — whenever it comes under attack, which, at least with Los Angeles, is fairly often. It's such an incredibly diverse place — culturally, physically, even climate-wise. The thing I love most is probably just the sheer natural beauty — there's really no other place like California in the world. I moved to Santa Barbara from Memphis when I was 11 years old, and I think California changed me in the sense that it opened my eyes to new kinds of people and new ways of living. Memphis was, to a great extent, sort of a closed — and closed-minded — society. So moving to California at that age, and getting to go to high school with the children of extremely left-wing political activists, vegans, etc. really opened me up.
*What are you wary of?*
RF: Good question…namedroppers and fawning, undeserved praise are the first things that come to mind. Also, rock clubs with no suitable place to store cases and rock clubs NOT on the first floor (thus necessitating us hauling our gear up one or more flights of stairs). Oh, and religious zealots and neo-conservatives.
*How did all of you homies meet?*
RF: The short answer is through a web of mutual friends. I met drummer Rob through my friend and former bandmate and songwriting partner, Scott Claassen. Scott and I wrote "Down in the Valley" together, and we went to high school together. Rob and Scott went to college together, so that's how Rob and I met. Guitarist/songwriter Dan Iead is someone we met through another of Rob's and Scott's college buddies, Manny Medina. Manny used to live in LA and played with Dan. Scott and I decided to move from Austin to LA to start a band, and before we left Manny mentioned we would look up Dan when we got there. We did, and we immediately loved him. So Rob had just moved to LA, Scott and I arrived, hooked up with Dan, and The Brokedown was born. Finally, we met bassist Brian through seeing him play with a great LA rock singer/songwriter named Eugene Edwards — Brian was playing bass for Eugene, and we thought he was great, so we kind of poached him. Well, that wasn't as short of an explanation as I'd hoped to deliver, but that's the story.
*One after another, you've been on some amazing tours this year? How has this happened and what are some of the greatest memories of the people you've toured with?*
RF: Well, all credit goes to our booking agent, the fantastic and incomparable Kevin French of Big Shot Touring. In addition to being one of the coolest, most fun dudes you'll ever meet, Kevin is incredibly hard-working and persistent, and he's worked his ass off for us and we've been blessed with the chance to tour with the Walkmen, The Long Winters, and, coming up, The National, The Comas, and Fountains of Wayne. Greatest memories: The Walkmen always arriving at the shows like an hour before doors, having let the previous town two or three hours after we did but having driven about 110 mph the whole way. And John Roderick busting balls and making us all laugh, and dispensing some very valuable wisdom and advice on
what it's like to be in a band and to tour.
*Do you think you've got the Crackberry syndrome? Are you always hooked in?*
RF: The honest answer is, quite sadly, yes. I never thought I would be one of those assholes with a BlackBerry. I always turned my nose up at such folks. But before we left for tour, I realized I needed e-mail access on the road for day-to-day band stuff, and since I didn't have the money to buy a laptop, the BlackBerry seemed the sensible and relatively affordable choice. And, yes, I am kind of always reachable, which has its obvious drawbacks.
*When was the last time you felt lucky?*
RF: Honestly, just about every day. I truly feel blessed and incredibly fortunate and lucky that I get to do this for a living (granted, it's not much of a living at this point, but that doesn't really matter). Writing songs, being in a band, getting to play every night — these are the things I wanted to do with my life and always dreamed of doing, and I get to do those things. I really feel like my dream has come true, so for that reason I feel pretty damn lucky every day.
*What's the significance of that big ring you wear? It's a very large bauble.*
RF: It is indeed! It was my grandfather's signet ring. It's a gold ring with his initials on the face, and my grandmother got it for him about 30 years ago or so. He passed away in December at the age of 96, and left me the ring, so now I'm sporting it!
*Who are your musical heroes?*
RF: Gosh…a lot of the usual suspects: Rolling Stones, Beatles, The Clash (London Calling), Led Zeppelin, Teenage Fanclub, Joe Pernice, Eric Clapton, The Band (especially Levon Helm and Rick Danko), Tom Petty, Jeff Tweedy, Muddy Waters, Howlin' Wolf, Bob Dylan…I know I'm leaving a bunch out, but those are the folks who come to mind right now.
*Which Fountains of Wayne song are you going to request night-in and night-out in the coming weeks? Will you discuss That Thing You Do?*
RF: Probably "Utopia Parkway," from the record of the same name. That song still kills me every time I hear it. And, as there is a lot of idle time when touring, I'm sure "That Thing You Do" will come up. I'm just really psyched to play with those guys and meet them. From what I understand, Adam Schlesinger personally hand-picked us to open this tour because, apparently, he's a big fan of our record, which for me, being kind of an old-school FOW fan, was and still is incredibly flattering and exciting.
*Speaking of that, what's your favorite movie about the rock and roll?*
RF: Wow…let's see…maybe "Oh God! You Devil" with George Burns, or, the obvious choice, "Almost Famous." Also "Spinal Tap" is completely out of this world.