Watch Dolly Parton Perform with The Highwomen at Newport Folk Festival
Photos courtesy of Newport Folk Festival
Music
News
The Highwomen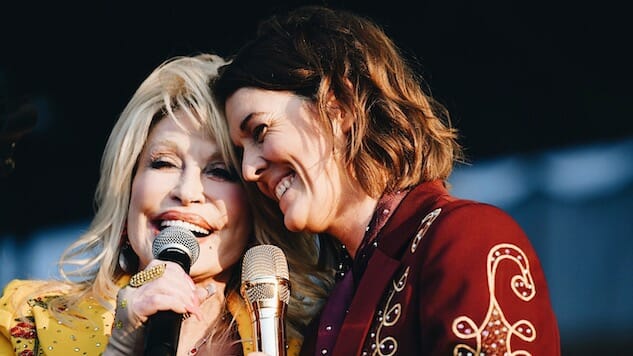 Bringing talented women together is always going to produce something great, and this weekend at Newport Folk Festival, that exact thing happened when Brandi Carlile performed with a slew of guests including her supergroup The Highwomen and none other than "incomparable unicorn legend" Dolly Parton, as Carlile put it while introducing her.
Celebrating its 60th year, Rhode Island's Newport Music Festival had its largest amount of female performers this year, and that's largely due to Carlile's curation of the mysterious headlining act, billed only as "The Collaboration" preceded by four Venus symbols.The act turned out to be a badass all-female lineup including The Highwomen, Sheryl Crow, Lucy Dacus, Maggie Rogers, Linda Perry, Jade Bird, Amy Ray, Yola and the legendary Parton.
The ladies sang some of Parton's most notable hits such as "Jolene," "9 to 5" and "Eagle When She Flies," but Parton and Carlile stripped it back for an emotional duet of "I Will Always Love You."
Equally breathtaking, a backstage video from Linda Perry shows Parton and The Highwomen rehearsing "Eagle When She Flies." Crowded in a huddle, and led by Parton and a single acoustic guitar, the women sang "Eagle When She Flies" with ease, poise and every bit of talent you'd assume was in that room. In this situation, we completely relate to Jason Isbell, who was quote-unquote "in the corner crying" as the ladies did their thing.
I'm in the corner crying https://t.co/hD1wyFgyUq

— Jason Isbell (@JasonIsbell) July 28, 2019
Magnificent and incredible to watch, the backstage performance, not to mention the entire lineup of women at the festival, deserves to go down in the music history books.
Watch Carlile and Parton perform "I Will Always Love You" below. You can also watch Parton and The Highwomen perform "Jolene" further down, plus Carlile and Parton performances from the Paste archives.