The Highwomen's Debut is One Giant Step for Country Music
Natalie Hemby, Maren Morris, Amanda Shires and Brandi Carlile tap into their unique talents and backgrounds to make a brilliant new kind of classic country album
Music
Reviews
The Highwomen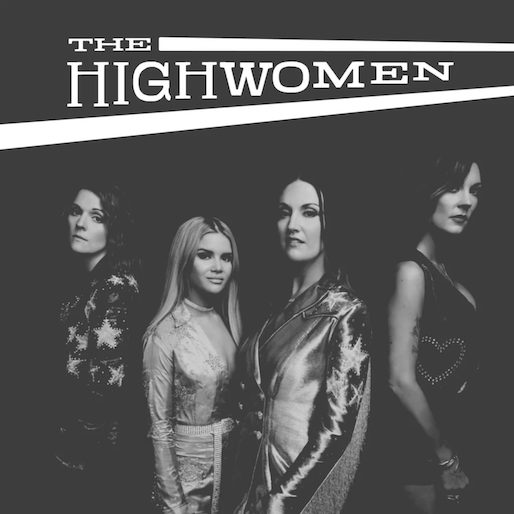 Women are—and have always been—astoundingly resilient. We're designed to endure pain, therefore we can survive the unimaginable. There's a particular monologue (with which you're maybe already familiar) in the nearly perfect second season of Amazon's Fleabag, superbly written by star Phoebe Waller-Bridge and delivered just as elegantly by guest actress Kristin Scott Thomas, that sums up this undestroyable female stamina:
"Women are born with pain built in," declares Thomas, who plays the reluctant recipient of a "Best Woman in Business" award. "It's our physical destiny. Period pain, sore boobs, childbirth, you know. We carry it within ourselves throughout our lives. Men don't. They have to seek it out. They invent all these gods and demons so they can feel guilty about things, which is something we do very well on our own."
Waller-Bridge articulates something in this speech we all know is true but rarely speak out loud: Women just have a tougher lot than men, down to the molecular level, not to mention the societal demands we've fought for decades and centuries to shift. There's no escaping the biological cards we've been dealt—there's only shuffling them, playing them to the best of our advantage and figuring out how to survive the game. "How do we do it?" asks the four-part choir also known as The Highwomen, arguably the most important country supergroup to emerge since Trio. "Make it up as we go along… halfway right, and halfway wrong."
On The Highwomen, the group's debut album and flagship statement in a female-forward country movement that's stirring up chatter in Nashville and beyond, these four artists dare to imagine every kind of life for themselves. Natalie Hemby, Maren Morris, Amanda Shires and Brandi Carlile, easily four of the most talented people in the greater Americana sphere, explore every facet of femininity and humanity and how they exist alongside each other, from the beautiful and hard-won to the ugly and downright messy. Work, family, children, straight romance, queer romance, shitty men, imperfect women—it's all there, made more impactful by the expertly played fiddle, drums, electric guitar and the voices of many.
The introduction to those themes is "Highwomen," a smart retelling of "Highwayman," the brilliant eponymous single by that titular country impetus made up of the genre's greatest outlaws (until now, I might argue): Johnny Cash, Waylon Jennings, Willie Nelson and Kris Kristofferson. The Highwomen's version is the same tune, but the tales of "sailors" and "dam builders" are swapped for familiar stories of female resilience throughout history. Carlile assumes the role of a Honduran refugee and young mother seeking safety after the 1979 Sandinista conflict, Shires takes the place of a Salem Witch Trials defendant and Hemby becomes an "unrighteous" preacher whose heart "broke for all the world" and ultimately succumbed to the rushing Colorado River—the same fate as Jennings' "dam builder" character in the 1985 original. British country soul singer Yola guests on the song as a freedom rider who traveled to Mississippi in 1961. None survived, but The Highwomen, the "daughters of the silent generations," remain. They—we—are still here, "singing stories still untold."
Indeed, of this album's 12 graceful, all equally important tracks, several bring new content to the country table. "If She Ever Leaves Me," a meeting-of-the-minds between Carlile and album guitarist Jason Isbell, isn't necessarily the first gay country love song ever written, but it's certainly the first to be heard by as many people as will consume this album. Just as rare, maybe, is "My Name Can't Be Mama," a humorous honky-tonk reminder that mothers are humans, too. "My Only Child" is a more tender portrayal of motherhood, an incredibly moving ballad akin to ABBA's "Slipping Through My Fingers" that's bound to make mamas and daddies and daughters everywhere weep (It surely had its way with this daughter).
We pivot from exhausted (emotionally, and physically) mothers to adult daughters on the Shires-penned "Cocktail and a Song," a circle-of-life lullaby. Death is the "order of things, it's the way it goes," and any artist who finds a new way to confront its power and beauty deserves some praise. It's preceded by what seems like an obvious epilogue, "Heaven Is a Honky-Tonk," a reworking of Ray Lamontagne's classic promise of paradise for all (even the "junkies and the liars and the fools")—The Good Place's point system be damned.
Morris shines on "Loose Change," one woman's flashy exit strategy from a relationship that's decreasing in value by the minute like doomed stock (but still carries the hope of something better) and "Old Soul," a beautiful theme song for every girl who's ever been told to loosen up and live a little. Morris' ability to craft both blockbuster pop songs and pensive entries like this one prove that she's just as much a songwriting force as this album's more decorated co-writers, like Lori McKenna and Miranda Lambert.
These are songs that scream, "We are here, and we have something to say," but The Highwomen isn't just some topical social statement that won't hold up in a few years—this album was not built uniquely for 2019. While it's absolutely and unapologetically meant as an addition to the discourse on inequality and lack of diversity that's been ruling Nashville and country music (country radio in particular) for decades now, it's also a country classic, no matter which way you spin it. The genre's best talents, both men and women, have gathered, and they succeeded in creating a multi-generational, monumental music event. You might want to play this record for your dad, brother or boyfriend—and you should. They'll love it, too.
The album's thesis could easily be the resounding "Redesigning Women" (our best chance, if any, at a country radio hit), or "Highwomen" and its showcasing of a new side of history. But I'd like to think it's "Crowded Table," a stunning four-part harmony and call for togetherness written primarily by Hemby, who's credited on most of this album's best songs. "Everyone's a little broken," the four artists sing in unison, "And everyone belongs." As Carlile noted in the press materials, "Anyone can be a Highwoman. It's about banding together, abandoning as much ego as humanly possible, holding one another up and amplifying other women every chance we get. Shoulder to shoulder. One push, one love." Carlile, Hemby, Shires and Morris can count that mission as accomplished, tenfold.