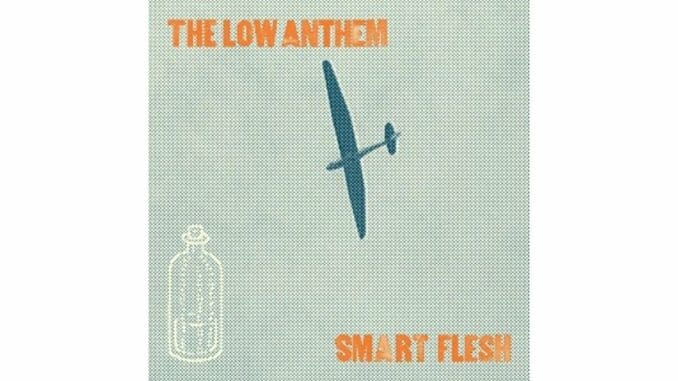 Soft-spoken stories that'll stop you in your tracks
Let's start with what Smart Flesh—The Low Anthem's follow-up to Oh My God, Charlie Darwin—is not. This is not the kind of album you put on to create a little ambience when you've got friends over, nor is it the sort of thing you'd reach for if you're looking to bust a move. It's not something you'd put on in the background while you're doing the dishes. It is, however, the kind of album that demands to be listened to, the kind of album you put on when you really want to hear something.
If you decide to give Smart Flesh your full attention (and you should), what you'll hear is an album far more cohesive than Charlie Darwin, one that's full of echoes, hushed vocals and stripped-down beauty. You'll be greeted by gorgeous harmonies on "Ghost Woman Blues." On "Apothecary Love," you'll hear a lovely little devil sitting on your shoulder, encouraging you to drown your sorrows with sweet pleas of "Oh darlin', try this one if you need a friend. I've got the cure for the shape that you're in." Most importantly, you'll hear some great stories.
It's the lyrics that make Smart Flesh truly shine. Songs like "I'll Take Out Your Ashes" and the title track feature richly developed characters, whether they're crippled with grief after the death of a loved one or searching for redemption as their own lives start to slip away. "Matter of Time" kicks off with its protagonist laying in the grass, waiting patiently for the object of his affection to turn up, and it'll make you feel like you're listening to the soundtrack of a movie you haven't yet seen.
In fact, it may be a strange thing to say about a lo-fi folk album, but there's a cinematic quality to most of this record's tracks. There are enough abandoned graveyards, bouts with alcoholism and visits from the Grim Reaper here to make a David Lynch movie seem sunny, but it never feels overwrought. Smart Flesh is subtle, but if you listen closely enough, you'll find yourself immersed in its drama.