Daytrotter Session - Feb 8, 2013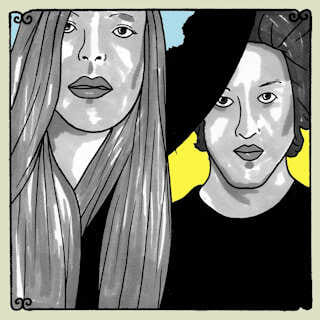 Welcome to Daytrotter
Fencing A Sword Swallower
Bali Hai
Bury You
Go Anywhere
A song like "Everyone's Looking" and a band like its author, The Parlour Suite, makes you long like you've never longed before – or long like you used to long, once again. All of the times that you pined away for a girl come rushing back to you in a raging flood. You long for emptier days, for more of the bare skin that you used to see, but don't any longer. It makes you long for times that used to be configured differently, when there was more hope and anticipation out there than you knew what to do with.
Even with those big and hungry eyes, with every pretty girl that passed, looking like the one that you wanted to be your Mrs., there was a sense that this was all part of the process, one that unraveled and basically solved itself, with or without you. It makes you long for the time when everything compelled you to act or to be moved. It makes you long for a direct sense of lost passion.
Inga Roberts, of the husband and wife duo from Minneapolis, Minnesota, sings, "You make me feel alright, tonight," on the song, "The Goldenhand," in such a way that it feels like it was written in crayon, by a youngster, as well as by someone who's been married to the same person for the last 50 years, the scrapbooks and gifts from a silver anniversary propped up on the coffee table in the dining room. The songs that Inga and Joel Roberts write, make you want to share a bowl of popcorn with someone else, touching buttery fingertips with theirs, turning and smiling at them as you retract your hand with a clutch of kernels. They make you feel that there's always a lot riding on glances and during any orangey-lit twilight when we're still alive and full of wonder.
The characters passing through "Everyone's Looking," seem to be taken from a scene in an old J.D. Salinger short story, only nothing bad's going to happen, the dark feelings and depression are hundreds of miles away, but there's a feeling that we've been whisked back into a time when people courted and shared malts on first dates. Inga sings, of the girls passing, "They don't know what they're doing to you," and continues, "Everyone's looking for lovers tonight." It's a scene, ripe for golden moments, for time frozen in amber, for a little wine, a little dancing and a soft kiss goodnight.
*Essay originally published February, 2012