Listen to The Pretenders Cover The Kinks on Their First U.S. Tour in 1980
On May 3, 1980, Chrissie Hynde and Co. performed songs from their self-titled debut album at the Palladium in New York.
Photo: Getty Images
Music
Features
The Pretenders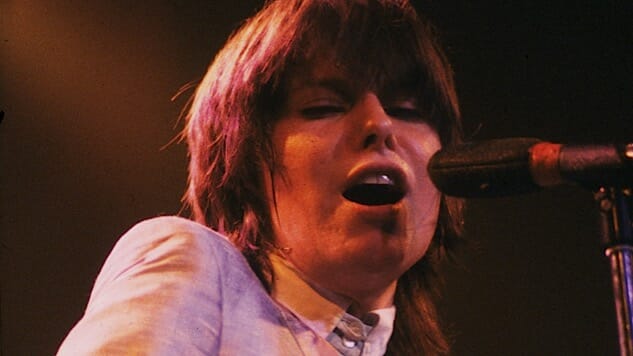 Did you know that Paste owns the world's largest collection of live music recordings? It's true! And what's even crazier, it's all free—hundreds of thousands of exclusive songs, concerts and videos that you can listen to and watch right here at Paste.com, from Lightnin' Hopkins to Cream to Eminem to Prince. Every day, we'll dig through the archive for the coolest recording we have from that date in history. Search and enjoy!
Get Free Access to Vault with the Paste Music & Daytrotter Mobile App
1980 was the breakout year for new-wave punks The Pretenders, led by expat Ohioan and frontwoman Chrissie Hynde. The group released their debut self-titled album that January, which reached No. 1 on the UK Albums chart and landed in the top 10 of the Billboard 200 chart in the US. With this, The Pretenders soon made their way overseas, where they performed at the Palladium in New York on May 3. This performance, which was recorded for the King Biscuit Flower Hour radio show, helped launch the group into the consciousness of American audiences; they earned commercial success and charted Top 40 spots all throughout the early 1980s. This is one of the only recordings to feature The Pretenders' original lineup, including guitarist and keyboardist James Honeyman-Scott, bassist Pete Farndon and drummer Martin Chambers, before the untimely deaths of Honeyman-Scott and Farndon led to years of replacements.
"Stop Your Sobbing," a revamped Kinks track produced by Nick Lowe, became the group's first hit single off the album (Lowe would not produce any further tracks, proclaiming the band was not going anywhere). Oddly enough, it was at this show that Hynde met The Kinks' own Ray Davies, with whom she pursued a three-year relationship and had a daughter. Listen to The Pretenders perform their own take on the Kinks' "Stop Your Sobbing" and The Pretenders album opener "Precious" at this breakout U.S. performance on this day in 1980.