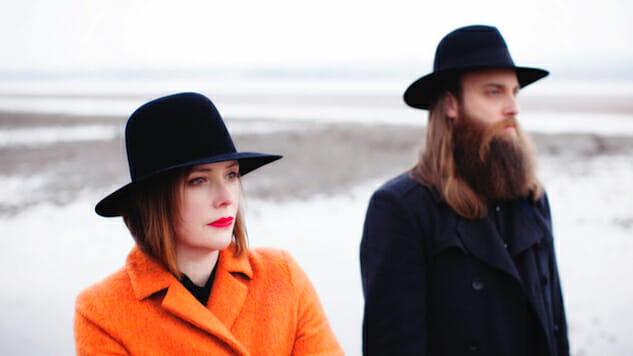 Daily Dose is your daily source for the song you absolutely, positively need to hear every day. Curated by the Paste Music Team.
Have you ever laid underwater at the bottom of a pool? The cold, calm weight of gallons of water resting on your chest, the peaceful glint of sunshine ripples marbling the floor? Such is the feeling of listening to "Dive," the first single from Rachel Goswell's new project alongside her husband Steve Clarke, The Soft Cavalry.
Aside from Goswell's starring role pioneering shoegaze with Slowdive, lending vocals and guitar to supergroup Minor Victories, and her recent album work with bands like Beach Fossils and American Football, The Soft Cavalry take it home (literally) by mashing a mix of post-rock, dream-pop and shoegaze into one dynamic duo conglomerate. Clarke and Goswell met while Clarke was tour-managing Slowdive during their 2017 reunion. Four years later, the two married, and Clarke found the drive and inspiration to start work on his own music.
"Dive" offers precisely the kind of dazed ethereality one would expect from a seasoned shoegazer. A notably "Champagne Supernova"-esque build imparts a sonically bittersweet backing to the complicated emotions with which the song grapples.
"I'd always had ideas but never felt that anything I had to say was worthy of anyone's attention, let alone my own," says Clarke in a statement. "I wish that I could have done this 15 years ago but, in reality, I simply couldn't have. But I'm not one to overly wallow. I'd rather plough the various levels of confusion into songs."
The Soft Cavalry's self-titled debut is out everywhere July 5 via Bella Union—keep scrolling for the LP's details. You can preorder the album here and listen to "Dive" below.
The Soft Cavalry Tracklist:
01. Dive
02. Bulletproof
03. Passerby
04. The Velvet Fog
05. Never Be Without You
06. Only In Dreams
07. Careless Sun
08. Spiders
09. The Light That Shines On Everyone
10. Home
11. Mountains
12. The Ever Turning Wheel
The Soft Cavalry Album Art: