When We Were Young Festival: Nostalgia Sells, But at What Cost?
The notorious emo and pop punk festival's 2024 lineup embodies and celebrates the scene's past, but at the expense of its future and the marginalized people it's chosen to exclude.
Photo courtesy of When We Were Young Festival
Music
Features
When We Were Young Festival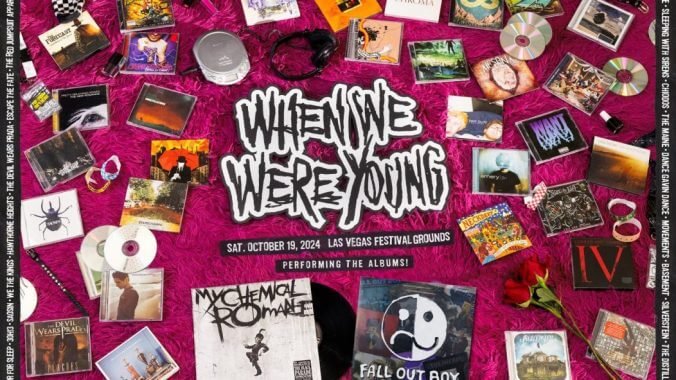 Last week, When We Were Young Festival—a showcase of pop-punk, emo, hardcore, metalcore and post-hardcore bands—announced the lineup for its 2024 installment. The festival, scheduled to take place on October 19 and 20, 2024 at the Las Vegas Festival Grounds, will be headlined by Fall Out Boy and My Chemical Romance, with Jimmy Eat World, Dashboard Confessional, Thursday and many others set to perform as well. But there's a twist this time around: Almost all of the bands on the bill will be performing one of their beloved albums in its entirety.
The initial announcement, with over 50 bands, was released on Monday, November 13. There is a striking lack of women, trans, non-binary, queer artists and artists of color on the bill. Only three of the bands on the original 2024 lineup include women. Since the initial announcement, seven acts—all featuring women—have been added to the lineup. While these additions helped, they have nowhere near rectified the imbalance. As it stands now, less than one in five acts on the bill has at least one woman in it, and even fewer have a member who is a person of color. This is especially disappointing since punk and hardcore are about liberation and resistance in the face of oppression. Fans and artists of marginalized backgrounds and identities have always been part of the scene—they just weren't always given a platform. More women, people of color, queer, trans and non-binary alternative artists are rising to prominence now. This lineup is overwhelmingly white and male, and it's not representative of the community's past, present, nor its future.
When We Were Young Festival is known for highlighting the big names of the 2000's emo scene but, in the last two years, it also featured a handful of artists from the latest generation, with bands like Meet Me @ The Altar, The Linda Lindas, Magnolia Park and KennyHoopla performing. The idea of an anniversary-style play-through is, by its nature, exclusionary. It represents the scene as it was then, not now, with all the progress having been made, and ignoring acts that are important to the scene today.
The albums (and one EP) on the lineup came out between 2001 and 2017, with most of them having been released before 2010. Only five of them are currently under a decade old. But even if the festival wanted to spotlight records from the 2000's, several prominent bands with women and people of color in them are missing. The inclusion of Movements' 2017 debut record, Feel Something, opens up the opportunity for younger and more diverse bands on the bill, but it was not taken. It shows that the festival has room for newer acts, but this exclusion is very telling of what kinds of younger acts it books. Similarly, having The Millionaires perform their 2010 EP Cash Only also opens up the festival to artists who don't have an album out yet—but that remains the only EP performance. The only artists not confirmed to perform full album play-throughs are supergroup L.S. Dunes (whose first album came out last year and whose members are all already playing the festival with their other bands), CARR (who released her debut album last month), Daisy Grenade (who have yet to release their first album) and headliner Fall Out Boy.
These missed opportunities to broaden the bill are part of an ongoing issue of gender imbalances at music festivals. When We Were Young is reminiscent in scope and spirit of Warped Tour, and now it's a callback to the execution of the Van's festival—which also featured very few women and people of color. The 2024 lineup for Slam Dunk Festival, a pop-punk one-dayer in the UK, similarly features older bands and a less-diverse lineup. It's not limited to the world of alternative music—Glastonbury faced similar backlash for having only male headliners this year. Research by Sky News found that, this year in the UK, only a fifth of festival headliners were fronted by women.
These festival bookings don't reflect the tastes of fans, nor the reality of the musical landscape today. Pop punk has recently gone through a lot of changes. In 2020, the genre began entering mainstream culture again—rock and alternative music in general is having a bigger influence on pop music (for example, artists like Olivia Rodrigo)—and is popular among younger artists and fans. While part of it is renewed interest in the music of the mid-2000's, it's brought attention to a new generation of artists like Meet Me @ The Altar, The Linda Lindas and Pinkshift. And, it has resulted in artists that are representative of alternative fanbases. Fans are making more of an effort to diversify their listening, boosting artists of color. This is only the beginning of the work that needs to be done; there is still a long way to go.
And When Were Young Festival's 2000's bent is working directly against that. The festival is organized around nostalgia, and many fans of these genres did come to it at a young age. The albums on the bill hold personal significance to the fans, as well as being extremely influential. But focusing on those at the expense of failing to acknowledge newer acts cements the idea of pop punk as a nostalgic genre, one that is frozen in audience's minds as what it was 20 years ago, instead of a genre that is evolving and growing. Because of pop punk's popularity in the 2000's, and the fading mainstream attention it received at the end of the decade, some fans are unaware of the ways in which the genre has changed and adapted—and a festival like this is the space to do so and promote more investment in the scene and in that progress.
The consequences of viewing a genre solely through the lens of the past are clear. It has happened with rock music as a whole, which is sometimes viewed as little beyond classic rock. This was a problem particularly at the Grammys which, this year, has shown improvement in nominating artists who aren't just legacy acts. The nostalgic interpretations of rock music also serve to narrow the ideas surrounding who is considered to be a rock artist, making it harder for these genres to be more inclusive. The contributions of women, queer artists and people of color to rock and alternative music have been overlooked in the past because of this impression of rock as white, male and straight—and it's created a barrier for newer artists.
Emphasizing the mid-2000's also risks glorifying a problematic past. Harmful behavior that was normalized or went unacknowledged then is no longer acceptable. Emo and pop punk songs from that era often contained misogynistic lyrics, and it would be difficult to imagine a recent band including lyrics like that in their songs today. It's all the more troubling given that there are allegations of sexual misconduct and abuse against current and former members of several bands on the festival's lineup, including Pierce the Veil, A Day to Remember and Dance Gavin Dance, among others.
Despite this, nostalgia sells—so well, in fact, that the festival's first date sold out during presale, leading them to add a second. It's profiting so heavily off a subculture, while at the same time perpetuating the issues within it. The festival headliners themselves have also expressed hesitancy towards nostalgia. "We've never been a nostalgia band," Fall Out Boy bassist Pete Wentz said in an interview. Fall Out Boy, notably, do not have a specific album listed on the announcement, and the band members previously spoke about their reluctance to do anniversary shows. "We are still doing the band and making records—we are not on a 10-year anniversary tour. We are still an active band," guitarist Joe Trohman told Rolling Stone in 2017.
Fans interpreted several aspects of My Chemical Romance's headlining set at 2022's When We Were Young Festival to be poking fun at the idea of a nostalgia cash-grab. They dressed up in their Three Cheers for Sweet Revenge-era stage outfits along with prosthetics to make them look much older. Instead of confetti, they shot out vampire-themed fake money during their performance of "Vampire Money," a song about selling out. "We never banked on trends," Hayley Williams explained in a note she posted to social media before Paramore's headlining performance in 2022. "Or nostalgia. Or even me, alone. We only did exactly what we knew was real for us."
She goes on to acknowledge the strides that have been made. "Young girls, queer kids, and anybody of any color…WE have shifted this scene together," she explained. "Messily, angrily, heartbroken, and determined." It's Williams' note which sums up the potential for what When We Were Young could be: an opportunity to create a more inclusive space and to set the stage for what alternative music is now and going forward. "Tonight, for me at least, is about celebrating ALL the facets of what punk music actually represents," Williams continued. "All the things it wasn't allowed to be when we were young."