Who Is She? Relish in the Divinity of Collaboration on Goddess Energy
The Seattle indie supergroup embrace power pop through a collection exploring online dating, late capitalism and misunderstood divas
Music
Reviews
Who Is She?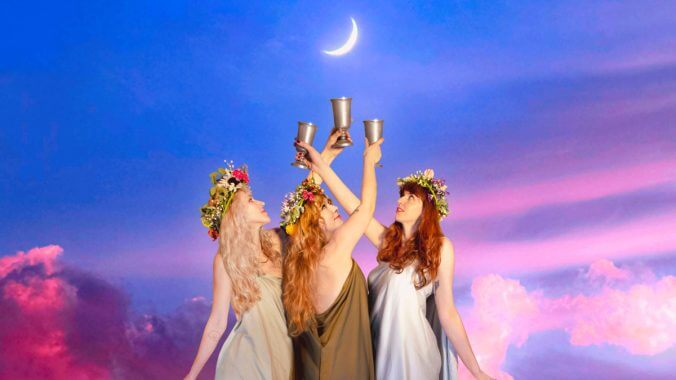 As the world clamors for a reliable energy source to power production and consumption long-term, there's a quartet in Seattle harvesting an energy all their own. The currents flowing between Julia Shapiro (Chastity Belt), Robin Edwards (Lisa Prank), Bree McKenna and Emily Nokes (both Tacocat), the members of Who Is She?, is that of the divine feminine. It's radiant, friendly, celebratory. Unfortunately, to some, it's intimidating. They've heard the refrain on the title track uttered to them before: "Too much goddess energy." If there really is too much goddess energy in the world, why not harness it for something fun? On Goddess Energy, Who Is She? return six years after their debut album with more snappy songs about online dating, favorite celebrities, ghoulish overlords and more. Just like its predecessor Seattle Gossip, Goddess Energy is brief, witty and eccentric, taking pieces of each member's respective projects and presenting a sound and perspective all their own. It is a fun, sonically curious collection of hooky, fast-paced anthems that are bound to get stuck in your head‌.
On Seattle Gossip, the band ripped through punk and pop-inspired numbers on movies, favorite celebrities and the magical world of MySpace. Their blend of witty commentary and amusing tangents made the album instantly memorable. Now, on Goddess Energy, Who Is She? toy with Slumberland-style twee-pop for another collection of earworms. The band's punchiness sounds most akin to Tacocat and Lisa Prank—compared to the dreamier Chastity Belt—but this album's vintage power pop stylings make the project stand on its own, distinct from anything the four have done on record before. While the foursome bring their own "goddess energy" to the album, they devote much of the space to their favorite goddesses. Whether it's Marianne Williamson ("Bitch for God"), Shania Twain in her "That Don't Impress Me Much" era ("Shania") or an unfairly maligned A-list actress ("Anne Hathaway"), Who Is She? are creative practitioners of diva admiration. Their observant streak with pop culture is instantly relatable.
The band's aesthetic that hits throughout Goddess Energy is at its peak on "MoviePass," a harmony-laden ode to the short-lived subscription service that made movie-going much more accessible and affordable. Between talk-sung verses and jangling guitars, "MoviePass" is Who Is She? at their best: catchy, silly and familiar. They sing of their experience autobiographically: "I first got MoviePass in 2017 / It was a little red card that let you see unlimited movies for $9.95 a month / It was amazing, I saw so many movies!" Their impeccable vocal harmonies are illustrative of the band's synergy. "Thursday" is a strong example of what their blended voices can accomplish. But, amidst their laughs, they dish out meaningful critique: "Anne Hathaway" specifically rebukes how the media and fans over-criticize the actress: "Maybe she reminds people / Of someone they hated in high school / But whatever it is / Anne doesn't deserve it." The Le Tigre-inspired "My My Orca Card" takes a sharp enough cut at Jeff Bezos that the band's residency with the Seattle Kraken was canceled.
At times, Who Is She? play up different aesthetics, dialing in on weird synths for "Please Don't Kick Us Out" or going full-on garage punk on "Sea-Monkeys." The propulsive, eerie latter offers some of the crunchiest guitar tones on the whole record, reminiscent of Snõõper or Spread Joy. Even as the track ends, the band is surprised that they could activate this stern energy for so long: as the track ends, the band members burst out laughing, reveling in their shared shock.
Who Is She? are not delivering rock that pushes the boundaries of what the genre can do, but they don't promise that, either. Goddess Energy is a celebration of the Seattle indie rockers' unique friendship and shared vision. After years of supporting each others' bands, forming other groups (can't forget Childbirth), and debuting the Who Is She? project, this is a foursome that knows how to have fun in community with others and with themselves. Between power pop hooks, witty observations about celebrity culture and jangly outros, they've become a band that celebrates something unique in womanhood—that incandescent Goddess Energy—and makes it accessible and appreciable to every listener.
The feminism of Goddess Energy is simple: doing right by each other, collaborating earnestly and, when given the opportunity, talking smack about billionaire overlords. It's punchy and simple, delivering hits in tracks like "MoviePass," "Thursday" and "Goddess Energy." Some entries get buried at the intersections of genre, coming out generically, like closer "All Mixed Up." Overall, though, it's a welcome return for the supergroup, now in an era where their three bands have been effectively established as touchstones in the contemporary Seattle indie rock scene. They can dish out their unique spunk with wit and charm, proving once and for all that goddess energy is sustainable.
---
Devon Chodzin is a critic and urban planner with bylines at Slumber Mag, Merry-Go-Round and Post-Trash. He is currently a student in Philadelphia. He lives on Twitter @bigugly.