Wye Oak Share Beautiful New Single "Fear of Heights"
Photo by Kendall Bailey Atwater
Music
News
Wye Oak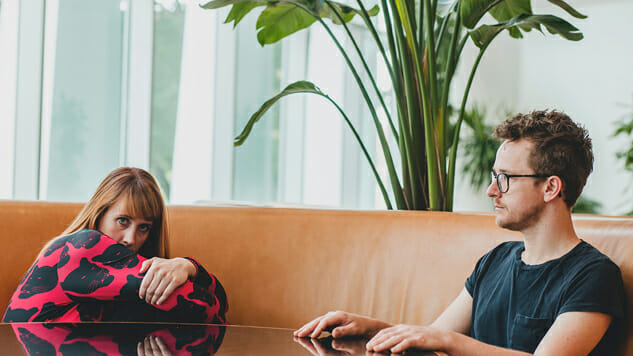 Durham indie darlings Wye Oak shared new single "Fear of Heights" on Tuesday. The single is the third standalone track following Wye Oak's 2018 release The Louder I Call, The Faster It Runs.
"Fear of Heights" begins with Jenn Wasner's sonorous voice declaring her titular apprehension, followed by tremulous guitar and fast, sprinting drums. Wasner says, "This song's central metaphor likens the deepening of a relationship to the feeling of ascending to the top of a very tall place. There's something to be seen (or learned, or experienced) once you arrive, but for some there is also a fear that increases with every step upwards. You say it's worth it for the view, but it's impossible to know if that's true until you get there to see it with your own eyes."
The song, as beautiful as it is fragile, quakes with tension and is constricted by feelings of new love. It sounds like a logical follow-up to "Fortune," a jammy cut in the vein of Edie Brickell & New Bohemians. Wasner's voice is showcased plainly, a constant centerpiece in Wye Oak's vulnerable take on dream folk. We're eager to see if the group have any more releases up their sleeves in the coming months.
The track comes on the heels of Wye Oak's upcoming JOIN tour, a 12-date run across America. Tickets are going fast, with their Philadelphia and Baltimore shows already sold out. The tour will find the two joined by four-to-six musicians each night, with composite setlists taken from the catalogs of Wye Oak, Andy Stack's Joyero and Wasner's Flock of Dimes.
You can listen to the "Fear of Heights" below and watch Wye Oak perform in the Paste office circa 2010 further down.