Mikey Brannigan Wasn't Allowed to Compete in College. Now, He's Going for Gold in Rio.
Photos courtesy Getty Images
Olympics
Features
Rio 2016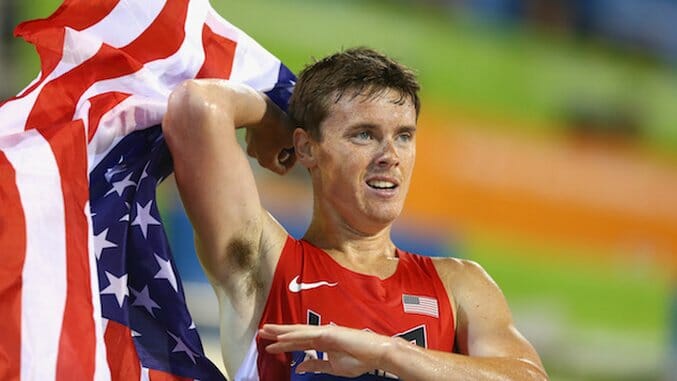 For Mikey Brannigan, the big race in Rio is just the latest stop in an already unprecedented journey.
Brannigan, a lanky 19-year-old Long Island native, is one of America's fastest milers. Unlike many of his competitors in races throughout his short career, however, he has autism. Edie Brannigan, Mikey's mother, said that she and her husband knew he had autism when he was 18 months old; he was officially diagnosed at two. Edie described her son as a "peer modeler" because he tries to overcome his autism in social settings by mimicking the people around him.
"We're very blessed, and we always have been, that Mikey has a very profound awareness of his disability," Edie said about her son. "He gets that he struggles in relationships and socializing, and he hates it. He's always wanted to be just like any other kid."
Kevin Brannigan, Mikey's father, met Steve Cuomo when his son was seven years old. Cuomo told Kevin about Rolling Thunder, a running club he founded and coached that allows disabled athletes as young as five years old to train and compete with able-minded athletes. Mikey's parents quickly signed him up.
"The running changed everything. He became a different kid," Edie said. "Whether its endorphins or just getting out all the excess hyperactive energy that he has, it changed him completely."
Through Rolling Thunder, Mikey began competing in road races as a young boy. These races gave a glimpse at the runner's future success.
"First Mikey was coming in like 200th. Then Mikey was coming in like 100th. Then Mikey was coming in 50th. And then Mikey was coming in 20th. Well the next thing you know, Mikey's winning every road race he goes into, practically," Edie said.
"I mean he was 12 years old, and we went with Rolling Thunder as a team to Washington, D.C. for the Marine Corps 10k," Edie said, telling the story of when she really knew her son had a real talent. "There's something like 6,000 people in the race; Mikey comes in 22nd. He's 12."
Mikey quickly picked up a love for running and racing.
"I feel proud of myself," Mikey said. "It's a gift from God, and I work really hard for it."
Edie thinks that her son's autism has allowed him to progress as a runner without the inhibition of self-doubt.
"Mikey sees himself as equal to any other athlete. He doesn't look at, like, [Olympic marathoner Meb Keflezighi] and see him so far, pie-in-the-sky out of range," Edie said. "Mikey sees himself as himself becoming and being able to do what Meb does. He doesn't have fear. He assumes that if he puts the work in he can do exactly what Meb does, or what [Olympic gold medalist] Matt Centrowitz, Jr. does."
Mikey continued running at Northport High School, where under Jason Strom's coaching he became the school's top runner and one of the elite New York high schoolers. Mikey's talent reached the national level during his senior year, when he competed in invite-only fields against the country's best high school runners at the Prefontaine Classic, the Adidas Dream Mile and the Brooks PR.
James Burke, a sophomore runner at Georgetown University who grew up in nearby Port Jefferson, New York, got to know Mikey growing up as the two met regularly in youth and high school races.
"We were both studly eighth graders in the same county. It was fun coming up at the same time as him," Burke said.
Thanks to New York's system for track and field state championships, in which athletes represent their counties instead of their individual schools, Mikey and Burke would sometimes be teammates representing Suffolk County. Burke said that for trips to the state meet, he'd ride the bus and share a room with Mikey.
"[Mikey's] just determined as hell, man," Burke said. "[He's] definitely courageous, but also just really fun to be around."
That determination is on display in Burke's favorite story about Mikey. Burke said that after Mikey had a disappointing run at the 2014 Nike Cross New York Regional race, he asked his coach if they could try and run at the Foot Locker regional race held that same day.
"They got in the car and went to do it," Burke said. "But they realized they weren't going to make it on time. I have full faith he would've ran even better at the next 5k two hours later."
The running success was matched by accomplishments off the track. Mikey took and passed Algebra I despite school faculty initially steering him away from the class. To top it all off, Mikey was crowned Northport High's Prom King his senior year.
Mikey's success on the track during high school drew interest from more than 200 college teams, including Georgetown University.
"So we generally start the recruiting process in the fall or the winter of their junior year. I was just reaching out to him as I would any other really, really talented junior," Georgetown Cross Country Head Coach Brandon Bonsey said.
Bonsey went through the initial stages of the recruitment process with Mikey, but decided to stop after learning more about the runner's backstory. The coach said he was worried that Mikey would struggle academically at Georgetown, and the he wasn't sure the school would provide enough support for Mikey in the classroom.
"I believed in his talent and I watched him run a bunch, so I, from a pure running standpoint, felt that he was one of the best recruits in the country," Bonsey said. "But we also have to, and each school also has to, tailor their recruiting to what's going to fit on their campus and I got the sense that it wouldn't be the best fit for us or for him."
Division I running never came to be for Mikey. Because Mikey struggles with standardized testing like the SAT, he was unable to meet the NCAA's academic standards. This prevented him from competing at the collegiate level despite the fact that Mikey was accepted into individual colleges.
Edie said that some schools, like American University, Hofstra University and Duke University, were prepared to provide Mikey with the support that Georgetown couldn't if the NCAA would make an exception.
"With the proper academic support, Mikey could do it. He's driven," Edie said. "But he couldn't get past the NCAA educational requirements, and that's heartbreaking. Every college in the country wanted him."
But his running career would not be stopped by NCAA rules. Now coached by Sonja Robinson, Mikey runs for the New York Athletic Club while attending Suffolk County Community College part-time. Robinson says that they are currently pursuing sponsorship deals for Mikey. Robinson said that she is happy with the runner's progress over the past year and that he is probably farther along than many of his collegiate peers. Still, she's quick to point out that Mikey was essentially forced to go pro.
"Even to this day, he doesn't understand why he's not in college," Robinson said. "He didn't have an option. That's the difference between him and [prep-to-pro runners] Mary Cain and Drew Hunter and the rest of the list. They had the option. They chose not to go to college. He didn't choose not to go to college; he couldn't go to college."
Mikey's first year as a professional runner has been a learning experience for both him and Robinson. From a coaching perspective, Robinson says that for the most part coaching Mikey is like coaching any other runner, but there are slight differences.
"I have to plan differently in terms of breaking down instructions and skills for him," Robinson said. "It takes him a little bit longer to learn certain things, but once he gets it he's got it."
Mikey's training since high school has included multiple stays at the U.S. Olympic Training Center in Chula Vista, California. Robinson said that her bond with the runner really strengthened through those trips.
"That's really where that one-on-one, consistent coach-athlete bond really formed," Robinson said. "We were together before, but we really came together then."
Mikey represented America last October in the T20 1500 meter run at the 2015 IPC Athletics World Championships in Doha, Qatar. For Paralympic competition, the track athletes with intellectual impairments compete in the T20 division.
He ran 3:56.50 to edge out Iran's Peyman Nasiri Bazanjani by a fraction of a second. It was a thrilling race; Mikey sat on the shoulder of the defending world champion until pulling away with a home straight kick. The winning time set the championship record. Later at the meet, Mikey won silver in the T20 5000 meter run with a time of 15:50.99.
A month ago at Sir Walter Miler in Raleigh, North Carolina, Mikey finished seventh in an elite field with personal best time of 3:57.58. In total, nine men broke the four minute barrier that evening. Race director Pat Price said that he thought the overall strength of the field helped pull Mikey to a break-through race.
"We built our race around giving people a chance to break four minutes for the first time, and he fit that bill perfectly," Price said. "It was a special night. As much fanfare as the rest of the field had in the women's field and the guy's winners, that was certainly the story of the night."
Price said that at the race, Mikey was a favorite among the crowd and the competitors. Kyle Merber, then winner of the race and a Long Island native, was particularly interested in Mikey's run.
"[Merber] came up to me right after he crossed the finish line, and he didn't ask 'what was my time?' he asked 'what was Mikey's time?'," Price said. "You could certainly tell that Mikey appreciated being in a race of that caliber and running against these guys. I thought all of the guys treated him with respect and welcomed him with open arms all weekend."
Mikey's 3:57.58 was reported as a world record for the T20 division; however IPC Athletics Senior Manager Haozhe Gao said that his organization does not keep records for the mile because it is not an official Paralympic event. Price said that in their pre-race research, he and the other race organizers could not find any T20 athlete who had ever broken the four-minute barrier.
"There might not be an official record, but it certainly was a barrier that had not been broken," Price said. "For all collective purposes it is the world record. I'm sure that if somebody else were to come close to that or to beat that, they would reference that."
"He's the first, and he'll always be the first. That's pretty cool," Edie said, reflecting on the milestone her son achieved.
Mikey runs in Rio on September 13. Bazanjani, the Iranian runner he beat at last fall's world championships, is the defending Paralympic champion. Mikey said that he's ready for the race.
"I feel good, I'm fit and I'm strong. I'm so excited. I've been training for this," Mikey said.
Mikey's parents will be making the trip down to Brazil to watch the race.
"They're so excited," Mikey said. "It's going to be their first time watching me race in South America."
Robinson said that even though Mikey is the best runner in the field on paper, they have to be wary of the extra experience that his competitors have. She said that this experience is important when considering how unpredictable Paralympic competition is compared to the normal race tactics that Mikey is used to racing against.
"At the end of the day, we're asking a 19-year-old kid to run against grown men," Robinson said. "It doesn't matter that they are all intellectually impaired; they're still intellectually impaired grown men. They've seen tactics that he hasn't seen, they've seen races that he hasn't seen."
Edie said that she hopes Mikey's run in Rio, and all of his accomplishments to this point, serve as an inspiration for the autism community.
"Autistic people can be elite athletes. They can, because now someone has done it," Edie said. "It's beautiful. Mikey, you know, he's one person out of so many autistic people who is shining a light on ability, not inability."
If everything goes as planned, the Paralympics are not the peak for Mikey. For him to continue progressing, Robinson knows that eventually she will pass him to another coach. She'd like to see Mikey in an elite training group setting, working out consistently with Olympic-level runners.
"He firmly believes that he belongs running with IAAF level athletes," Robinson said. "He wants to be one of the best. He doesn't want to be one of the best 20-year-olds, he wants to make that Olympic team."
Edie has no doubt that her son will achieve his biggest goals.
"If I listened every time someone told me Mikey can't do something, he'd be up in his room right now staring at the wall," Edie said. "I put no limits on Mikey because of what he's already done. I know if Mikey puts his mind to it, he'll get there."
Michael Sol Warren is a Boston-based freelance writer. Follow him on Twitter @MSolDub