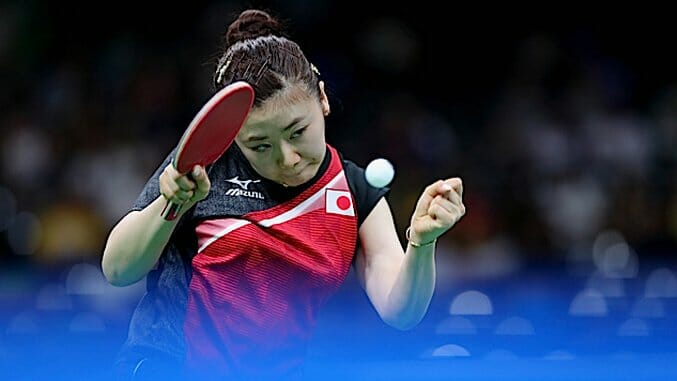 You know how we roll by now, but if not…
1. Using both NBC's various TV channels and their excellent live streaming site, I will show you how to watch the Olympics with an unmatched level of obsession and fanaticism. Note that every event listed on a TV network can also be streamed live, though the opposite is not true.
2. My focus is on catching every event where a medal is at stake, regardless of sport, and every team sport match featuring America. Follow me, and you'll miss nothing.
3. Everything you see below is LIVE. We may be many things, but we are not tape-delay punks.
For a handy one-stop schedule of each event for the full two weeks, I made this spreadsheet to aid in your quest. Refer to it as needed.
On to day five!
Wednesday
7:30 a.m. — Cycling — Women's Time Trial — NBCSN
Even though every rider is racing separately, this is more dramatic than you might think, particularly since they send the faster riders out last. Race-against-the-clock events are always pretty awesome, and there are surprisingly few in the summer Olympics, though the winter games are chock full.
9:00 a.m. — Cycling — Men's Time Trial — NBCSN
This is Chris Froome's big chance to win gold after the road race didn't work out for the Tour de France winner.
9:22 a.m. — Rowing — Men's Quad Sculls Final — Computer
Our first rowing final! Australia and New Zealand look like they're going to absolutely dominate the men's side, and it should start here with an Aussie gold. My favorite part of rowing is how the boat seems surging back and forth, like an inch-worm crawling over the water. Update: All rowing has been canceled today due to weather.
9:34 a.m. — Rowing — Women's Quad Sculls Final — Computer
U.S. has a great medal shot here—we won the world championship in 2015. Update: All rowing has been canceled today due to weather.
10:00 a.m. — Tennis — Early Rounds — Bravo
As always, great to have on in the background. Steve Johnson is the last American in the field, and he faces Evgeny Donskoy in the third round at 10:00 a.m. sharp. NBC's live streaming allows you to pick which match you want, and that's my recommendation, though Juan Martin Del Potro—who took down Novak Djokovic—is also playing his third-round match.
10:00 a.m. — Men's Beach Volleyball — Gibb/Patterson vs. Spain — NBC
A must-win, as Gibb/Patterson went down to Austria in the last match, and need to finish pool play 2-1 to have a solid shot at advancing to the knockout stages.
10:40 am. — Men's Water Polo — U.S. vs. France — NBC
The men have lost two agonizingly close matches to Croatia and Spain because the offense is a trash fire that can't score when they really need to score. It's still possible to make the quarterfinals, but now a date with a powerhouse like Serbia looks more and more likely even if they do go through. If they lose this match, even that dream is probably dead.
11:00 a.m — Shooting — Men's 50m Pistol Finals — Computer
Did you know they don't show the target on screen? They just put dots up for hits and misses and focus the camera on the shooter. Now you know! (I like archery's system better.)
12:30 p.m. — Men's Rugby Sevens — U.S. vs. Fiji — USA
Blood. Bath. The U.S. last-second loss to Argentina yesterday was probably the most heartbreaking moment of the Olympics so far, other than Mara Abbott missing out on a medal in the women's cycling road race. They needed that win to have a chance to make the quarterfinals.
2:00 p.m. — Women's Volleyball — U.S. vs. Serbia — NBC
As usual, our women's teams are heads-and-shoulders above our men's teams in sports like volleyball. The men started 0-2, but the women are 1-0 and big-time medal favorites.
2:15 p.m. — Kayak — Men's Singles Whitewater — Computer
Another race-against-the-clock event. Fun as hell.
2:30 p.m. — Women's Basketball — U.S. vs Serbia  — NBCSN
Yawn.
2:30 p.m. — Shooting — Men's Double Trap Finals — Computer
I think this will be the first shooting event I watch. Maybe the last? But maybe not.
2:30 p.m. — Weightlifting — Women's 69kg Finals — Computer
China's favored! (Thanks, Sports Illustrated.)
3:00 p.m. — Diving — Men's Synchronized 3m Springboard — Computer
China's favored! (Thanks, every Olympics ever.)
3:00 p.m. — Gymnastics — Men's Individual All-Around — Computer
Two good reasons to watch this. First, to see Japan's Kohei Uchimura add to his legacy as the greatest male gymnast of all time. Second, to watch the U.S. gymnasts choke their guts out the minute there's the slightest bit of pressure, as they did in London and have done so far in Rio. The pommel horse is particularly brutal for these guys—they can't stay up.
3:00 p.m. — Men's Rugby Sevens — Quarterfinals — USA
Of the two new sports in Rio, Rugby Sevens owns golf. It's been such a blast watching the matches, and even if the U.S. doesn't advance, I'll be checking out the quarterfinals.
4:00 p.m. — Women's Field Hockey — U.S. vs. Japan — NBCSN
With this start time, and not much counter-programmed around it, I'll watch some field hockey today. I don't think I'll like it, but I'll try. Am I a hero? Probably.
4:00/4:20 p.m. — Judo — Women's 70kg/Men's 90kg Finals — Computer
Watched Travis Stevens try to win gold yesterday in judo, and have done my duty. I don't like or understand this sport, and I stand by my earlier opinion that it should be replaced by MMA post-haste.
6:00 p.m. — Men's Basketball — U.S. vs. Australia — NBSN
Yawn.
6:00 p.m. — Weightlifting — Men's 77kg Finals — Computer
They should make them lift a human instead. Have a bunch of people of various weights just lined up in order, and you go down the line until someone is just too heavy.
6:20 p.m. — Fencing — Women's Foil Bronze/Gold — CNBC
Foil is my favorite discipline, only because you're allowed to hit someone on the shoe and get a point. That would be such a dick move in a real sword fight.
6:50 p.m. — Fencing — Men's Sabre — Bronze/Gold — CNBC
Sabre is a garbage event, unless an American wins, then it's awesome.
7:30 p.m. — Table Tennis — Women's Bronze/Gold — CNBC/Computer
You're not going to believe this, but it looks like China is the favorite.
8:00 p.m. — Women's beach Volleyball — Walsh-Jennings/Ross vs. Switzerland — NBC
The third and final group stage match for these two, who are undefeated and likely to stay that way. I absolutely cannot wait for the knockout rounds, where Walsh-Jennings will go for a fourth straight gold.
9:03 p.m. — Swimming — Men's 200m Breaststroke — NBC
This is the least intimidating of all strokes, but two Americans could make the podium.
9:54 p.m. — Swimming — Women's 200m Fly — NBC
Instead of the yellow line, I think NBC should have a robot swimming at world record pace in lane nine, so you could actually see if the best swimmer could touch ahead of the bot. And if it sometimes malfunctioned and attacked other swimmers, so be it.
10:03 p.m — Swimming — Men's 100 Freestyle — NBC
I just found out yesterday that in the freestyle, you are literally free to do any stroke you want. Everyone chooses the American crawl because it's fastest, but if someone wanted to do breast stroke or doggy paddle or whatever, they could. And I wish they would. Nathan Adrian is our best hope at gold here, and he looked real solid in last night's semis after almost screwing himself by taking it easy in the qualifying heats and getting eliminated.
10:55 p.m. — Swimming — Women's 4×200 Freestyle — NBC
Ledecky's shot at a third gold, and pretty much a slam dunk for the Americans. The only real drama is whether we'll break China's 2009 world record, which was, in all likelihood, accomplished with the aid of 50 different kinds of performance-enhancing drugs, including the surgical installation of actual fins.
That, I believe, was the busiest day of the Olympic calendar yet. Reward yourself with the dreamless sleep of the true patriot. See you tomorrow morning for Thursday's guide.