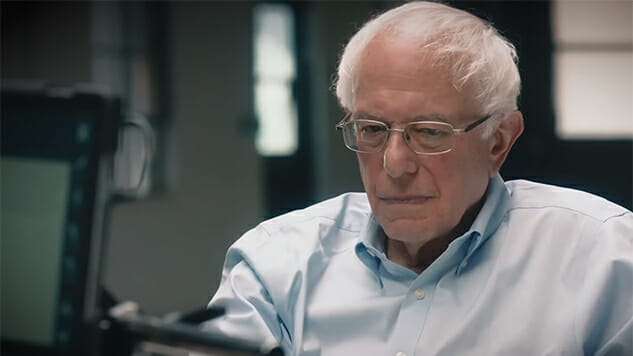 Mainstream media has never been kind to 2020 presidential candidate Bernie Sanders, now or in 2016. They take unflattering cut-and-pastes of his speeches and use them to paint a picture of him with his rearranged words, while other media outlets slander Sanders without hearing him speak at all.
In a brilliant reversal, independent producer Matt Orfalea has created and shared a video that doesn't just build Sanders up: It addresses criticism against him through inclusion. The video features clips of disapproval from a variety of news anchors saying he has "no emotional connection" with voters, let alone women or people of color; is a relic of the '50s; and is too old to be trusted. Some attacks are downright vicious and personal, with commentators using words like "unlikeable" and "pushy" to justify (albeit groundlessly) why the Vermont senator should not become president.
These claims are refuted quite simply through shots of Sanders acting the exact opposite of the way these media outlets construe him to be. In footage that ranges across time and place, Sanders smiles and laughs with constituents, invites people up to the campaign stage for hugs, and even lends them the mic. He truly is a politician of the people, people who are diverse in age, background and gender as they embrace him, thank him or hold their "Bernie" signs high.
Trevor Noah has a clip where he shows his audience Sanders telling a kid, "I think you're dumb." The audience laughs at the "curmudgeon," the "angry old man," but then Orfalea cuts to the full, unedited tape. "The only way I think you're dumb is when you think you're dumb." This can speak for how Sanders sees the current state of the U.S.: He's clearly disappointed in where we are now, but has a lot of belief and hope invested in its future. If only big media treated him the same way.
Watch the viral video below.