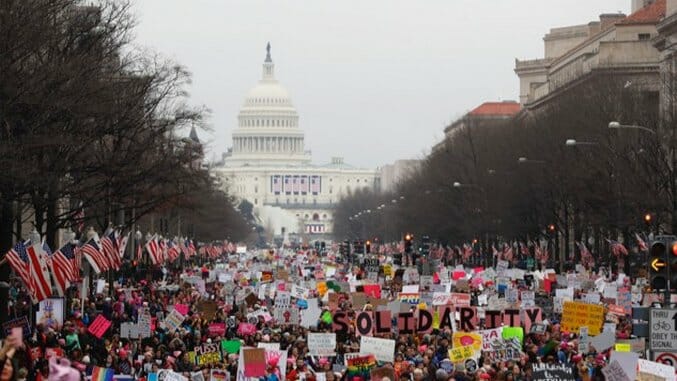 Since its creation in 2007, Change.org has become one of the most effective ways to get attention for a cause.
The real success rate for its petitions is a matter of some debate, but it certainly draws numbers. Change users have petitioned to prosecute George Zimmerman (2.2 million signatures), address banking fees (305,969 signatures), and shut down a dog meat festival in China (4.6 million signatures). A December request to the Electoral College to reverse the results of the 2016 election was the most popular petition in the site's history, garnering almost 5 million signatures.
But the truth is that when you fill out a Change petition, you're giving your information to a company that sells it to the highest bidder. The popular petition site uses your well-intentioned activism to profile you and sell you sponsored content — and most of its 150 million reported users don't realize it. Change isn't interested in change. It's interested in profit.
Ben Rattray, of @Change talking about the media and #fakenews@brattray#gpf17pic.twitter.com/MBGyiYnbaq

— CAF America (@CAFAmerica) April 20, 2017
Change was founded by digital entrepreneur Ben Rattray. Rattray, 36, a graduate of Stanford and the London School of Economics, considered a career in finance as a young man, but he changed his mind after his younger brother came out to him as gay. He decided to dedicate his life to affecting social change, he told The Guardian. Starting Change.org was his way of making a difference.
The site began as a non-profit social network for activists and a donation platform for philanthropic causes and soon evolved into a petition aggregator and blog. The blog provided a forum for causes and petitions while also publishing interviews with newsmakers and profiling displaced people in an effort to raise awareness for homelessness.
It took Change some time in those early years to find a reliable revenue stream. The company "spent the better part of two years flailing around for a profitable business model," according to Forbes. The company collected one percent of every dollar given through the site in the beginning, but in 2009 it changed its revenue stream to advertising.
Change.org started showing users sponsored content based on their interests. Advocacy organizations looking for attention for their cause could now pay to show their petitions to users who had signed or looked at similar ones. By 2011, the site was reportedly turning a profit. In 2012, it claimed to be making $15 million in revenue.
http://t.co/XkpnSVCK Hits 10 Million Members, Now The "Fastest-Growing Social Action Platform On The Web" http://t.co/BAxynw2c by @fredericl

— TechCrunch (@TechCrunch) April 5, 2012
In the beginning, Change.org carefully curated which petitions were submitted by sponsors, ensuring that the only causes in the site's stable were ones matching the company's perceived progressive values (though the company has never had an official political stance). That is, it did until 2012, according to two internal memos that were leaked to the press.
In the first memo, Rebrand Internal FAQs, management explained to staff that the company would stop curating the petitions it targets to users.
To date, our advertising policy has been value-based; we have accepted clients case by case, one at a time, based on their alignment with our values as a company. Going forward, our advertising policy will be akin to those of many other leading platforms, open by default to any group that wants to advertise with us.
The memo continued that the user experience would remain the same, making the openness of the shift in policy—at least to the user—somewhat opaque.
A second memo, Proposed New Ad Guidelines, spelled out what type of ads the company would refuse, including any promoting hate, bullying, or discrimination. But the company also distanced itself from its advertisers, noting, "We do not endorse nor are we affiliated with any sponsored petition or associated organizations."
As Groundswell Isaac Luria wrote at the time, the move was a little deceitful.
Change.org billed their company as progressive, built a massive list and important partnership with many progressive organizations with that as their pitch, and now they want to change the policy.
Or as author Clay Johnson told The Wall Street Journal, Change.org had become "a lead-generation business disguised as a social-change organization for whoever is willing to pay them for the email addresses."
Some of the information Change takes is standard for an operation of its type. But alongside your physical and digital addresses and your social media accounts, Change says in it Privacy Policy that it "possibly" collects data from public records and third party data providers; "information about you available in public records, or other publicly available databases."
This form of micro-targeting allows the company to use the data it has on its users to suggest petitions and causes they may be interested in based on their past behavior. Micro-targeting is used throughout the digital political world, usually to get out the vote.
"Effective micro-targeting means segmenting large audiences into smaller ones that can be motivated by a message uniquely tailored to them," said Lauren Garcia, a software developer and the founder of Level News. "The more data points you collect about a person, the easier it is to tailor a message for them."
Further, the site can track users' activities across the wider web. In the site's "cookies" section, Change says it uses AdRoll marketing cookies "in order to to tailor relevant Change.org content and ads to you on third party sites based on your anonymous online activities." This practice is called "retargeting."
"Change collects data about what ads and products you've looked at previously so it can follow you to other websites and advertise those things to you on those sites," explained Garcia.
When asked about data collection, Change.org said it does not store the data long term.
"We generally do not store logs of user activity on our platform for more than 90 days, and do not use data for personalization of the site beyond 12 months," Change.org spokesperson A.J. Walton said in a statement.
#privacy: https://t.co/G6OFcO3qbA vende #email; ottenuti i prezzi. https://t.co/2BRScsqLJo … inchiesta l'Espresso pic.twitter.com/CREUza3WjZ

— Privacy Today (@davidetocchini) July 18, 2016
According to a July 2016 investigation by Italian magazine L'Espresso, Change charges the rough equivalent of two U.S. dollars per email per sponsored petition at the low end of the market, under 10,000 responses. As sponsored petitions rise in numbers, that price goes down to approximately 85 cents.
With a rough average of 105,000 signatures needed to break the threshold of victory, at least for the front page of the site's "Featured" victories, that could cost a sponsored petitioner upward of $85,000.
Change's core value comes from its ability to harness and direct people's energy toward a cause. When we looked for a success rate for the company's petitions, that data was murky.
Change.org claims it sees one victory an hour. With 30,000 new petitions a month, that works out to roughly 41 petitions an hour. That means Change has a success rate of about 2.43 percent.
According to the site, that means Change petitions have ended in "20,518 victories in 196 countries."
It's an impressive total. Yet a closer look at how a "victory" is declared shows that Change simply defines it by when a user clicks the "declare victory; button at the bottom of their petition dashboard. There is no other standard — it's purely in the hands of the user. In fact, the site's petition engagement guide even suggests declaring victory after asking "Has my campaign gone as far as it will go?" as one of the possibilities for petition closure. Here in December 2016, for example, a user declared victory after an iPhone feature was added back to his mobile device in an update. It's clear that the 349-signature petition had nothing to do with it.
After declaring victory, Change recommends you either start another petition, get friends and family to start a petition, or support someone else's cause.
Unfortunately for Change, opening the platform hasn't been enough to solve its revenue challenges.
In August 2016, the company laid off its business development department — 58 people. Change followed that up by laying off 30 percent of its total staff—"roughly 100 employees"—in September.
Yahoo! Finance explained the revenue problem stemmed from the business' reliance on promoted petitions as its main source of cash. Sponsored petitions just weren't cutting it. The company needed a better revenue source.
Beginning on June 30, 2016, Change expanded its site to include crowdfunding in hopes of being a competitor to sites like Kickstarter, GoFundMe, and Indiegogo. Change ties fundraising to petitioning — once you have 500 signatures on a petition, you are offered the opportunity to start asking for money. Change takes a flat 5 percent.
#crowdfunding features have been unveiled for @Change. https://t.co/JEzLdiRDdNpic.twitter.com/ZbWIoGHyGP

— Racefields Ltd (@RacefieldsLtd) July 4, 2016
The site also opened up two other revenue streams. Users can join the site as a member for a contribution from $7.50 to $30. In return, they get to "weigh in on site features" and get behind the scenes looks at campaigns. The site also promises it will find "other ways to thank our members."
And in an offering similar to sponsored petitions, the site now offers users the opportunity to contribute to promoting petitions on Change or the site's distribution channels. It's a way to "do more than sign."
"Crowdfunding—launched last year, still in its early stages, and not yet available outside the U.S.—has seen a great deal of support, and hundreds of thousands of dollars have been raised over more than 1,000 petitions related to clemency, animal rights, and more," Walton said.
In a blog post dated June 30, 2016, announcing the fundraising program Rattray also said the company would be "phasing out our Sponsored Petitions advertising product over the next 6 months."
However, that blog post has been removed from the site and Change was still promoting sponsored petitions to users on Saturday, Feb. 5, past the six month phase-out mark. And the crowdfunding model, though a part of the user experience, is not Change's main selling point on the site.
Walton said the company is phasing the sponsored model out slowly.
"We'll continue to offer the Sponsored Campaign service throughout 2017 to select organizations," Walton said in a statement. "We've opted for a slow ramp down of this product, as we ramp up our other newer revenue streams."
Sponsored petitions are still included in the revenue streams at the products page.
It all combines to give the impression of a company desperately looking for a way to generate income. With 150 million users, the company has a customer base—but if it's still trying to monetize what it's offering, maybe the company's model of social impact petitioning isn't one that's compatible with profit after seven years of trying.
With venture capital funding, advertising, and data targeting, the reality of Change's business model is at odds with its popular perception as a driver of societal reform. In today's political climate, the site is being turned to by activists and those looking to push back against the priorities of the new administration. But why is a private company trying to profit off of that progressive change and activism—especially when that company's record on affecting that change is so dismal?
You can follow Eoin Higgins on Twitter and find him at Patreon.