Grieving Parents Invited to White House, Where Trump Tries to Introduce Them to Their Son's Killer
Photo by Andrew Harrer Pool/Getty
Politics
News
Donald Trump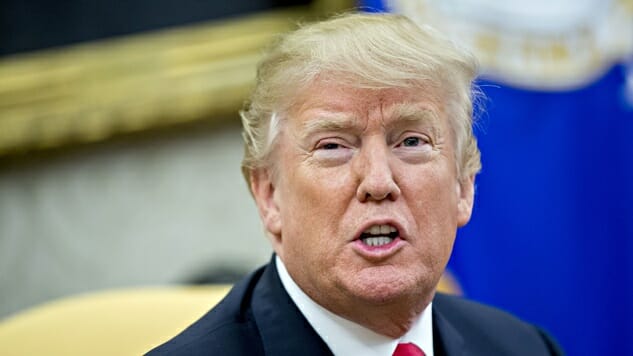 Back in August, Anne Sacoolas, the wife of an American diplomat, drove down the wrong side of an English lane and hit and killed 19-year-old motorcyclist Harry Dunn. Two months later, Trump tried to spring a surprise meeting with Sacoolas on Dunn's parents (per The Daily Beast).
Since Sacoolas left the U.K. in early September under diplomatic-immunity protections, the Dunn family has come to the U.S. to bolster support to send Sacoolas back to the U.K. to face justice. The Dunns accepted an invitation to the White House from National Security Advisor Robert O'Brien to visit Donald Trump on Tuesday night.
Trump said the meeting was arranged at the request of British Prime Minister Boris Johnson, but Trump also did something no one asked for: revealed that he had brought Sacoolas into the White House, and that she was waiting in an adjacent room to meet the parents. "I offered to bring the person in question in," he said at a press conference Wednesday. "And they weren't ready for it."
A spokesman for the Dunn family, Radd Seiger, said the family felt "ambushed" when the "bombshell" was dropped that Sacoolas was just behind another door. They had envisioned meeting her one day, but "only on British soil" and "only with mediators, counselors and their legal team" present, Seiger continued. It goes without saying that the surprise meeting in the White House would have met none of their wishes.
The Dunns have said they would ask the court for a suspended sentence, should Sacoolas come forward to a court in the U.K. to engage in the investigation and stand on trial, should one be ordered. Only then they would agree to meeting her in person and accepting what they assume would be an apology. In this insensitive meeting, not the law, nor their son, nor their own privacy and right to grieve on their own terms would have been respected.
Sacoolas has not been seen in public since killing Dunn in August. She has apologized through her lawyer, Amy Jeffress. "Anne is devastated by this tragic accident," reads her statement, per The Daily Beast. "No loss compares to the death of a child and Anne extends her deepest sympathy to Harry Dunn's family."
Seiger gave a rundown of the turbulent day's events on the Dunn's Justice4Harry GoFundMe page. Tim Dunn, Harry's father, had said on CBS News earlier in the day of the meeting that he would like to meet Trump "man to man, father to father" to plead with him to send Sacoolas to the U.K. to face justice. They had not actually expected to meet Trump in person, and certainly not "that Mrs. Sacoolas was present in the building and fourthly that it was the president's intention for Harry's family to meet Mrs. Sacoolas in the Oval Office in front of several photographers in what was obviously designed to be a press call," as Seiger writes.
Trump says the meeting was "beautiful in a certain way" and that he expressed condolences "on behalf of our country." Yet sympathy doesn't equate to justice, which is what the Dunn family is looking for.
Charlotte Charles, Harry Dunn's mother, told reporters Trump did try to comfort her, adding, "I was honest with him and just said, as I said a while ago, 'If it was your son you would be doing the same as us.' Trump agreed and said that he indeed would be, and that "he would try and look at this from a different angle." The word that the Dunn's plea hinges on is "try": it's unclear whether Trump will have Sacoolas sent back to the U.K. to face justice. We just have to hope that this "different angle"is not one that links back to his Celebrity Apprentice reality show days, like this fiasco.