Trump Is Likely One Day Away From Killing the Iran Nuclear Deal
Photo by Chip Somodevilla/Getty
Politics
News
Donald Trump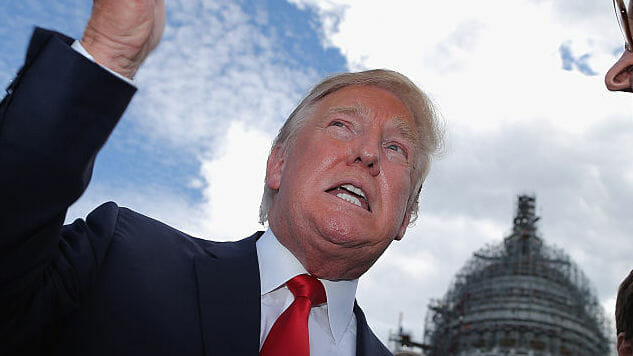 President Donald Trump hates the deal the United States made with Iran and several other countries. Hates it so much he has repeatedly called the deal that limits Iran's nuclear activity "an embarrassment." Hates it so much that the photograph above was taken from a rally against the deal in Washington, D.C. held in late 2015.
And while Trump doesn't seem to have much of a reason to hate the deal, he is certainly in a position to do something about it. Despite everyone connected with the deal saying that Iran is complying with the strict nuclear limits (which they agreed to in exchange for relaxed trade sanctions), Trump is reportedly planning not to certify that they are. The deal requires a certification from the president every 90 days, and Trump has certified it twice in the past. The next certification day would be Oct. 15, this Sunday.
But Trump blames Iran for some of the terrorist activity occurring in the Middle East. Iran may be complying with the deal ("By any objective measure, we're not seeing any violations," says Columbia University expert Richard Nephew as quoted by Vox), but Trump can still just refuse to do his part of the deal. Now, the AFP reports that the announcement could come as early as tomorrow:
#BREAKING Trump to announce Iran strategy Friday says White House

— AFP news agency (@AFP) October 12, 2017
There seems to be no rhyme or reason behind this plan to decertify the deal, other than the fact that Trump has a weird hang-up about it, because he thinks Iran can't be trusted. (And also, it's something Obama did, and he hates Obama.) Vox also notes that UN Ambassador Nikki Haley shares that opinion, citing Iranian ballistic missile tests and support for Hezbollah.