President Trump's Energy Executive Order Targets Obama-Era Environmental Protections
Photos by Pool/Getty, Drew Angerer/Getty
Politics
News
Donald Trump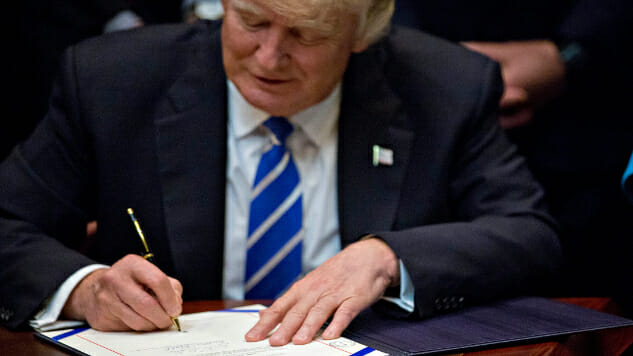 An order calling for federal agencies to reduce CO2 outputs. A "moratorium" on the federal government leasing out more than 570 million acres of land with coal reserves to mining companies. The Obama-era's "Clean Power Plan," which aims to cut emissions from U.S. power plants by 32 percent below 2005 numbers by 2030. A "social cost of carbon" cost-benefit analysis that worked to justify emission reducing regulations. Regulations on methane emissions from oil and gas companies. Carbon standards for new coal plants.
All of the above policies, regulations, orders and moratoriums stand to be reconsidered, rolled back or outright eliminated by President Donald Trump's recently signed executive order to "promote energy independence and economic growth." In the Obama years, a new coal-burning facility had to capture emissions and put them underground. A review by the Trump administration might well get rid of that.
It's the same song and dance with several other key Obama-era energy policies. Earlier this month, the Trump administration announced that it would be reviewing Obama administration fuel efficiency standards for cars and light trucks in the post-2022 period. The previously proposed federal budget would slash and burn funding to the EPA, the Department of Energy, NASA and the National Oceanic and Atmospheric Administration. And the Energy Star program, a voluntary business regulation that's estimated to lower consumer electric bills by $430 billion, might well be tossed by the Trump administration, as well.
While numerous moves by the administration indicate that it's prioritizing economic performance and energy independence over climate concerns, there's no definitive proof yet that the U.S. will withdraw from the Paris climate deal. And certain policies created by past administrations can't be undone with the stroke of a pen. The aforementioned fuel economy standards can be scribbled through but not completely written out.
Head here now for Paste's full list of Trump administration executive orders and presidential memos.