It Was Donald Trump Himself Who Took a Sharpie to That Hurricane Map, Per Report
Photo by Chip Somodevilla/Getty
Politics
News
Donald Trump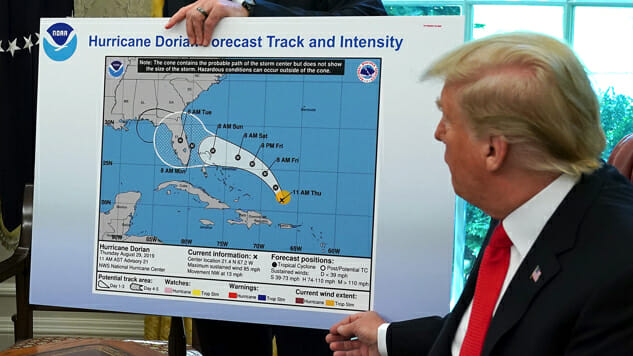 Surely you've heard the tale of Donald Trump and the hurricane map by now—the man won't stop talking about it, because the best way to recover from making a mistake is to insist ad nauseam that you didn't because you're a genius, actually. Having needlessly warned Alabama to brace for the impact of Hurricane Dorian, a storm that was not projected to affect the state at that time, Trump already-infamously went so far as to alter a hurricane map to support his erroneous statement—and he did so personally, according to The Washington Post.
Trump himself took a Sharpie to a National Oceanic and Atmospheric Administration map that he then displayed during an Oval Office briefing, taking the situation into his own tiny hands to augment Dorian's projected path and justify the warning he issued to Alabama. "No one else writes like that on a map with a black Sharpie," an anonymous White House official told the Post.
Is this more or less embarrassing than if Trump had ordered one of his cronies to mark up the map? Discuss amongst yourselves. We'll be bracing ourselves for Eddy, the Category 13 hurri-nado Trump assures us is heading straight for the Paste office.