Trump's 2018 Budget Would Axe Arts, Environment, State Department Programs
Photos by Pool/Getty, Drew Angerer/Getty
Politics
News
Donald Trump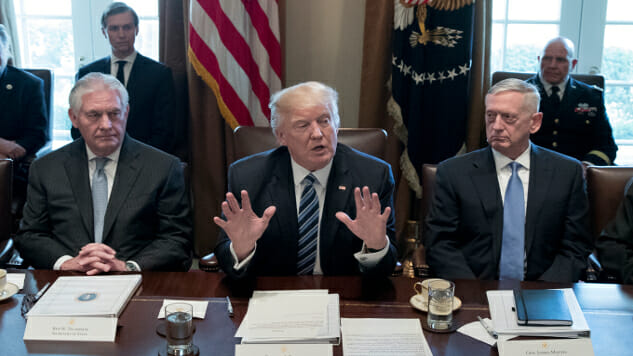 President Donald Trump's first budget has been unveiled and, in keeping with the tone of his campaign and administration, it majorly increases funding to military spending and defense efforts while slashing funding of other federal departments and programs.
In fact, the Department of Veterans Affairs, the Department of Homeland Security and the Defense Department are the only three departments that would see an increase in funding under the Trump administration's proposed budget. Meanwhile, funding to: NASA, the Justice Department, the Treasury Department, the Small Business Administration, the Department of Energy, the Department of the Interior, the Department of Transportation, the Department of Housing and Urban Development, the Department of Education, the Department of Commerce, the Department of Health and Human Services, the Department of Labor, the Department of Agriculture, the State Department and the EPA would see decreases in funding under the 2018 proposed budget.
Departments such as NASA and Energy would see single-digit cuts (one and six percent, respectively) while departments such as Agriculture and EPA would decrease by at least 20 percent. In fact, the EPA will see the largest reduction at 31 percent, while the Agriculture budget will be slashed by 21 percent. With the EPA, some 50 programs, such as the Clean Power Plan which sets national limits on carbon dioxide production from power plants, will be cut. In a related move, funding for the Chemical Safety Board would be eliminated. That particular independent agency investigates industrial chemical accidents and Congress has previously directed that "no other agency or executive branch official may direct the activities of the Board," so it's unclear what governmental agency would now be responsible for investigating such accidents.
The budget also proposes to eliminate future federal funding for the National Endowment for the Arts, the National Endowment for the Humanities and the Corporation for Public Broadcasting. Such cultural program spending accounted for a scant .02 percent of federal spending in 2016, so the move does little to make the budget leaner.
Combined, these moves represent the broadest and most deductive budget cuts since the post-World War II era. And given the nature of some of the cuts, department jobs will undoubtedly be shed, a move that Trump administration officials say helps to further "drain the swamp."
You can read the full proposed budget, titled "America First: A Budget Blueprint to Make America Great Again," here.