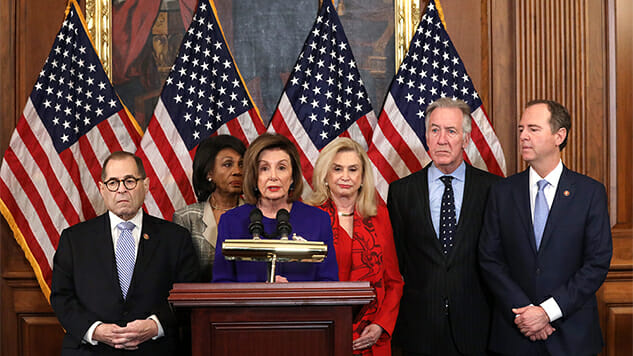 A week after House Speaker Nancy Pelosi announced House Democrats would be drafting articles of impeachment against Donald Trump, those articles have arrived, per CNN.
Pelosi, along with Democratic Rep. Jerry Nadler, the Chairman of the Judiciary Committee, laid out the articles of impeachment earlier this morning. The two articles against Trump are abuse of power and obstruction of Congress, regarding his attempted bribery of Ukrainian officials and interference with the upcoming 2020 election. Adam Schiff, Democratic Rep. and Chairman of the Intelligence Committee, also spoke, stating that Trump's injust actions gave Congress "no alternative" but to pursue impeachment.
Nadler explained that the Judiciary Committee would meet later in the week to consider the articles, vote on whether or not to impeach Trump, then forward that recommendation to the full House of Representatives, which would then vote on Trump's impeachment. If impeached, Trump will face a Trial by the Senate, making him the third President to do so. The full House vote could come as early as next week.
The full announcement is below.