Documents Show San Diego Prosecutors Told Kamala Harris to Prosecute Herbalife in 2015, and She Didn't
Photo by Justin Sullivan/Getty
Politics
Features
Kamala Harris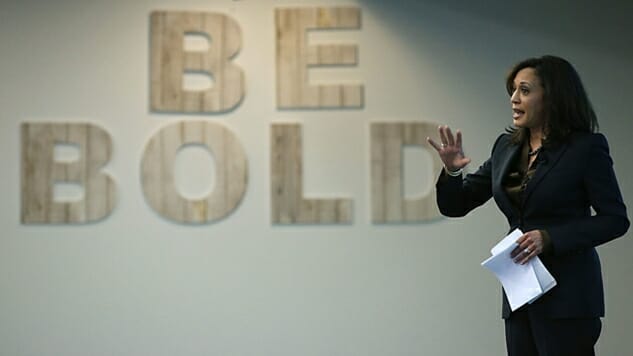 I can already hear the "don't eat our own!" Democratic Party brigade bearing down on this column, so let's just get straight to the Yahoo News report so we can all start this inevitable fight off on the same page:
But as the attorney general of the nation's largest state — and therefore one of the most powerful law enforcement officials in the nation — Harris declined to investigate Herbalife, the nutritional supplement company that has been accused of fraudulent marketing practices. Documents exclusively obtained by Yahoo News show that in 2015, prosecutors in the San Diego office of the California attorney general sent Harris a lengthy memorandum that argued for an investigation into Herbalife and requested resources in order to undertake such an investigation. Similar investigations into Herbalife were already taking place elsewhere.
About three weeks after the San Diego letter was sent, Harris received the first of three donations to her campaign for the U.S. Senate from Heather Podesta, the powerful Washington lobbyist whose ex-husband Tony's firm, then called the Podesta Group, had worked for Herbalife since 2013. Heather Podesta's own lobbying firm, Heather Podesta and Partners, would soon be hired by Herbalife, too.
Harris did not pursue an investigation, even as the Federal Trade Commission proceeded with an investigation of its own, which had been opened the previous March and which suggested that sufficient grounds for such scrutiny did exist. In fact, the San Diego letter had meticulously laid out those grounds, pointing out that Herbalife presented itself to the public as a lawful enterprise, but that it could nevertheless be "engaged in less obvious conduct" that potentially harmed both Herbalife distributors and Herbalife customers. Allegations of such conduct, by 2015, had become commonplace in media reports.
In 1986, the state of California imposed a consent decree on Herbalife, saying the company could not make "false or misleading representations" about the money that Herbalife's distributors could expect to make from selling their supposed health products. In 2011, the Commercial Court in Brussels, Belgium ruled that Herbalife was an illegal pyramid scheme. An appeals court reversed the finding in 2013 (same year that Harris's donors, the Podesta Group, began representing Herbalife), but that didn't stop the investigations here in America. In 2014, the FBI launched a probe into Herbalife.
That same year, a class-action lawsuit filed in Kamala Harris's home state of California was settled, where Herbalife agreed to set aside $15 million for distributors harmed by whatever practices they were not admitting to maliciously doing, and $2.5 million for product refunds. In 2015, Harris declined to prosecute Herbalife (while her husband Douglas Emhoff, was employed by a law firm representing Herbalife). In 2016, Herbalife settled another lawsuit—filed by the Federal Trade Commission (an anonymous source in Harris's office told Yahoo—only if they were given anonymity—that Harris helped with the FTC investigation). Herbalife paid a $200 million fine to the FTC, and again avoided admitting it was the kind of pyramid scheme deserving of the nine-figure fine they just paid.
In what I'm sure is completely unrelated to the fact of how Herbalife consistently finds itself in trouble—only to pay a fine and avoid admitting its illegality (also known as the Wall Street model)—the U.S. began investigating whether Herbalife violated foreign bribery laws in China in 2017. Because time is a flat circle, another class-action lawsuit by Herbalife distributors was brought against Herbalife with a trial date of September 2019, this time in a Miami court for $1 billion.
Herbalife has a documented history of doing things worthy of criminal-ish fines, only to wriggle out of actual criminal responsibility time and time again—and this Yahoo report puts Kamala Harris smack-dab in the middle of that documented history which exists independently of these new documents uncovered by Yahoo.
Now, to give Harris some benefit of the doubt, the Connecticut Attorney General launched a probe into Herbalife in 2015, before concluding that "we have been unable to substantiate allegations that Herbalife is operating a pyramid scheme." But launching a probe is still more than Kamala Harris did. This just looks bad for her. This is not a leftist versus "centrist" thing. This is a major "business" that is almost surely what hedge fund manager William Ackman called a pyramid scheme (in 2014), and it keeps wriggling out of trouble. Kamala Harris is one of many people who seemingly let Herbalife off the hook and conveniently received Herbalife-connected money soon afterwards.
Democrats should take our partisan blinders off for stuff like this and replace "Kamala Harris" with "Attorney General of California." Primary season gets us wrapped up so much in personality and the hope that we will find a new political savior that we become somewhat blinded to the immense power these people have wielded and are campaigning to wield. This report based on verified documents makes the former California attorney general look untrustworthy. Period.
Yahoo noted that "Harris never gave a reason for declining to investigate Herbalife" and Harris spokesman Ian Sams eschewed addressing the substance of Yahoo's report for providing them with a statement that is straight from a Kamala Harris stump speech:
[Kamala Harris] "has a long record of going after bad corporate actors engaging in fraudulent behavior and delivering results for people who have been taken advantage of." [Sams] noted that as California's attorney general, Harris "got $20 billion for California homeowners after taking on mortgage fraud by the big banks, secured a billion-dollar judgment against for-profit Corinthian Colleges for scamming students, and put Ponzi and pyramid schemers in prison."
This is important because the next Democratic president has to get it right. The urgency of our twelve-year window to seriously address climate change makes this next election the most important in the history of mankind. Trump is a weak incumbent and every major Democratic contender is polling ahead of him in head to head matchups. We don't need to accept the corruption of the status quo. We can afford to be picky in demanding the Democrats nominate someone we trust to enact our popular will. It's up to presidential candidates like Kamala Harris to convince us that they are worthy of our trust in the first place.
Jacob Weindling is a staff writer for Paste politics. Follow him on Twitter at @Jakeweindling.