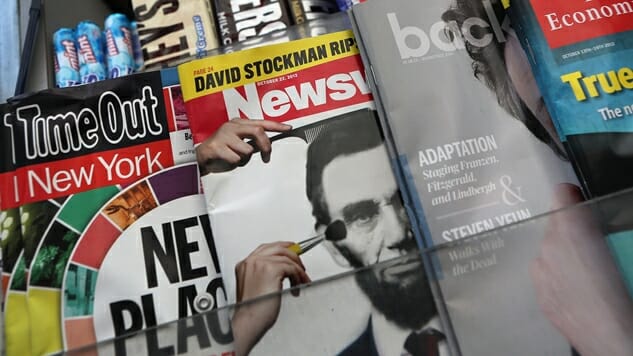 In the ongoing money laundering investigation into Newsweek Media Group's dealings with a Christian cult known as "The Community," founded by Korean pastor David Jang, Paste has discovered some previously unpublished connections.
The story first surfaced in mid-January with a bizarre, alarming piece in the New York Post, when Keith J. Kelly reported that federal law enforcement agents had raided Newsweek's Manhattan headquarters. A couple weeks later, BuzzFeed released sections of a report detailing how the magazine had been purchasing web traffic in order to inflate its viewership and secure a major advertising contract with the Consumer Financial Protection Bureau. A few days later, The Post followed up, reporting that several top Newsweek staffers—including editor-in-chief Bob Roe—had been suddenly fired for investigating Newsweek Media Group's financial ties to Olivet University, the religious school founded by Jang. According to its 990 filings, Olivet's net annual revenue jumped from $9,109 to $8,540,404 between 2011 and 2015.
Rumors of the connections between the cult and the media group had been circulating ever since media newcomers and Jang disciples Etienne Uzac and Johnathan Davis bought the outlet in 2013. In 2014, the connections were documented by Mother Jones in an investigative report that came out after IBT Media Group purchased Newsweek. It turned out that Olivet University was using students through the International Visa Program to work for IBT.
Insiders that spoke with Paste on background believed the company heads—Uzac, Davis, and Dev Pragad—had been using the publication as a front to raise money for The Community by way of Olivet, which is headed by Davis' wife, Tracy. Many described slavish content-milling, late paychecks, and only sporadic periods when the company had money.
And yet, the story ran much deeper, as The Wall Street Journal reported last week. Federal investigators are looking into a series of loans that Newsweek Media Group took out between 2015 and 2016 from a number of "small Midwestern and Western banks." These loans were used to repeatedly lease the same servers from a company known as Oikos Networks, Inc.
The Journal reported that the investigators were trying to find a connection between "Oikos executives" and The Community, specifically Olivet University and World Olivet Assembly.
Despite the fact that Olivet's total annual income in 2015 was $19.55 million, which is remarkably close to that of what Buzzfile lists as the annual income for Oikos thus far, a concrete connection has proved elusive—until now.
Up until October 2016, Oikos was one of several companies listed at 33 Whitehall in New York City, on the 8th floor. Incidentally, this is also the address of several media properties owned by the World Olivet Assembly and IBT Media according to a 2014 Medium post by former IBT employee Benjamin Reeves of Worth Magazine, as well as another Olivet Ministry affiliate, 33 Universal, which used to be headed by IBT co-founder Johnathan Davis.
A 2011 archived website of Oikos Networks Inc lists the company's address as 22 Cortlandt St 21st Floor in New York City, sharing the exact same address as the Olivet Institute.
As if that weren't enough, the registered agent for Oikos is Jessica Yu, who just happens to be the principal of Olivet Academy in New York. The academy is owned and operated by World Olivet Assembly.
According to Buzzfile, CEO of Oikos Networks, Inc., Hayson Tsang, is listed as a tenant at 33 Whitehall. Tsang is the owner, registered agent and secretary of Atlanta Bethel Community Church—part of the World Olivet Assembly.
Despite being the CEO of a multimillion dollar corporation as well as the owner and operator of a large church, Tsang has virtually no social media presence. Even stranger is the fact that they live at a property estimated at $276,746 by Zillow, and which sold for $145,000 in foreclosure by a corporate owner. The address is owned by Kins Healthcare and Services LLC, which is owned by 57-year-old Tzecheong Tsang, a relative.
At this point, the story gets truly strange. Hayson Tsang's H1B Visa application from 2014 lists the CEO's annual salary at $56,100. The 2017 H1B Visa application isn't much different, listing it at just $65,000.
The immigration attorney who drew up the applications is NYU LLM graduate Yen-Yi Anderson of Anderson & Associates, a law firm specializing in immigration and corporate law, located at a familiar address: 33 Whitehall.
Beyond that, Yen-Yi Anderson, an LLM graduate of NYU, is listed as a corporate law professor at Olivet University.
Another connection between Oikos and Olivet is Michal Podolam of Prague, who according to his LinkedIn Profile, has worked as a Systems Engineer at Oikos since 2014. He previously worked for The Christian Post as CTO and Web Developer from 2010 to 2013. Christian Post is a publication owned and operated by "The Community."
The implications of these connections are potentially serious for Newsweek, which has been hemorrhaging employees and is burdened with tax liens and debt. It appears possible that the media publication became a front to secure money which was, in turn, laundered into Olivet. If that is indeed the case, someone is likely going to prison.