Sudden Firings and Resignations at Newsweek Are Signs of Something Rotten
Photo by Mario Tama/Getty
Politics
News
Newsweek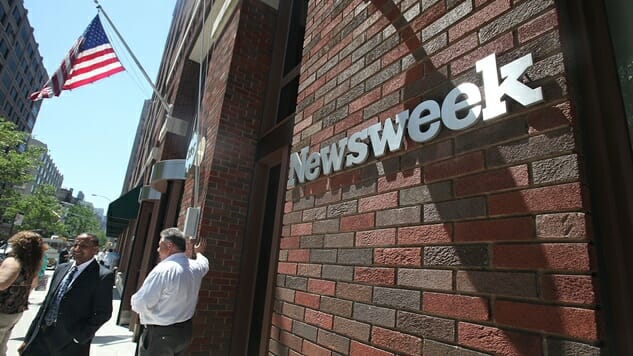 "Something is going on at Newsweek," is a statement that has been relevant numerous times in recent history, but concerns and questions about the historic news outlet arose again this week with numerous firings and resignations.
Editor-in-Chief Bob Roe, executive editor Kenneth Li and reporter Celeste Katz were fired on Monday, throwing the outlet's newsroom into chaos. All three had been among a group within Newsweek investigating its parent company, Newsweek Media Group, whose finances have been under investigation for some time.
Katz had been looking into the circumstances around the Manhattan district attorney's raid on Newsweek offices, which was part of an extensive investigation by the office into Newsweek Media Group's finances. She had also recently reported on the exit of chief content officer Dayan Candappa amid allegations of sexual harassment and the resignations of Etienne Uzac and his wife, Marion Kim, as Newsweek Media Group's chairman and finance director, respectively. Uzac founded what would become the Newsweek Media Group.
Roe confirmed his firing to CNN in a statement: "Can confirm I was fired. I know nothing else. Can say nothing else yet." Li and Katz confirmed their firings on Twitter.
What a day to leave my charger at home

— Kenneth Li (@kenli729) February 5, 2018
My warmest thanks to the brave Newsweek editors and colleagues who supported and shared in my work — especially our recent, difficult stories about the magazine itself — before my dismissal today. I'll sleep well tonight… and I'm looking for a job! ?? https://t.co/FL8UwztImI

— Celeste Katz (@CelesteKatzNYC) February 5, 2018
The connection of all three to the recent reporting about Newsweek Media Group cannot help but leave a sour taste in one's mouth. Newsweek as an outlet has experienced a tumultuous decade-long struggle to stay afloat financially, changing hands multiple times and discontinuing its print distribution in 2012 before cranking it back up in 2014 after Uzac purchased the company.
Last week, BuzzFeed reported that Newsweek Media Group engaged in "fraudulent online traffic practices" when securing an online advertising agreement with the Consumer Financial Protection Bureau. The report outlines alleged charges posited by the consulting firm Social Puncher that the company bought fake audience traffic to boost its viewer and "click" numbers to meet the requirements of the large ad campaign associated with the government body. A resignation letter from now-former Newsweek political editor Matthew Cooper, released Monday on Cooper's Twitter, hinted further at the claims against the company.
Newsweek chaos: @Hadas_Gold on the @Newsweek fallout, including my resignation. https://t.co/DLpH7zsRdk. My letter below. pic.twitter.com/gMdjrnFpVl

— Matthew Cooper (@mattizcoop) February 5, 2018
Cooper writes in part:
This coup d'grace comes at the end of a string of scandals and missteps during your tenure. Leaving aside the police raid and harassment scandal—a dependent clause I never thought I would write—it's the installation of editors, not Li and Roe, who recklessly sought clicks at the expense of accuracy, retweets over fairness, that leaves me most despondent not only for Newsweek but for other publications that don't heed the lessons of this publication's fall.
There are even further allegations of the company's shady financial dealings in association with Olivet University, a Christian college founded by controversial Korean pastor David Jang. Jang heads a sect of Christianity known as "the Community," whose members routinely worked for Uzac's International Business Times prior to his purchase of Newsweek. IBT is now published by Newsweek Media Group as well. According to Mother Jones, "Community" members worked at IBT as reporters, editors and salespeople for as little as $125 a week. The company and university described those workers as interns, though there was no record of them being interns. IBT has also been linked to numerous churches, corporations and nonprofits that benefited Jang financially and received funding from organizations associated with "the Community" during its early years.
It wouldn't be surprising to see more staff exits as Newsweek faces an ever-increasing amount of doubt. The higher-ups at Newsweek Media Group clearly don't want anyone looking into their financial workings, and the company only increased the scrutiny and validity of the charges levied with this week's series of firings. The 80-year history of Newsweek could be coming to a close as we speak.