Chelsea went into its Premier League title semi-decider on Sunday knowing that preventing Arsenal from winning would be nearly as good as a victory. With that knowledge, it's no surprise the match finished scoreless.
José Mourinho's men now have a 10-point gap on the Gunners and Manchester City with five matches (four for City) left to play. The draw also extended Mourinho's personal run of never losing to Wenger to 13 matches, seven of which have been victories.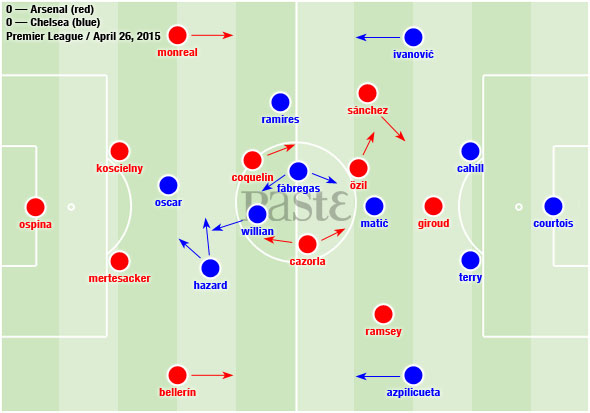 Arsenal started in its usual setup, with Francis Coquelin, Santi Cazorla and Mesut Özil as the midfield triangle. Alexis Sánchez and Aaron Ramsey stayed narrower than traditional wingers, allowing Nacho Monreal and Héctor Bellerín to overlap.
The Gunners continued their trend of controlling the match, aiming to break down a stout Chelsea defense. For their part, the Blues could not field a fully fit center forward, leaving Mourinho to start with Oscar in the No. 9 role.
He played in a true forward position rather than the false 9 many midfielders will take up when they play forward in a pinch, staying even with or just off the Arsenal back line.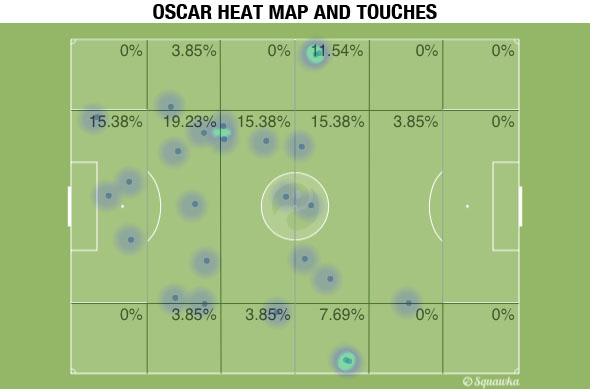 Oscar dropped into midfield to facilitate possession when necessary, but he remained the Blues' highest player in the defensive phase. He also provided a threat behind the defense, as when he ran onto and chipped a ball over Arsenal goalkeeper David Ospina in the 17th minute before getting smacked upside the head.
Referee Michael Oliver kept his whistle silent on all penalty claims throughout the match, but Ospina's rugby tackle was the most egregious no-call on the day. Didier Drogba came off the bench at halftime as Oscar went to the hospital with a head injury.
That was Chelsea's best opportunity of the game besides a combination down the left side through Willian and Ramires that Ospina fell to his left to save before halftime. Most of the play went the other direction, as Arsenal tried to force its way through.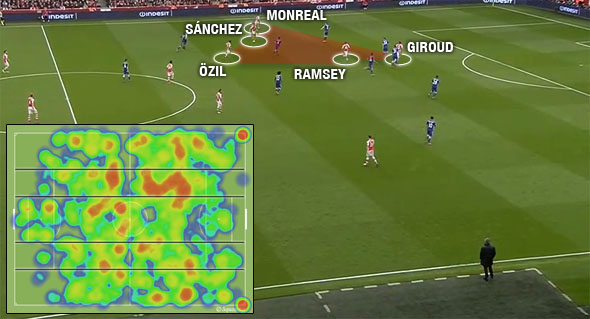 Arsenal gave the most attention to building in the half-spaces, particularly on Sánchez's side. The half-space areas sit between the lateral borders of the penalty area and six-yard box, not wide enough to be classified as "wide," but not narrow enough to be "central."
Most often on Sunday, Arsenal pulled all three central midfielders toward these areas along with the near-side winger, overloading the space to allow combination play. At the right moment, the fullback would overlap and receive a pass in the channel, or the central players would attempt to penetrate up the middle.
Chelsea absorbed the pressure and stayed organized with the ball in front. All season, Arsenal has relied on its attacking players' creative abilities in combination situations, and attacks have broken down most often from trying to find that perfect pass through the smallest of defensive seams.
This pattern makes it especially difficult to score against Chelsea, which prefers to remain compact and wait for opponents to make a vital mistake — such as committing too many numbers forward and losing possession in an area that allows the Blues to spring a counterattack.
Mourinho's philosophy dictates that keeping more possession leads to a higher likelihood of making errors with the ball. It's the opposite of Pep Guardiola's belief that the best defense is a strong attack that perpetually maintains possession.
It's often seen as a negative game model — as the Arsenal fans' chorus of "boring, boring Chelsea" made clear — but one that accounts for the fact that footballers make human errors. The results speak for themselves: Chelsea has conceded the joint-fewest goals in league play, tied with Southampton on 26, but also scored the second-most behind City.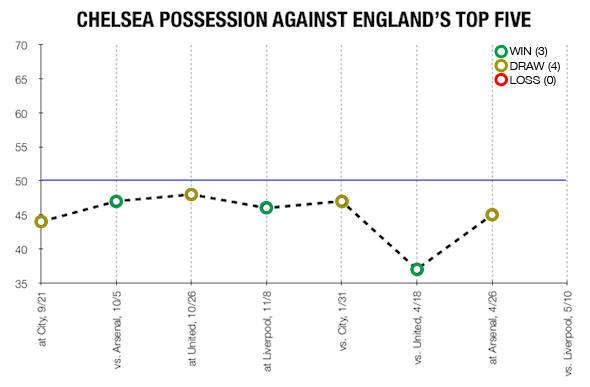 Chelsea's willingness to concede possession becomes especially pronounced against the other top teams. It hasn't kept more than 50 percent of the ball in any game against a team in the Premier League's top five, with one match against Liverpool left to be played.
Even while averaging 45 percent possession against City, Arsenal, United and Liverpool — compared to 52 percent all season — Chelsea has not lost to them this year in seven matches. That includes a season-low 37 percent, at home against Louis van Gaal's Dutch-style possession machine at United.
In many ways, Mourinho's strategy sets Chelsea up to never trail in a match. Indeed, Chelsea has only conceded the opening goal five times in league play this season, three times coming back to win but also losing at Newcastle and drawing at Southampton.
As long as Arsenal never took the lead on Sunday, Chelsea was in a good position. A single point helped the Blues more than the Gunners, as their post-match celebrations showed.
Arsenal just didn't have enough quality on the day to wrestle the match away from Chelsea, for whom captain center back John Terry turned in a vintage performance.
Mourinho's men, on a 15-game unbeaten streak in all competitions, need just six points from their last five games to secure the title, and they play at Leicester City and against Crystal Palace next. Repeats of Chelsea's victories in the first go-around against those two would lock up the trophy before a visit from Liverpool on May 10.
It would be a deserved championship, as Chelsea easily been the best and most consistent team in the league this season. Mourinho's superior tactical acumen, regardless of whether opposing fans are frustrated by it or morally opposed to it, should secure his eighth league title in four different countries.