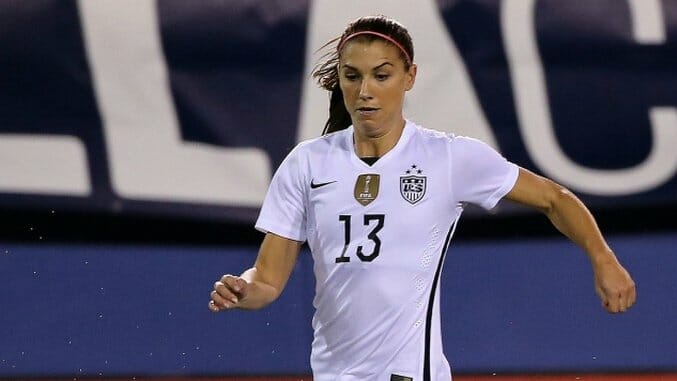 With half an hour gone in the SheBelieves Cup Final, Germany had gone up 1-0 over the USWNT thanks to a low driving shot from Anja Mittag. The defending World Cup champions didn't have to wait long to hit back, but more importantly, the equalizer from Alex Morgan was an absolute privilege to witness.
Meghan Klingenberg hit a long ball into the box that dropped right in front of Morgan, who was fending off an opponent. She let the ball bounce once, twice. Then she stuck out her left foot to lift it over her defender before catching her own volley with her right foot and putting it past the keeper.
I don't know about you, but I've had to stop and rewind the video a few times. I'm still not sure how a human being can manage to do that.
The USA scored a second goal before halftime— courtesy of Samantha Mewis— and went on to win 2-1, claiming the SheBelieves Cup. But really, having this goal on a freely available video one can watch over and over again makes us all winners.