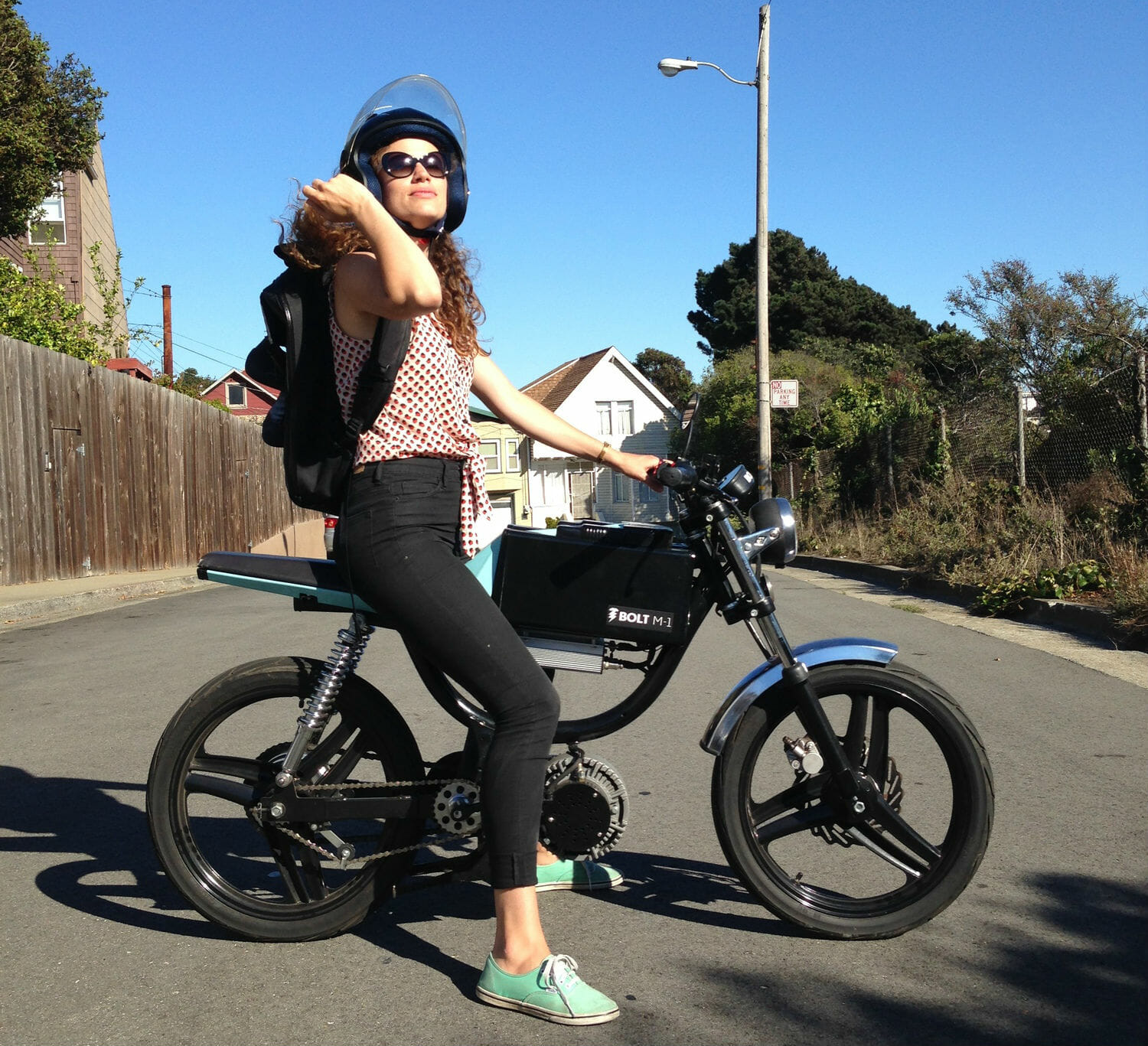 Cruising at 30mph along the lagoon in Brisbane, Calif., a small city in the lower slopes of San Bruno Mountain just south of San Francisco, it's hard not to notice motorists turning their heads in curiosity and confusion. I'm zipping past traffic in the bike lane on what seems to be a small, Triumph-style motorcycle or dirt bike with bicycle pedals.
I'm astride "the Tesla of electric bicycles," the Bolt M-1 electric bicycle from startup Bolt Motorbikes. Founded by a former Zero electric motorcycle engineer who improved the company's battery technology, Bolt hopes to solve the problem of congestion for commuters while reducing environmental impact.
"We wanted to build a bike that solves problems that we deal with every day when getting around a congested city," said Bolt CEO Josh Rasmussen. "On a Bolt you can go places where a moped and a motorcycle can't go. There's also a low barrier to entry. You don't need a license to ride a Bolt, you don't need insurance, and you don't need to register."
Anyone over the age of 16 with a helmet can ride the 140 pound Bolt M-1, which resembles a 1970s Honda Super Cub motorcycle with two 30-pound lithium iron phosphate (LiFePO4) batteries in place of a gas tank. In economy mode, M-1 riders can travel up to 50 miles going 20mph on a single charge; sport mode allows the bike to reach up to 40mph for 20-30 miles.
"A lot of electric bicycles today look like a bicycle; there's nothing unique on the aesthetic side," said Bolt Motorbikes Co-Founder Nathan Jauvtis. "We wanted to take the technology of today and then embed them in retro stylings of yesterday."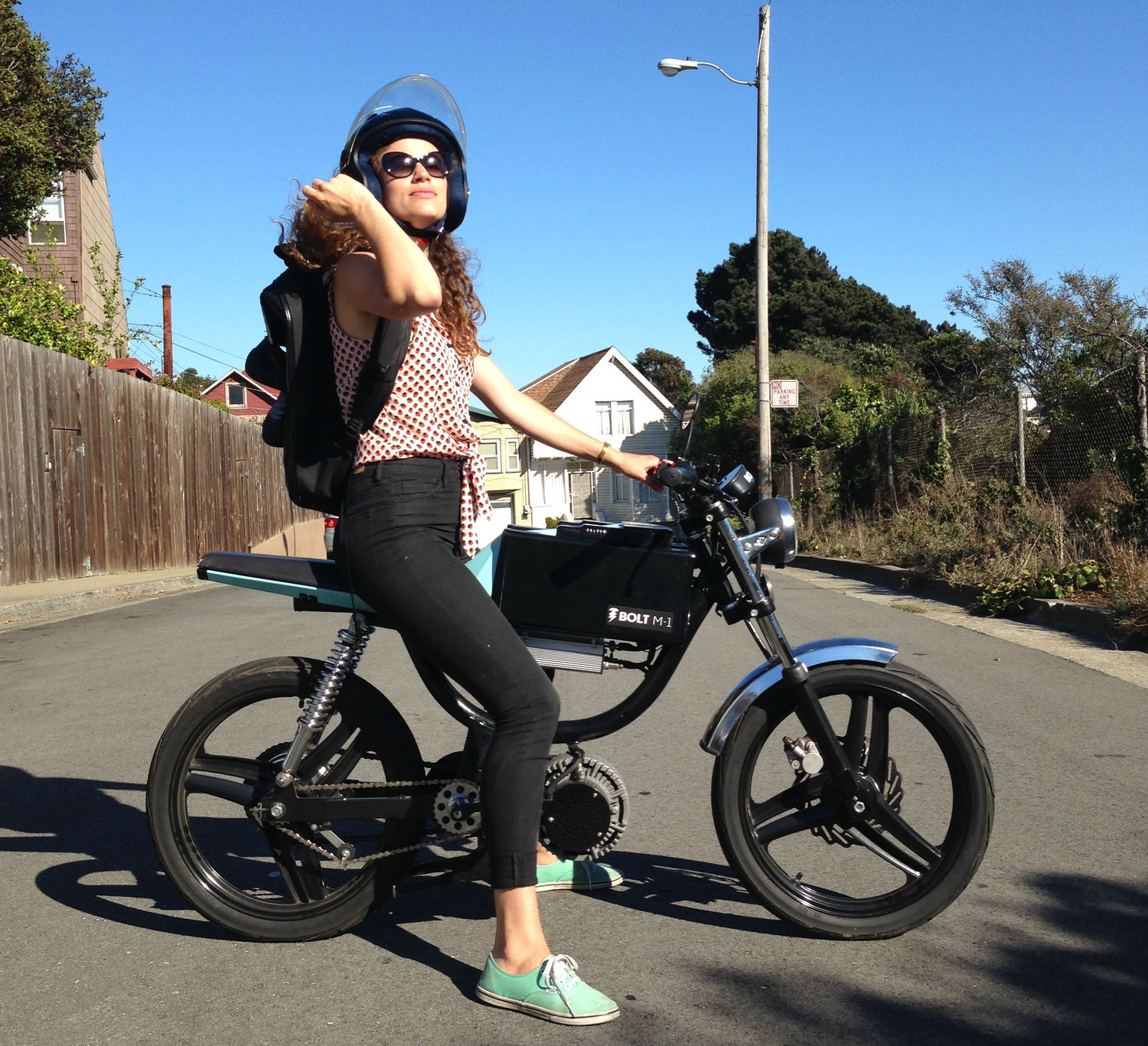 The electric bike has a throttle, two hand brakes—the back brake is regenerative, meaning braking sends energy back into the LiFePO4—and can ride on the street, in the bike lane, uphill, or off-road. The bike also has Bluetooth connectivity to monitor battery and location, a USB port to for phone charging, and is password protected at start.
Without gears to shift, the M-1 is surprisingly easy to ride. There's initial jerkiness as you figure out the sweet spot between hand brake and throttle (unlike a bicycle, you can't brake and pedal at the same time), and leaning into turns is easy. You can ride two-up on the Bolt M-1 without losing much speed, but I found myself wanting to go faster than my bike would allow.
There's also an issue of range. An average of 30 miles on a single charge seems short and although it's possible to peddle the M-1 if you've exhausted your batteries, it's not comfortable or easy for a long-legged reporter. Bolt isn't highway certified, so riders will likely need to tack an extra couple of miles onto their trips to avoid those motorways.
Long-distance riders aren't Bolt Motorbike's target market yet. Rasmussen said the average city commute is 10 miles round trip and as a showcase of functionality, a customer recently reported bringing his Bolt M-1 on a Caltrain ride between San Francisco and Silicon Valley.
Further, Bolt has a patented method for easily ejecting batteries so riders can lock their bikes up and charge while at work. A full charge takes 5 hours and costs roughly 21 cents.
"It would take 20 minutes or less to charge the bike enough to go. It's power on demand so when you twist the throttle you're off," Jauvtis said. "With traditional motorcycles or mopeds there's a waiting period to get the motorcycle up and running. Our motors are the lowest maintenance motors available; they only have one moving party to reduce energy consumption."
Almost everything on the Bolt M-1 is built in-house, including the 1.68 kWH batteries, which are entirely recyclable and serviceable down to the cell level. The seven-person team at Bolt can build 10 bikes at a time and aims to build 100 M-1s this year; they're about a dozen bikes away from meeting that goal. Orders are coming in from over 30 countries, but Bolt's worldwide ridership will likely have to wait until 2017.
It's unlikely that battery technology will improve significantly by that point. Jauvtis is hopeful that the next five years will bring significant improvement to battery cells, which would allow for quicker charge times and a longer range for the bikes.
"Until battery tech—the actual cells themselves—catches up to gas or gets closer, it's an uphill battle that we as electric vehicle manufacturers have to face," he said. "I expect [it will be] probably another 5 years to have doubled the range."
Bolt's M-1 bicycles cost $5,450 and can be financed for up to a year (though Rasmussen said the team is working on different payment plans) with a one-year warranty that includes tech support and consultation. The bikes aren't quite customizable yet, but after-market upgrades including passenger pegs, storage, and extra batteries will eventually be available.
True to their unofficial slogan as the Tesla of electric bikes, Bolt Motorbikes wants its M-1s to be a luxury item. There aren't plans for a price drop any time soon, though costs may decrease as Bolt scales its operations.
"We don't make very much money on these bikes; the idea is we hopefully don't have to lose much money," Jauvtis said. "We make our money in volume when we start making hundreds and thousands of these bikes…we predict profitability by the end of year three."
Jauvtis added that there are other opportunities for Bolt's battery technology, including solar power storage or a back-up power source for a home.