It's Really Sad That We Need a Women-Only Rideshare in 2016, But We Do
Photo courtesy of Flickr user Mark Warner
Tech
Features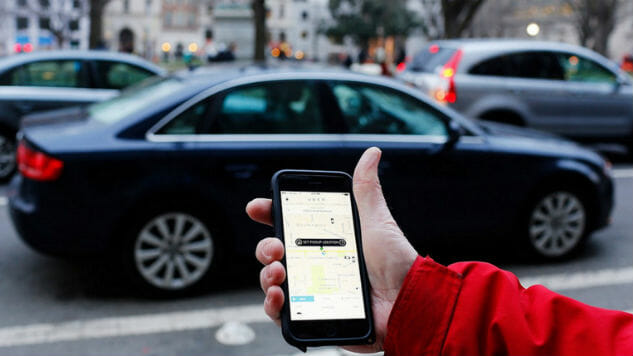 This fall, a new ride share company will be joining the competitive market with plans to offer women a safer riding experience across the United States. SafeHer, a Boston-based ridesharing experience solely for women wants to offer a service that puts safety first. The company proposes using security measures such a government standard background checks, facial recognition technology, and a customer service hotline for riders and drivers.
The company was started by former Uber driver, Michael Pelletz, who says his experience driving a passenger who almost overdosed in the back of his car led him to wonder, "what if that had been my wife, and what if the person driving didn't do what I did, which was find a police officer and get him an ambulance."
Pelletz is referencing multiple reports from both Uber and Lyft passengers who have accused drivers of rape, assault, and kidnapping. According to data obtained by Buzzfeed, between December 2012 and August 2015 Uber received five claims of rape and an estimated 170 claims of sexual assault. There could be hundreds to thousands more, not to mention, there are Uber and Lyft riders currently being accused for hitting and killing pedestrians.
As more stories from female victims come to light, Pelletz and his wife, Kelly (who serves as the company's president) are determined to bring SafeHer to market. But, the announcement of a women-only ride sharing service has sparked conversations, posing the question: do we really need an all-women rideshare in 2016?
"It's sad that we have to do this, but the fact of the matter is that there is a need," says Pelletz. "I believe there is inequality for women, and Uber and Lyft don't follow our lead in making safety and security a top concern for women."
But do we really need to go as far as creating an app where only women can drive and ride? My first thought was no, we don't and I hate the idea of needing to have one. There are many people who drive for both Lyft and Uber that are good people trying to make a living. We can't just group all drivers into a stereotype and assume it will always be unsafe to take an Uber or Lyft when, of course, that's not true.
However, once I started asking women about this, I learned the problem goes deeper. First, there's the fact that some people apparently use Uber as a hookup app, similar to Tinder, and, well, you get the idea. Secondly, many women have reported feeling uncomfortable when a driver makes inappropriate comments. What are "inappropriate comments?" Here is a list of some of the comments I've heard (and have personally experienced myself) that male Uber and Lyft drivers have said to passengers:
"You should change your profile photo, it doesn't do you justice. You are gorgeous."
"Wow, you smell really good."
"I'm not sure what your situation is but I'm single."
"So, do you live at the location we're going to? And do you have any roommates?"
Though these might read innocent here, the next time you take a ride alone, picture these things being said and think about how that makes you feel. Some people might read this and think, "oh, get over it, take the compliment and move one." Others might better understand the difference of hearing these things in a bar, compared to in the backseat of a stranger's car and how that could make someone feel weird.
I had never felt uncomfortable using either app before, until I had a driver ask me that last question during a ride. It seemed like a normal question so of course I answered. But the moment I did, I felt my stomach drop and suddenly became very aware that I was in a stranger's car. I got out and waited until he drove off to actually go to my apartment. As I gathered myself and reflected on why I felt uncomfortable, I realized something that only made me feel worse: he knows where I live.
And that's what changed everything for me. I'd just had this uncomfortable ride with a complete stranger that I have no idea what he is capable of-and he knows where I live. I became reassured as I reminded myself that Uber and Lyft conduct background checks, so he's just a creepy guy and everything will be fine, right?
Uber reportedly conducts background checks through Checkr whereas Lyft uses a company called Sterling BackCheck. Both services appear to help speed up the background check process while supposedly meeting the industry standards.
"Uber recently had to pay 2 million for a gold standard background check. When I was a driver it took 12 hours for them to do my background check," says Pelletz.
When questioned about the background checks Pelletz will conduct on women drivers for SafeHer, he says their service has been recommended by law enforcements across the country, explaining that they didn't just turn to Google to find a fast and cheap program.
"We're going to do daily, random background checks, which Uber and Lyft don't do," he says. "They would never know if a driver got a DUI and then continued driving."
The database Uber uses only goes back seven years, whereas the taxi and limousine industry uses LiveScan, which uses fingerprints to receive a person's entire criminal history in the United States.
Both Lyft and Uber contain the following safety features: in-app photos of the driver, vehicle and license plate number, real-time ride tracking, digital receipts, two-way rating systems and professionally administered background checks. Both companies also claim to have an emergency customer service line, but I've yet to find one for riders. I'm aware drivers have access to a support team, but I dare you to open either app right now and find a phone number to call.
If you do have a problem, Uber and Lyft tell you to rate the person below three stars so you're never paired together again. But that is just a good enough security measure. My perspective on the drive and definition for inappropriate conduct might be different than the drivers', and vice versa, or than other riders. Sure, I'll never have to ride with that person again, but I'm still left with this weird experience and can't help but wonder what another person's experience might be like with that driver.
If you report an incident, both companies say they have a zero-tolerance policy and will investigate. After hearing from a friend who reported her driver for being unprofessional—he persistently asked her if she had a boyfriend and asked if he could pick her up from the airport when she returned—I'm curious how situations are evaluated and approached.
Uber's response to my friend was rather short and I'm sure it was an automatic reply made with Text Expander or Typinator. I believe the investigation is going to be more in-depth if someone is accusing a driver of sexual assault versus annoying questions about your relationship status—but at the end of the day, no one should feel uncomfortable after a ride home that they paid for.
"It's so sad to me that some women have to feel that way," says Pelletz. "By the fall you won't have to anymore."
SafeHer is ultimately hoping to build a ride share experience where women will no longer feel uncomfortable getting from point A to point B, especially during the late evenings. It will, of course, be interesting to see if they incur the same problems as Lyft and Uber. Moreover, Uber previously pledged to recruit and hire more female drivers so women could request a women driver; and the majority of Lyft's passengers (60%) are women, meaning, if SafeHer is successful, both companies could potentially see a major decline in both drivers and riders.