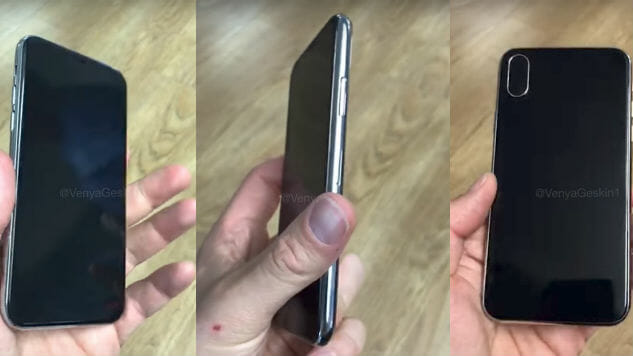 The release of the iPhone 8 is still a long time away. In fact, we're not sure if it'll be released together with the iPhone 7s in September—or even if it'll be actually called the "iPhone 8."
However, now is around the time each year when we start to get dummies leaked out. These "dummy" models are sent out to certain vendors to allow time for things like cases and accessories to be made that match the design of the new phone.
In the video above (by iVenyaWay), you'll see leaker Benjamin Geskin holding what appears to be the iPhone 8 dummy model. You can see new vertically-aligned dual-lens camera on the back, the glass body and metal frame, as well as a front without a Home button. The fingerprint scanner appears to be built into the bottom of the display, unlike having it separate on the back of the phone as it is on the Galaxy S8. Thanks to the smaller bezels, the overall size in the hand appears to be slightly larger than the iPhone 7 (and smaller than the 7 Plus).
These match a lot of the rumors we thought we'd be getting on this device, so this checks out pretty well. However, as with all leaks and rumors, we still can't know for certainty if this is the final design.