The Ghostlight Project: How a New Wave of Theatre Activism Was Born
Julie Schuchard
Theatre
Features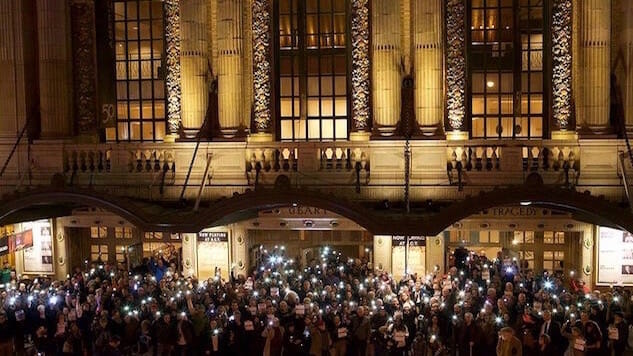 On November 20, the cast of Hamilton broke the fourth wall and entreated one audience member, Vice President-elect Mike Pence, to embrace "diverse America." Trump was offended. Others snickered at Pence's supposed humiliation at the hands of the Tony-winning performers. Pence accepted the message gracefully (only to support a rollback back of transgender rights, a controversial immigration ban and the reinstatement of the Dakota Access Pipeline).
For a handful of theatrical designers, writers and producers, the Hamilton incident served as evidence of a budding power. Perhaps the theatre—with its creativity, energy, and ability to attract diverse audiences to a singular spot—has a genuine place in activism.
Thus, The Ghostlight Project was born. A crack team of theater legends like playwright Moisés Kaufman (The Laramie Project), director Rachel Chavkin (Natasha, Pierre and the Great Comet of 1812) and writer David Henry Hwang (M. Butterfly) cooked up a name, a logo, and a launch event on January 19, the eve of Trump's inauguration. At 5:30 p.m. that evening, Ghostlight herded over a thousand theater people in Times Square, including actors Sally Field and Kate Mulgrew (Orange is the New Black).
At the same time, over 800 theatres across the country launched their own respective actions. From New York to California to South Bend, Indiana, the theater world was united and woke, maybe for the first time in history.
"As a theatre community we don't really do things," said Broadway set designer and Ghostlight's lead organizer David Zinn (Fun Home). "We go to Tony Award parties. We don't band together as a group over anything."
Zinn was surprised by the thoroughly national response. "Who knew that Fort Collins, Colorado had nine theaters?" he said. "I realized I've been guilty of prejudice. It's wonderful to be reminded that these smaller places have theater as a vital place to tell stories and come together."
"Ghostlight" refers to a light that's typically kept on for safety reasons—as well as superstitious ones—in an empty, dark theater. The political atmosphere certainly served as a catalyst and metaphor for The Ghostlight Project, but Zinn maintains that the group's main focus isn't Trump. Some of Ghostlight's concerns are immediate, such as such as planned cuts to the National Endowment for the Arts or the effect of the immigration ban on artists, but the group's overall message is about diversity, inclusion, and compassion in the theatre—issues that definitely predated Trump. A 2014-2015 study found that 70 percent of all theatrical roles were given to Caucasian actors, while 17 percent of roles were given to African American actors, 9 percent to Asian Americans, and 3 percent to Latinos. A similar breakdown applied to Broadway audiences.
"Diversity and inclusion in the theatre isn't a new problem," Zinn said. "We're late to the fight, but we're joining the fight."
The Ghostlight Project is working on another nationwide event in the spring. In the meantime, one of the group's long-term goals is to create a diversity template for theatres, outlining practical ways to hire and market more inclusively.
"We want theaters to understand: what does it mean to really want a diverse staff, or to really make your spaces more accessible to people?" Zinn said. "If you're putting on an August Wilson play, that's great, but are there more steps to take?"
The group also wants to encourage theatres to become more involved their immediate communities.
"While it's awesome to give money to the ACLU and Planned Parenthood, your community has needs as well," Zinn said. "We want to encourage theatres and ask, did you know you have an immigration rights organization down the block? Do they need a meeting space? Are there people in your community you can be reaching out to? We want social action to become a more regular part of what we do when we gather in these theaters."
As it stands, Ghostlight is an informal group of freelancers without an administrative staff, and they're open to volunteers. To learn more about the cause or to help out, visit out their website.