Athens, Georgia, is more than the home of the University of Georgia and a longstanding music scene; the small town is a foodie's dream. Brimming with starving students, struggling musicians, well-heeled professors and worldly patrons, the city delivers a wide range of restaurant choices. Many of the community's eateries utilize homegrown, seasonal or sustainable sources for ethical and tasty cooking. To experience Athens' diverse center, a handful of classic, musically historic and lasting establishments take precedent.
With tours and itineraries available to navigate more than sixty restaurants in the downtown culinary scene, Paste Travel is here to simplify the process and save cloying visitors from an afternoon of sampling. These five classic bakeries, bistros and diners keep the Classic City well-fed.
1. The Grit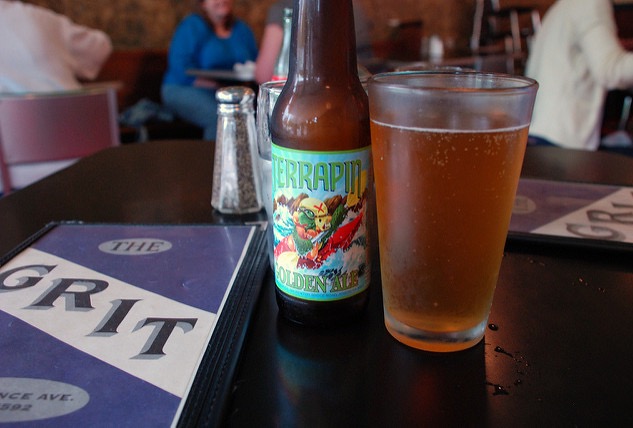 Photo:Ian McKellar, CC-BY
Solely vegetarian fare, these veggie and vegan-friendly dishes have been pleasing omnivores since the early nineties. Pressed-tin ceilings, exposed-brick walls, colorful chalkboards with daily specials and wide windows allowing natural light to illuminate the impeccably decorated sweets in the entryway case create the gritty swirl that is this icon. The staff largely consists of Athens musicians and local art is displayed on the walls. In true Athenian style, The Grit offers an eclectic menu with options ranging from Mediterranean-inspired to Southern classics. Choose the "Tofu & Veggies," a Grit mainstay otherwise known as a "Golden Bowl for Breakfast," for a crowning start to the morning.
2. Ike and Jane's
Located in Normaltown, about one mile west of Athen's downtown, Ike and Jane's is marked by a donut painted on the kitchen hood's chimney. This bright and unassuming bakery fills its display case with colossal cinnamon rolls and freshly-baked donuts topped with icing, bacon or cereal each morning. Early risers line up and empty the shelves by 10:00 a.m.. Ike and Jane's includes gluten-free and vegan donuts in addition to lighter fare- like parfaits and frittatas- to indulge the health-conscious crowd. A place for the light-hearted, the café gives a 10% discount to all who perform the day's proposed charade such as flying a plane or ordering in a Darth Vader voice. Add a cup of coffee and wake up with feel-good Motown tunes tapping in the background for a sweet start to the day.
3. Weaver D's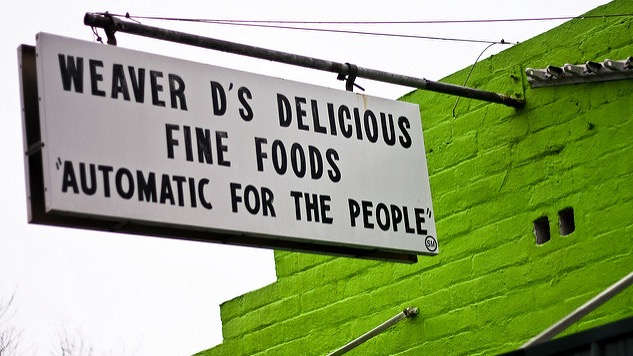 Photo:Abby, CC-BY
Celebrating 30 years, the restaurant has become an Athens staple. Weaver D's Delicious Fine Food claims the slogan "Automatic For The People" on a letter board over the storefront awning which became the title of R.E.M.'s 1992 album. In a lime green outpost, owner Dexter Weaver doles out substantial servings of Southern soul food favorites such as fried chicken, pork chops and classic casseroles. Orders are placed in the back at the black-framed counter under the hand-written menu and past the red vinyl-covered tabletops. Lunch isn't complete without macaroni and cheese paired with collard greens and sweet tea.
4. The National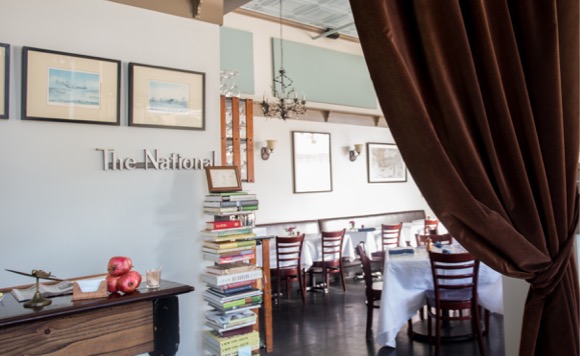 Photo courtesy of Visit Athens Ga
Housed in the same Snow Tire Company Recap Plant building as Athen's independent movie theatre, Ciné, The National has become an institution since it opened in 2007. While the menu offers North African and Spanish dishes, all ingredients are locally sourced. Co-owner Hugh Acheson believes The National "blends the comfort and smarts of a community restaurant with an international feel that makes us all comfortable global citizens." The tree-shaded terrace is airy alternative for a late afternoon of conversation in good company over a cheese plate or appetizer filled with seasonal produce and a glass of wine.
5. Last Resort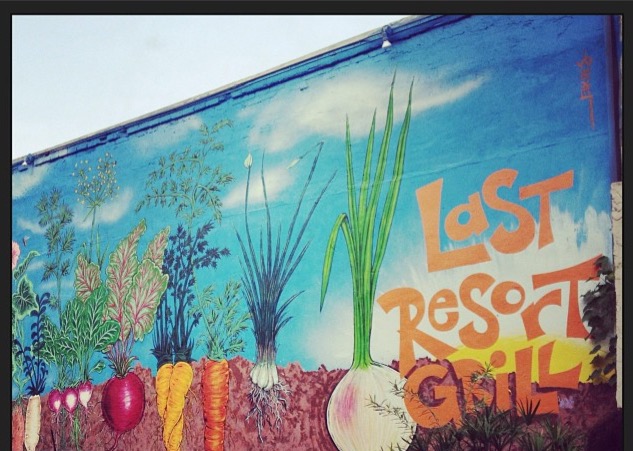 Photo:theunquietlibrarian, CC-BY@N04/10414090455/in/photolist-gSfWgH-8PCDPD-dqSL5i-8SnDPH-4GicRi-8SqKv7-8SqKm3-8SnDEg-nrSeTN
The Last Resort was originally a music club with performers like Reverend Pearly Brown and Steve Martin. Although the music club opened in 1966, the Last Resort Grill has been concocting Southern dishes with a modern twist since 1992. Located in the heart of downtown Athens, the repurposed space sits at the corner of Clayton and Hull streets just down the hill from the Georgia Theatre. The restaurant consists of a culinary community dedicated to giving back to charities and cultivating strong bonds with neighbors such as local bakers and growers who always bring the freshest ingredients to the table. Try the Last Resort's Praline for "an old signature" entrée of chicken breast glazed with walnut-honey.
Top image: Dade Freeman, CC-BY
Molly Harris is a freelance writer based in Athens, Georgia.