Should You Stay at Walt Disney World's Swan and Dolphin Resorts?
All photos provided by the Swan and Dolphin Resort.
Travel
Features
disney world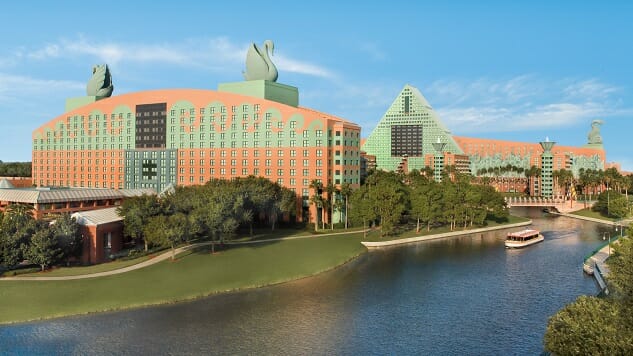 I get it: sometimes you want to stay at Disney World without feeling like you're trapped at Disney World. The Disney World Swan and Dolphin hotels are the perfect places to stay if you want the convenience of staying on resort without being surrounded by Disney décor at the end of the night. The two conjoined hotels, which are operated by Marriott, are stylish and luxurious resorts that put you in the heart of Disney World but feel like they could be in almost any city.
That makes them two of the most popular convention hotels at Walt Disney World. There will almost always be serious adults in suits milling about either hotel, and closing out Phins, the lobby bar, every night. But it means they're also ideal for adults hitting up the theme parks without children, or for, uh, travel writers hanging out at Disney World alone for a few days. (No, I don't know anybody like that.)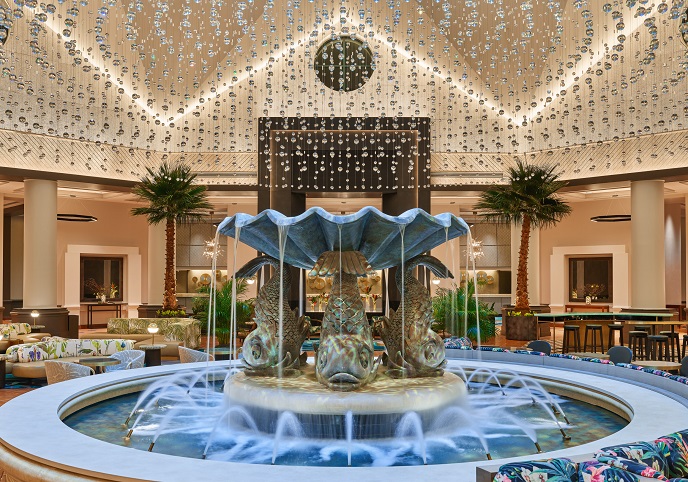 That's not to say there's no Disney presence at all here. There's a Disney gift shop, of course, and a Disney concierge desk to help you plan your theme park adventures. There's also character dining in the charmingly designed Garden Grove restaurant; famous friends like Goofy, Pluto, and Chip 'n Dale can stop by your table and pose for a few pictures while you're noshing down on spaghetti or the seafood buffet. And, as a Disney resort, you get complimentary travel to the parks and Disney Springs, with boats taking you to Epcot and Hollywood Studios and buses going everywhere else.
Location and price are the biggest selling points for these spots. They're cheaper than the comparable Disney-run hotels, and if you're a frequent traveler you might appreciate the opportunity to use and collect Marriott Points. Epcot and Hollywood Studios are actually both in walking distance—although nobody would shame you for waiting on the boat after a long day of hoofing it throughout the theme parks. The hotels are also right next door to Disney's Boardwalk, so all the bars and restaurants found there take just a few minutes to walk to. It's hard to beat the location of these places, especially if you're heading to Epcot's Food & Wine Festival or the brand new Star Wars: Galaxy's Edge at Hollywood Studios.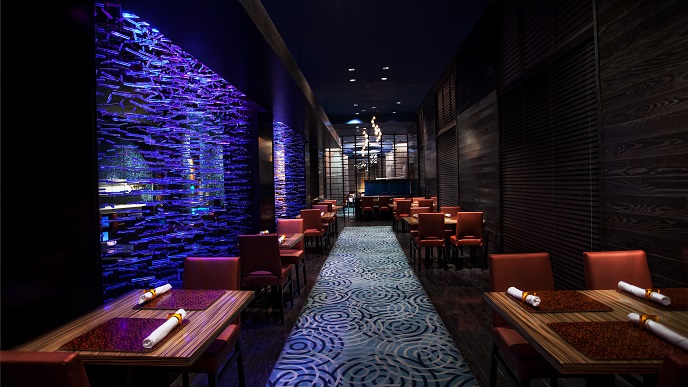 Even though it's close, you won't need to walk to that boardwalk to find great food and drink options. Both the Swan and the Dolphin have a variety of fantastic restaurants across a wide range of price points. If you're looking for a classic steakhouse with a football twist, the Dolphin is home to a Shula's Steakhouse. If you're a celebrity chef fan with a taste for seafood, you'll want to check out Todd English's BlueZoo, also in the Dolphin. Kimonos is a top-notch sushi joint with a karaoke bar, and Picabu is an all-hours cafeteria with a variety of fresh meals and packaged snacks. The Swan and the Dolphin might not have the themed restaurants you'll find at some of Disney's deluxe resorts (although Garden Grove fits the bill, with its Central Park-inspired design), but between the two hotels there's a wealth of places to eat and drink.
You'll also find amenities that appeal to all ages. Adults looking to be pampered can book a trip to the Mandara Spa, which might be the most tranquil and relaxing spa I've ever visited (it might be the one part of either the Swan or Dolphin that feels like a theme park, given the impressive way it's designed). And they can book their kids a stay at Camp Dolphin, an activity-filled zone to keep the little ones busy (and hopefully tire them out a little). You'll find a gym, an arcade, basketball and volleyball courts, and easy access to the Fantasia Gardens Miniature Golf course. And if you're looking to take a dip, the two hotels share five different pools, including luxury cabana rentals.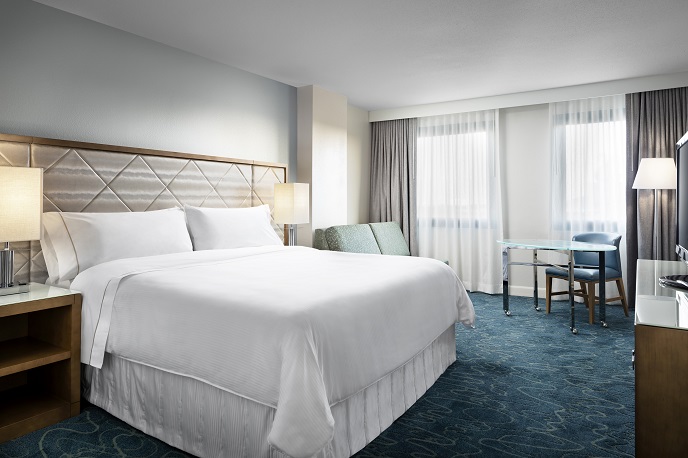 What about the rooms, though? That's where you'll be spending most of your time at the hotel—or at least your most important time, assuming you're able to get some sleep in every night. Expect tastefully appointed rooms full of modern amenities and no Disney presence. If you want a framed photo of Walt Disney looking pensive beneath Sleeping Beauty's Castle at Disneyland, or wallpaper with Disney characters on it, you need to book a room at one of the many Disney-operated hotels on resort. If you want to drown in Marriott's heavily hyped Heavenly Bed, you'll need one of these rooms. They offer a variety of rooms and suites of different sizes, and if you're a high-roller you can book the absurdly large Presidential Suite, with several bedrooms, bathrooms and public rooms spread across two floors, and a piano for good measure. For the rest of us, though, the standard rooms don't just suffice, but exceed expectations.
One thing you need to know, though: even though they're located on the Disney World resort, the Swan and the Dolphin don't feature some of the perks found at Disney-operated hotels. For one, you can't take the free Disney Magical Express shuttle from the airport to either hotel. You can't use Magic Bands as your room key or to pay throughout the hotels, and Disney Dining Plans aren't eligible at either hotel. If you're a regular Disney visitor who has learned to take these options for granted, you might want to steer clear of the Swan and the Dolphin. If you're cool with their unusual Disney-but-not-quite-Disney nature, the Swan and the Dolphin collectively offer one of the best on-resort options at Disney World.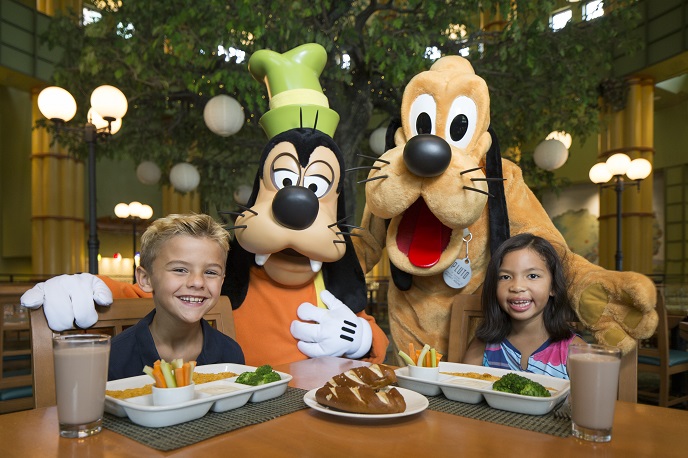 ---
---
Senior editor Garrett Martin writes about videogames, comedy, travel, theme parks, wrestling, and anything else that gets in his way. He shares stories and photos from his Disney journeys on Instagram at @garrett_goes_to_disney. He's also on Twitter @grmartin.