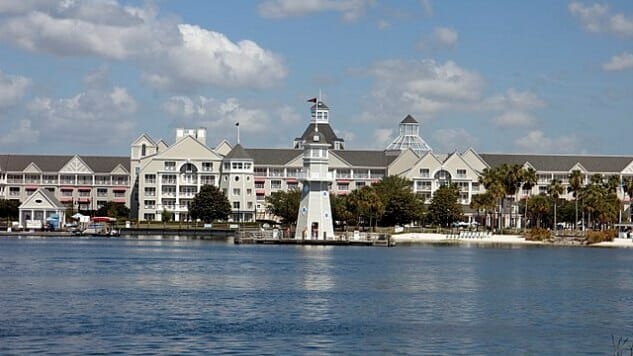 You're not going to believe this pool. All discussions about Disney's Yacht Club Resort (or its sister hotel, Disney's Beach Club Resort) should probably start with Stormalong Bay, which has justifiably earned the rep as the best pool in all of Walt Disney World. It actually might be a disservice to Stormalong Bay to just call it a pool—it's almost like a miniature water park right outside your hotel room.
Stormalong Bay is a massive, sprawling network of pools that drift on for three acres behind both the Yacht Club and Beach Club. With a bottom made of sand, it feels like you're actually at the beach, with that mushy feeling between your toes. Between a lazy river and multiple whirlpools, you can do more than just swim here. You can even climb up to one of the tallest water slides at Disney World, which can be found inside a realistic shipwreck and runs for 230 feet. And if you're staying at the Yacht Club and want to get wet without the crowds or activities, you can hang out at the smaller, more secluded Admiral pool.
I've seen pools at hotels throughout the world, from spectacular showpieces to greening swamps barely larger than a hot tub. I've never seen a hotel pool as amazing as Stormalong Bay. It's basically an attraction in and of itself.
Stormalong Bay might be the chief selling point here, especially for families, but don't overlook the actual hotel. The Yacht Club, which is located near both Epcot and Disney's Hollywood Studios, is a beautiful, stately resort whose old-fashioned class is hard to match at Disney World. Themed after a New England beachfront yacht club, this is a resort whose lobby can make you forget where you are—which is the main goal of any theme park or themed hotel. If you're used to Disney's more casual hotels, or were expecting to see Disney characters and references all over the place, you might be surprised by what you find at the Yacht Club. With the giant globe at the center of the lobby, and staff dressed in ship captain uniforms, you might feel less like you're in Florida than on a luxury ocean liner from a century ago—or at least on the set of Titanic.
That kind of elegance can be impressive in public spaces, but off-putting in an actual hotel room. If you're like me, you probably don't want to stay in a room where you feel guilty for leaving your dirty clothes lying around. Fortunately the rooms at the Yacht Club are contemporary. The nautical theme is hinted at with hardwood floors and a color scheme that combines earth tones with splashes of blue, but it's a minimal design. Don't expect any porthole-shaped windows or mirrors that look like ship's wheels. It's tasteful and understated, comfortable but classy, and a good bit more modern than the lobby would lead you to expect.
Standard rooms can comfortably fit four or five people and come with a number of options, with views of the pool or Crescent Lake costing more. You can get a room with two queen beds or one king bed, and then a day bed with either. You can also spring for club-level service, which comes with perks like a DVD player in your room (because you traveled all that way for your kids to watch their DVDs, of course), a club-level lounge, and, uh, according to Disney's website, "complimentary fax assistance." (For the hard-charging business professional on the go—in 1997.) If your party is larger, or you just want to splurge, you can also get a suite, which comes with club access, and includes two bedrooms connected to a common room. (I have not stayed in one of these suites myself, or tried out the club-level service, so I can't comment on either.)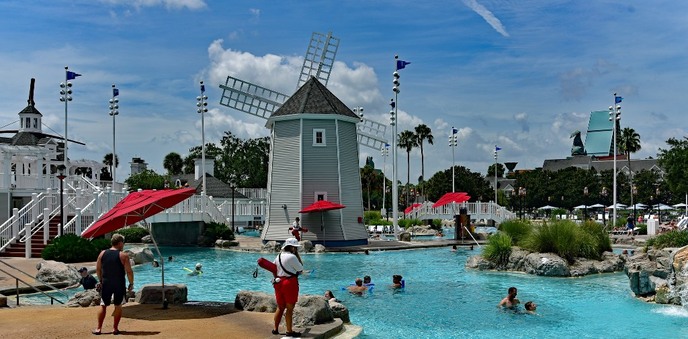 Photo by Frank Phillips, from Flickr
There's also a bathroom. (Who knew?) It's divided, with the sink, shower and toilet all in separate small chambers. That might seem like a minor detail to people who go to Disney World as a couple or alone (hey, we exist), but if you're traveling with multiple family members (especially children), the ability for multiple people to use the bathroom, sink and shower at the same time is crucial. The bathrooms are as tastefully designed as the rest of the rooms, nicely combining class and comfort. Altogether, the rooms more than suffice as your home away from home, and a relaxing respite from the crowds and chaos of the theme parks.
The Yacht Club also excels at dining. You can quickly unwind (or recharge) at the Ale & Compass Lounge, which is right off the lobby, and offers a nice selection of cocktails, beers and wine, along with small plates and appetizers. The Ale & Compass Restaurant next door features a few New England seafood favorites—from oysters and chowder to scrod and Maine lobster—but actually has more turf on the menu than surf (including the utterly non-New England treat of fried chicken and waffles). If you're looking for even swankier options, the Yachtsman's Steakhouse offers seafood and steaks at about $50 a head (and if you really want to blow up that credit card, you can get a five ounce Wagyu strip for the tidy sum of $125). There's also a selection of sandwiches and other grab-and-go options at The Market at Ale & Compass, and more drink options and bar food at Crew's Cup Lounge.
One of the big advantages to staying at the Yacht and Beach Club complex is that you can easily check out the food at either resort. That includes the Beaches & Cream Soda Shop, which offers delicious ice cream treats, cakes, sandwiches and burgers. It's right in front of that amazing pool, making it an easy place to pop in for a shake or lunch during a pool day. The other restaurants and bars at the Beach Club basically double your food options, making this whole complex one of the best resorts at Disney World for dining and drinks.
Disney's Yacht Club is a beautiful, classy resort with an amazing pool, comfortable rooms, quick and easy access to Epcot and Hollywood Studios (and convenient bus transportation to the other two theme parks), and dining options that range from the affordable to the fancy. It's also one of Disney World's Deluxe Resorts, which means it's one of the most expensive hotels you can book there. On average it's cheaper than the Grand Floridian or Polynesian Village, but costlier than some of the other Deluxe Resorts, putting it in the middle of the pack of Disney World's most expensive tier of hotel rooms. As I've written about before, Disney World hotels are considerably more expensive than comparable hotels elsewhere in Orlando or Kissimmee, and that's no different with the Yacht Club. You'll be paying a premium for its theming, its pool, and mostly its proximity to Disney World. Personally I do prefer staying on resort when I head down there—it's simply more relaxing and feels more like an escape from the real world to stay within Disney's confines—but the price difference can't be overlooked. It's significant.
Also significant: the comfort and luxury of Disney's Yacht Club Resort. Unlike most outside hotels, and even some of Disney's official hotels, it'll make your entire time at Disney World feel special, and not just the days you go to the parks. Especially for older visitors or groups without children, the Yacht Club is a true jewel amid Disney World's ample roster of resorts.
---
Senior editor Garrett Martin writes about videogames, comedy, travel, theme parks, wrestling, and anything else that gets in his way. He shares stories and photos from his Disney journeys on Instagram at @garrett_goes_to_disney. He's also on Twitter @grmartin.