D23 Reminds Us That Change Is Always Coming to Disney Theme Parks
Photos courtesy of Getty Images
Travel
Features
Disney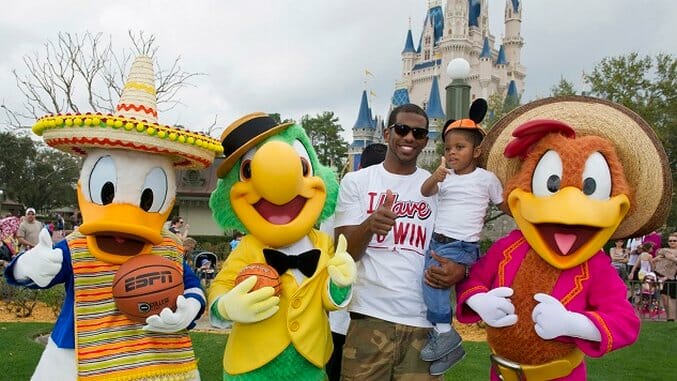 If you're the kind of person who reads books or message boards about Disneyland, you've probably seen this Walt Disney quote: "Disneyland will never be completed." It's a favorite of publicists writing press releases about upcoming changes to the Disney theme parks, and also of message board posters who feel the need to defend the theme park decisions made by current Disney management. Walt said the park will always be open to change, so any change is fine, they say.
Despite that often used (abused?) quote, change at Disneyland (or any of the Disney parks around the world) remains a heated topic among fans. The latest imbroglio concerned the Pirates of the Caribbean ride, whose original version recently celebrated its 50th birthday at Disneyland in Anaheim. (It was the last ride that Walt Disney himself oversaw; he died three months before it opened in March 1967.) Late last month it was announced that the so-called "wench auction" scene, where pirates sell kidnapped women off as brides to their fellow buccaneers, would be altered to remove the human trafficking aspect. The red-headed audio-animatronic woman waiting to be sold, which has become one of the more popular characters from the attraction, with its own line of shirts and other merchandise, will be changed from a victim to a pirate. Paste wouldn't necessarily argue in favor of perpetuating this lighthearted depiction of sex trafficking and human bondage, but we do share some sympathy with those who are upset about this alteration to the original designs of such legendary Disney Imagineers as Marc Davis, Xavier Atencio, Claude Coats and others. Their original ride storyline, which was less of a straightforward plot than an impressionistic series of vignettes (theme park attractions are often like watching a Robert Altman film on a boat or conveyor belt, complete with overlapping dialogue and audio), was already damaged by the inclusion of Captain Jack Sparrow in 2006, and now will lose more of its original intent without this scene. Again, though, we also fully sympathize with those who think it's a little messed up to turn sex slavery into a theme park joke, especially when the scene also throws in some fat jokes, to boot.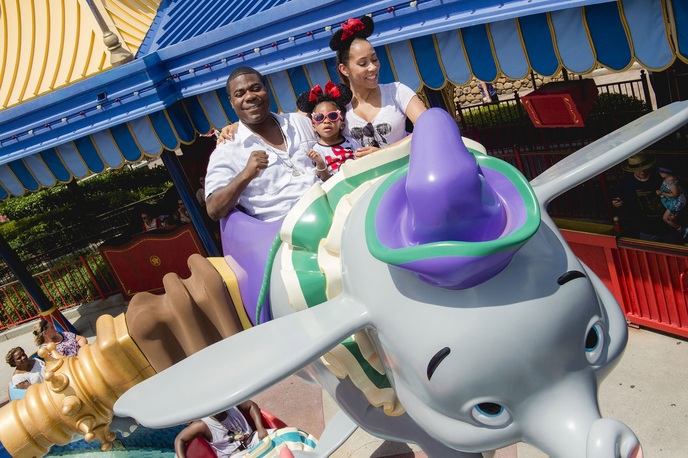 Here's a photo of Tracy Morgan and his family enjoying themselves on the Dumbo ride.
This is the kind of conversation that follows any change at Disney parks, and that's not a surprise, since these places are heavily rooted in nostalgia. The parks themselves are nostalgic for the past, from the idealized 1890s of Main Street USA, to the Hollywood back lot Old West of Frontierland, to the Space Age retrofuturism of Tomorrowland. Their visitors, in turn, are nostalgic for these bygone eras and the movies evoked by the attractions and architecture. More powerfully, they're nostalgic for their own childhood. Messing with a 50-year-old ride like Pirates of the Caribbean messes with our own memories, and it's clear why people would get defensive about that. Any change at a Disney theme park breaks that direct connection to our nostalgia, to our memories, and thus to the safety and security they bring us. Also, if you appreciate these environments for the works of art that they are, these changes are frustrating because they represent the business decisions of today undoing the work of artists who are often no longer with us, and who rarely receive the acclaim and recognition that they deserve.
This kind of change is a constant at Disney parks. Depending on your perspective, it's either exciting or a constant threat. This week we'll learn more about upcoming changes to Disney parks at the biennial D23 Expo, a fan convention in Anaheim devoted to all aspects of the Disney media empire, from theme parks and films, to Marvel Comics, to whatever shows currently happen to air on ABC. For theme park fans, the big news will probably come during the Walt Disney Parks and Resorts presentation at 3 PM PT on Saturday, July 15. It's safe to assume that Star Wars Land, the additions to Disneyland and Disney's Hollywood Studios that are scheduled to open in 2019, will make up a major part of that presentation, and that we'll learn more about the TRON Lightcycle Power Run roller coaster, which will reportedly be replacing the almost 50-year-old Tomorrowland Speedway ride at the Magic Kingdom. Don't be surprised if some of the many rumors about upcoming updates to Epcot, Disney's California Adventure and other parks are confirmed. Strong rumors about massive changes to Epcot's neglected Future World area have proliferated online for months, and the recent conversion of California Adventure's Twilight Zone Tower of Terror into Guardians of the Galaxy—Mission: Breakout is rumored to be the first step in an eventual Marvel-themed area at Disney's second Anaheim park. Perhaps we'll learn more about those and other Disney plans at D23 next weekend. Either way, we'll keep you updated on whatever the company announces at the expo, and we'll try to keep our nostalgic fan boy disappointment in check.
---
Senior editor Garrett Martin writes about videogames, comedy, travel, theme parks, wrestling, and anything else that gets in his way. He shares stories and photos from his Disney journeys on Instagram at @garrett_goes_to_disney. He's also on Twitter @grmartin.