The Lunar New Year Brings New Food and Fun to Disney's California Adventure
All photos courtesy of Disney
Travel
Features
Disneyland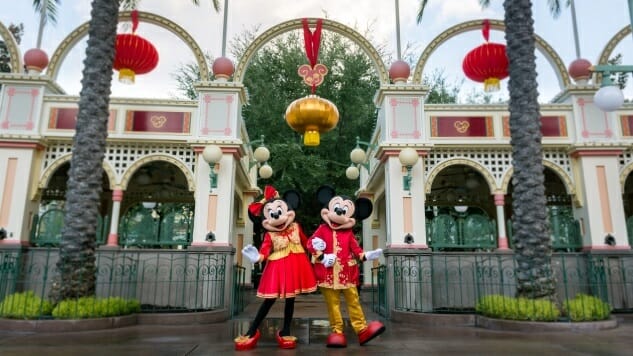 Disney's theme parks almost always have something new to experience, no matter what time of year you visit. Right now, at Disney's California Adventure at Disneyland Resort in Anaheim, you can celebrate the Year of the Mouse during the Lunar New Year Celebration. Running until Feb 9, the festivities include a new parade, a new nighttime show, and a lot of new food and drink options. It's also just another way to see a familiar park in a new light, and as a fan of how these spaces look and feel, and how they can be subtly altered to have new meaning, that's an opportunity I'll always be interested in.
And okay, yes, it's actually the Year of the Rat. Sure, Disney probably could've gone with Remy from Ratatouille as the star of this shindig, but obviously they aren't going to miss a reason to keep Mickey Mouse front and center. And the company is no stranger to changing tradition to be more marketable.
If you live in California, or find yourself in or around Anaheim over the next three weeks, Disney's Lunar New Year Celebration might be worth checking out. And if you do make it there, here's what you can expect.
Mulan's Lunar New Year Procession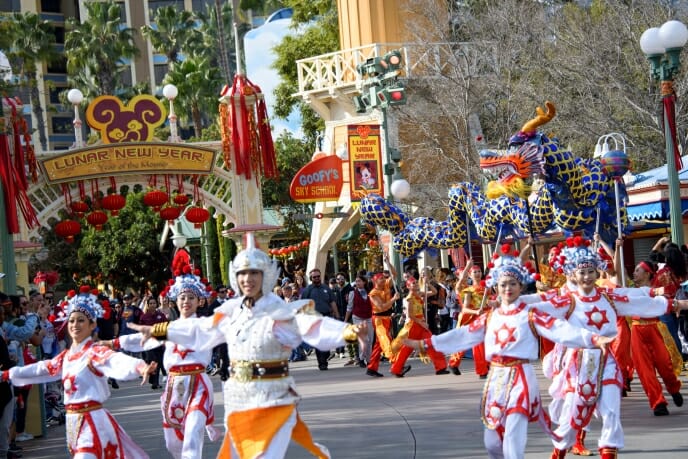 Multiple times a day Mulan leads a march of Disney characters and entertainers around the lake within Disney's California Adventure. You'll be able to see some of your favorite Disney characters in Lunar New Year costumes, including Mickey, Minnie, Goofy, and the Three Little Pigs, as they dance from Pixar Pier to Paradise Garden Park. It ends with a big celebration with drummers, ribbon dancers, a Chinese dragon puppet, and a variety of other performers wowing the audience with their impressive skills. Parades have always been a major part of the Disney parks experience, and unique processions like this one keep them feeling fresh and unpredictable.
---
New Character Meet-and-Greets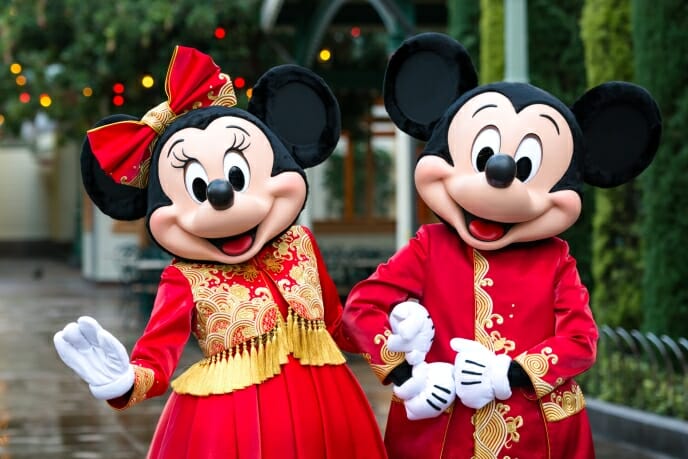 If seeing your favorite characters in the parade isn't enough, you'll be able to meet some of them in their Lunar New Year outfits throughout the day. You'll be able to find Mickey, Minnie, Mulan, Mushu and more right by the Paradise Garden Grill. The whole pavilion is decked out beautifully in honor of the occasion, which means your photos will look even better than usual.
---
Four Seasonal Food Counters Offering a Range of Asian-Inspired Cuisine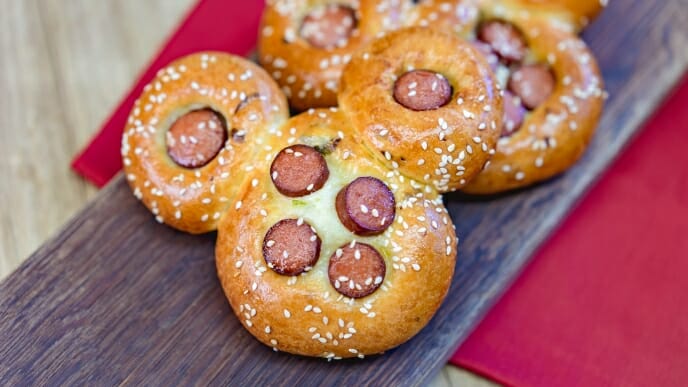 If you're a fan of the International Food & Wine Festival that happens at Epcot every year, you'll be able to get a taste of that experience at California Adventure during the Lunar New Year. There are four different locations to try Asian-inspired food, all located at Paradise Gardens Park. They include Prosperity Bao & Buns, which offers the char siu pork bao, featuring Chinese barbecued pork with pickled red onions and jalapeno, as well as a Mickey-shaped Chinese hot dog bun. Lucky 8 Lantern offers a shrimp fried rice with garlic-bacon edamame, and also a smoked bulgogi short rib. Longevity Noodle Co. specializes in noodle dishes, appropriately enough, with a plate of chicken meatballs and lo mein noodles, and an eggroll on top of sesame-garlic noodles and covered with a cilantro-cashew sauce and toasted peanuts. And finally, at Red Dragon Spice Traders you can dig into some firecracker chicken wings, or shrimp and ginger dumplings with a soy reduction and sriracha mayo. If you can't decide, or want to try 'em all, you can spring for the 2020 Lunar New Year Sip and Savor Pass, which nets you six coupons redeemable for food and non-alcoholic drinks at all four stations.
Paradise Garden Grill Offers a Full Asian Menu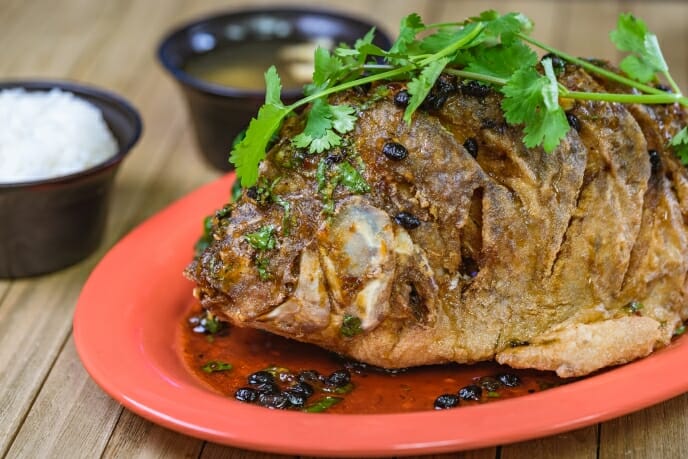 If those food options aren't enough for you, Paradise Garden Grill has introduced an entire menu of Asian fare. Entrees include bánh mì, Korean grilled chicken, crispy orange tempeh, and an entire tilapia fried and served for two. (Yes, the head is attached.) To accompany your meal you can order almond milk boba tea, Kloud and Tiger beers, or the Orange Blossom cocktail, which combines orange juice, gin, orange liqueur, grenadine and lime juice over ice.
---
One-of-a-Kind Desserts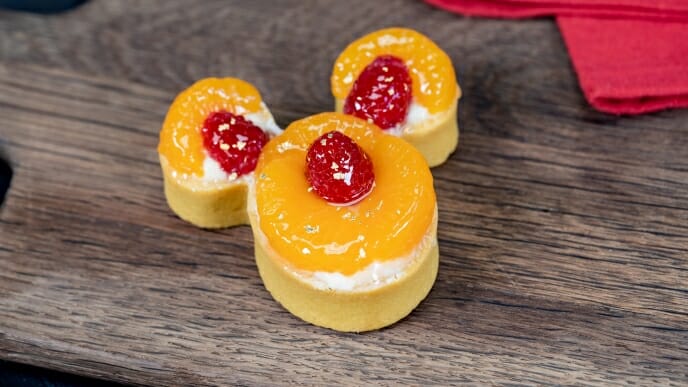 Disney might have some good food, but it doesn't get more exciting than its desserts. At Paradise Garden Grill you can enjoy mango mousse, which is a mango glazed passion fruit and mango compote with a vanilla sponge cake. At the various other food stands you'll be able to find treats as delectable as a mango-pineapple pastry, a purple yam macaron with crème fraiche, a Mandarin orange-green tea tart, or a black sesame mochi donut. (I've surprisingly heard conflicting reports on the quality of that last one, but just the idea alone makes me hungry for one.) So if you're somehow tired of churros you'll be able to find something new during the Lunar New Year.
---
Enjoy a New Nighttime Show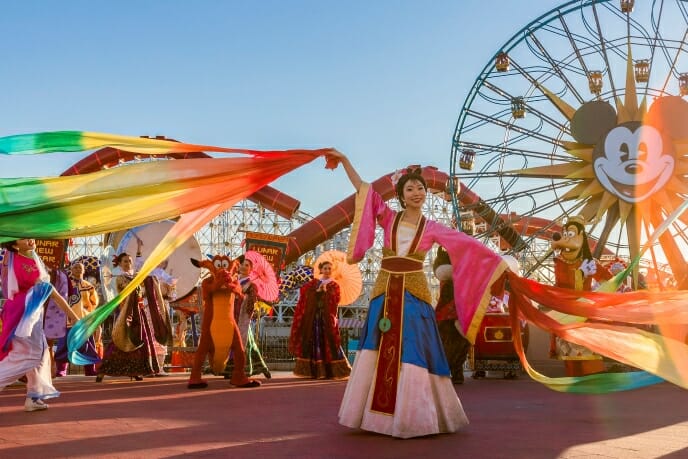 Hurry Home—Lunar New Year Celebration is a new water show that runs every night during the festivities. It tells the story of a tiny lantern trying to return home, who encounters Mulan and Mushu during the trek. Expect a mist screen, fountains, lights, and the musical score from Shanghai Disney Resort's opening all coming together to create a fun and impressive show.
---
Reflect on the Future at the Lucky Wishing Wall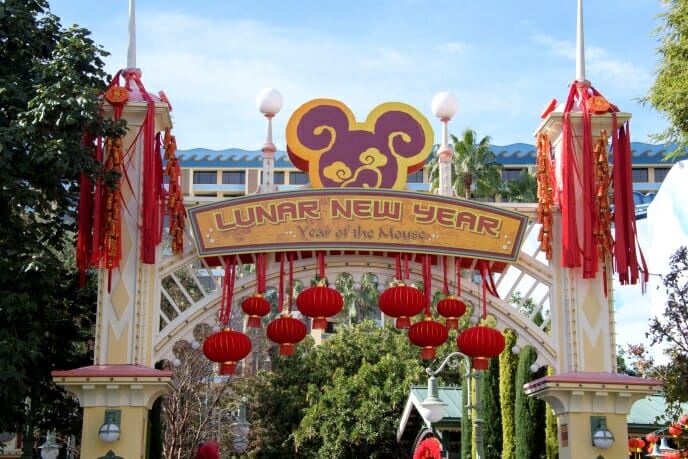 Amid the hustle and bustle of the parades and the crowds you can pause to think about the future at the Lucky Wishing Wall. Write your wish on a Mickey-shaped paper tag and string it up at the festive wall, which sits beneath a beautiful display of lanterns. Enjoy a small moment of peace before returning to the celebration.
The Lunar New Year Celebration runs every day at Disney's California Adventure now through Feb. 9.
---
Senior editor Garrett Martin writes about videogames, comedy, travel, theme parks, wrestling, and anything else that gets in his way. He's also on Twitter @grmartin.