As you make your way down designer-lined Madison Avenue toward 50th street, you'll approach a short and wide neo-Italian Renaissance-style brick building that looks odd in its surroundings, where everything else is tall, thin and shiny (not just the people). You start to picture the rich people that lived here in the past, maybe the Rockefellers, and wonder what it's used for now. If only it could be your hotel. But all travelers know the world "palace" rarely means anything of royal standards when it comes to hotels. Alas, you get closer and see that beyond the large courtyard—odd for Manhattan—the words "The New York Palace" rest above the front entrance in gold letters. You get that giddy feeling you did as a child when playing dress up. You get to be Serena van der Woodsen for a few days! Yes, this is the hotel the blond beauty lived at in Gossip Girl.
Oh yeah, and in real life it once housed Henry Villard—one of the nation's most prominent financiers—and the Archdiocese.
First Impressions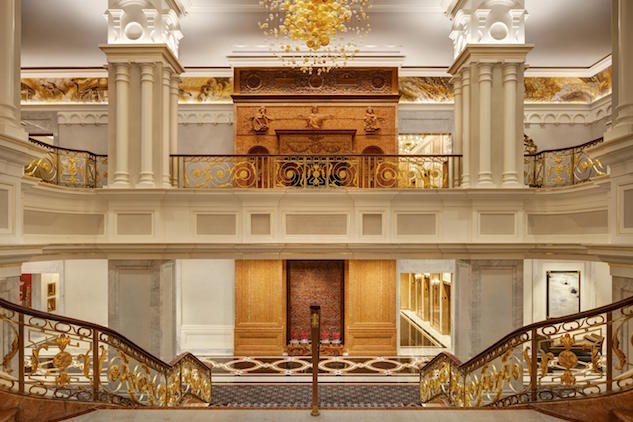 Magic happens when you walk under the wrought iron vines that form an archway at the front gates and enter the courtyard of this U-shaped estate that is the LOTTE New York Palace. You're not just imagining the twinkling; you can see the shimmer of many massive chandeliers through the huge arched windows of various ballrooms and such. Suddenly, you're Cinderella, or Prince Charming.
Upon entering the lobby, you're faced with lots and lots of gold, and a balcony the stretches across the structure and is held up by giant pillars. Then you notice the huge gold chandelier hanging from a high ceiling over a grand staircase. Once you've picked your jaw up off the marble floor, take the staircase down toward a bank of elevators. On this lower level, the hotel's multiple restaurants are tucked into corners, including the dark and mysterious Lobby Lounge, but if you turn right at the bottom of the staircase, the black marble will lead you to reception.
Unfortunately, there are no guest rooms in the mansion, instead they are all in the massive tower attached to the back of it. Don't worry, that doesn't mean your room will be any less royal. Depending on which part of the hotel you're staying in—floors 41-54 are considered "The Towers"—take the corresponding elevator that marks your regal arrival with gold doors and old-fashioned wood interiors.
The Room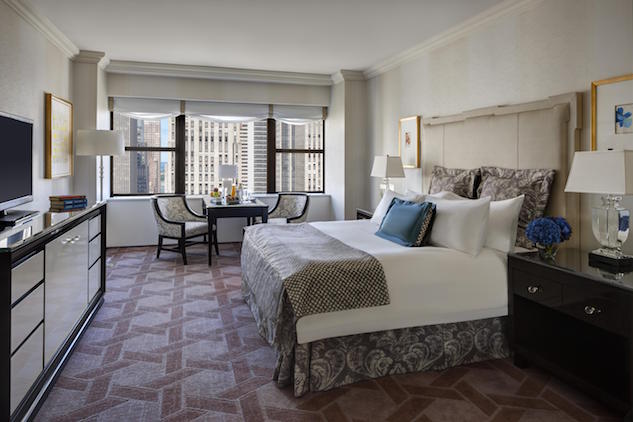 Unlike most NYC hotels, this one actually gives guests some space. The rooms on the lower floors (5-41) scream elegance with floral upholstery in earth tones, luxury bed linens backed by cream leather headboards, marble bathrooms with Molton Brown amenities, dark wood furniture and massive windows. We recommend booking a cathedral view room, which puts you smack in front of St. Patrick's (unless sleeping so close to a cathedral creeps you out, which we'd completely understand). The higher up you go, the better the view gets (obviously), which can include 30 Rock and the Empire State Building. Then you have the suites, and then … The Towers.
The Tower suites are considered a "hotel within a hotel," and follow a bit of a different design scheme, with more sophisticated art adorning the walls (not just pictures of dainty flowers like most hotels throw on there), wall-to-wall windows with insane views high above the city, and custom leather furniture. The extra money spent on these rooms also gets you huge closets and bathrooms (with a bidet beside the toilet and a separate bath and shower), more chandeliers than you've ever seen in one space, and a lighting panel that has buttons for every situation imaginable (reading, relax, etc.) These suites go from standard to themed with pianos, more chandeliers, floor to ceiling windows, palm trees, black painted walls, and gold curtains—not all in one suite, of course, that would be a decorative disaster.
Oddly enough, this super fancy NYC hotel allows pets. Their Pampered Pooch package gets your pup a bed and leash to keep, a 30-minute walk, and treats. I took advantage of this and brought my mutt, who's so spoiled she didn't even bother with the dog bed, she went straight for the real one.
The best part about the rooms is that you can't hear any of Manhattan's madness.
What Pops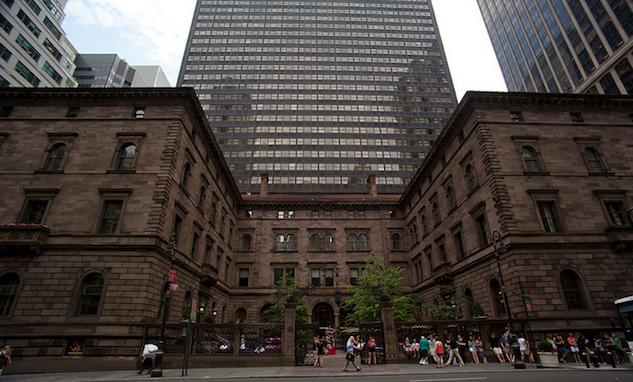 Photo by Chung Chu/Flickr, CC BY-NC-ND
I was especially giddy about the hotel's exterior, which is as rich as its history. It was built in 1882 as Villard's private residence and was modeled after the Palazzo della Cancellaria in Rome. Today this four-level palatial brick estate is one of the few standing reminders of Manhattan's Gilded Age. When the hotel opened in 1980 as The Helmsley Palace, The Villard Mansion had been restored to its original grandeur; artisans and craftsmen made detailed drawings of every room and floorboards were individually removed and labeled to enable exact repositioning after repair. This was all done so that all the rooms and sections could be re-laid in precisely the same way to reproduce the landmark-protected interiors. During this process, they kept everything they could, from decorative plasterwork and railings to paintings, chandeliers and stained glass.
While Lotte redesigned many of these rooms when they took over, they mastered the Neo-Italian Renaissance style when doing so. What used to be drawing rooms and ballrooms are now the most beautiful conference rooms and event halls you'll ever see, with gold painted crown molding and ceilings, huge windows with dramatic curtains, marble pillars, decoratively-carved walls, original photographs and paintings, and so much more.
We highly recommend wandering around to peak into some of these grandiose rooms; it's like walking through a museum set up as a maze.
If anything, take a few moments to stand outside in the courtyard—the original Madison Avenue carriage entrance for the mansion—and admire how the building proudly stands up against the skyscrapers of this city and takes you back in time.
The Locale
Well, you've got one of the most famous cathedrals in Manhattan on your doorstep, Rockefeller Center steps away, and if you insist, Times Square only a few blocks west. Otherwise, walk nine blocks north for a quiet stroll through Central Park. We'd say this is a pretty central location.
Maggie Parker is Paste Magazine's assistant travel editor.